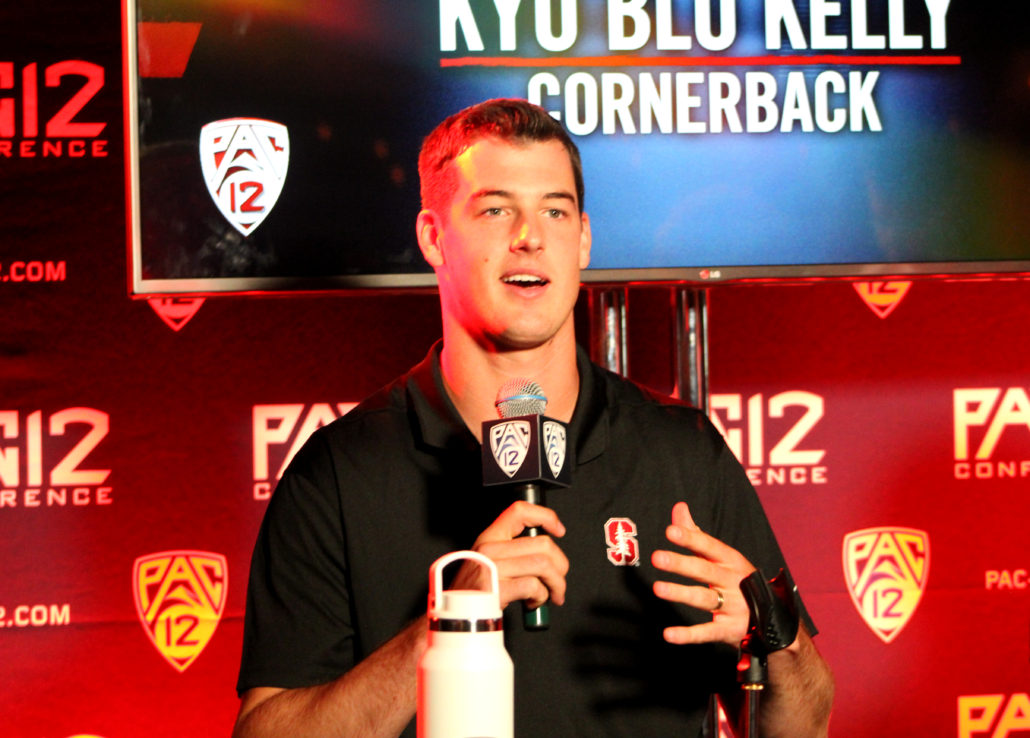 LOS ANGELES — The gunslinger is approaching his fifth season with the Cardinal, and played the first three behind K.J. Costello and Davis Mills.
Coach David Shaw finally gave Tanner McKee the nod in 2021, and he blossomed into one of the Pac-12's best quarterbacks. After all, the former four-star prospect has tremendous upside with his football IQ, size, arm strength and accuracy.
The Californian showed his worth after he threw for 1,093 yards, 11 touchdowns and no interceptions through Stanford's first five games last season. However, he was picked off seven times over the last five contests he played in. Those struggles came from a nagging hand and wrist injury that forced him to miss two conference tilts.
Now it's all about McKee staying healthy in 2022 as the Cardinal approach fall camp. Shaw understands McKee's value to the offense, and he's a firm believer that great signal-callers makes others around them better. McKee is an individual that players respect in the huddle, in the locker room and off the field.
"You want a quarterback that the guys like, but the guys also respond to him," Shaw said. "When he says, 'get your butt
going,' he means it, and our guys respond to him, so he brings his own fire, his own energy, his own juice."
McKee emphasized at Pac-12 Media Day last week that he feels great physically. He even added a few pounds to his six-foot-six frame over the past six months. The former four-star prospect will have an arsenal of weapons to operate with this fall also. Wideouts Benjamin Yurosek, Elijah Higgins and John Humphreys combined for 109 receptions and eight touchdowns catches last year.
"We have a lot of very talented receivers coming back, a lot of them coming back from injuries," McKee said. "So we're really excited to see them play in space and make big plays."
Not to menton Stanford's offensive line returns intact, so protection should be much better. The unit allowed 31 sacks last season, which ranked 10th in the Pac-12 and 93rd nationally. McKee is confident in the big boys up front though because of their experience.
Shaw wants to get back to running the ball effectively also, which in return will keep defenses from keying in on McKee. And that's when McKee becomes very dangerous with the play-action pass.
"This year guys are fired up, this is what's going to seperate us, we're going to the line ready to go," he said. "A little more attention to detail, and guys realize that's what separates great teams from good teams, it's a very fine line."
McKee himself wants to avoid bad performances like his three interceptions in the loss at Arizona State. Responding to adversity is a sign of a veteran quarterback and close-knit team, plus McKee is confident the Cardinal has that. Which is why he's feeling like a new person after summer workouts. He also got married to his wife Lauren a little over a month ago.
Stanford was ranked eighth in the Pac-12 media members' preseason poll that was released last Friday. It didn't bother McKee though, because he knows what's in Stanford's locker room. The team is flying under the radar, but that's how McKee likes it. Everyone has already set goals for themselves too.
"I definitely have high expectations for myself and for the team," the junior said. "I don't put too much pressure on myself, but I do have high standards for my team and push myself to be the best that I can be and bring guys along as well."
With the positive vibe around the team, Shaw knows there's no limit to what his squad can accomplish this fall. Stanford has suffered a losing campaign in two of the last three years and no bowl appearances. So Shaw knows his players desperately want to change that narrative this time around, especially McKee.
"I'm really excited for this year of football for him because I think he's really going to show the ceiling that we saw from him many years ago."