Lincoln Riley encouraged by USC's pass catchers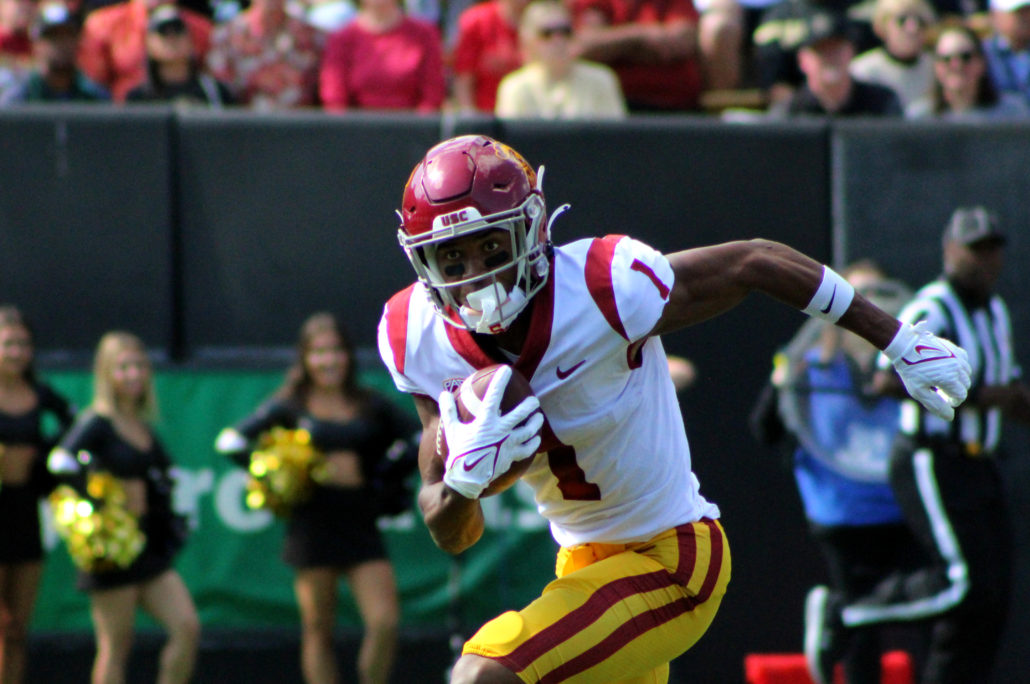 LOS ANGELES — The former Oklahoma Coach brought instant credibility to the Pac-12 when he accepted the USC job.
After all, Lincoln Riley is one the nation's best coaches, who's a quarterback whisperer, and he's still under 40. There's no denying he has a bright offensive mind, which is attractive for skill position players. Not to mention Riley lured in the reigning Biletnikoff Award winner Jordan Addison from the transfer portal, and wideout Mario Williams followed him from Oklahoma.
There hasn't been this much national hype about USC's season since Pete Carroll was patrolling the sidelines. The Pac-12 preseason media poll was released last Friday and had the Trojans at No. 3. That's a big jump for a team that finished 4-8 last season, but Riley's arrival has been that impactful. He's excited about the potential of the offense too, especially the wide receiver room.
"The receiving core obviously we've made a lot of additions and changes, too," Riley said. "I mean, so many of those guys, obviously Jordan and Mario have been talked about quite a bit and deservedly so, but I'm excited about Terrell Bynum, Brenden Rice, Tahj Washington, Gary Bryant."
Addison is the headliner, who had 16 touchdowns receptions at Pittsburgh and won an ACC Title in 2021. However, Williams hauled in 35 balls, including four touchdowns at Oklahoma last season. Bryant already made his mark with USC's offense and he's a special teams demon. Not only did the Californian average 25.8 yards per kickoff return last year, but he also scored eight total touchdowns. Bryant's 44 catches proves he can be a viable No. 2 option.
All of the pass catchers should be licking their chops, considering Riley's track history with receivers. CeeDee Lamb and Hollywood Brown thrived in Riley's system, and both became first-round NFL Draft picks. The cherry on top for the Trojan receivers is having one of the best quarterbacks in the nation throwing them the ball, in Caleb Williams, who also followed Riley from Norman. Riley is confident the unit will be a team strength this fall.
"I think that's a really intriguing group," he said. "We have some neat skill positions, have some guys that can stretch the field, make a lot of plays, give us some versatility."
Riley's biggest challenge will be spreading the wealth around and getting everyone some touches. College football fanatics are expecting USC to have one the nation's best passing attacks. So the pressure will be intense in fall camp, which should bring out the players' best performances.
"I think there will be a lot of competition within our own locker room," the 38-year old coach said. "It will be really interesting to see how we evolve as an offense, but proud of some of the additions we've made."
USC's offense operated under Graham Harrell's Air Raid system for the past two seasons. So the receivers are used to a wide open attack. It helps that Williams will be protected by arguably the best offensive tackles in the country in Andrew Vorhees, who earned third-team, AP All-America honors as a junior.
Riley has assembled an impressive roster in such a short period of time. And that's why he gets paid the big bucks. Now it's just a matter of him delivering on all of the preseason hype for the blueblood program.