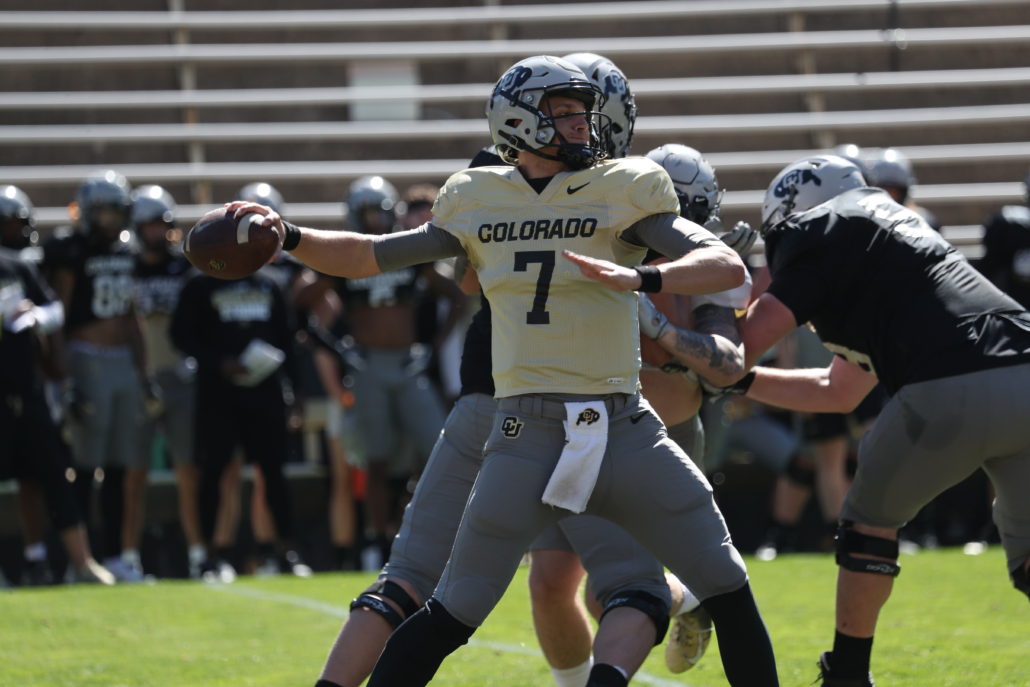 LOS ANGELES — Colorado's offense was missing a vertical passing attack last season, and J.T. Shrout couldn't do anything about it.
That's because the quarterback suffered a season-ending knee injury in fall camp last year that kept him on the sidelines. After all, Strout has the arm strength and accuracy to keep defenses honest. The former three-star prospect showed his arm potential during his time at Tennessee.
Shrout played under Butch Jones and Jeremy Pruitt with the Volunteers, and had to learn two separate schemes. He still threw for 494 yards, five touchdowns and three interceptions during his four years with the program. Although Coach Karl Dorrell held him out of spring ball action, he knows the value Strout's arm brings to the offense.
There might be some rust as the junior signal-caller adjusts to live action again, but his coach trusts that he'll eventually find his groove. Shrout was able to participate in throwing drills over the spring, so Dorrell believes his arm is somewhat fresh.
"He just needs to come out here and perform and really do the things that are comfortable for him to do," Dorrell said. "Kind of get back into the rhythm of being sore and being beat up, stuff like that, that he's been missing for the last year and a half."
Dorrell emphasized at Pac-12 Media Day how he expects Strout to push Brendon Lewis for the starting position. However, keeping the California native healthy remains Dorrell's No. 1 priority. Now the coach feels safety in numbers because have the Buffaloes have depth, with six quarterbacks on scholarship. Competition should be fierce with all of the gunslingers battling for reps like wolves at the dinner table.
Shrout looked promising over summer workouts, and has done everything his coaches have asked him to do up to this point. Now Dorrell wants the six-foot-three, 220-pounder to polish his footwork, because he doesn't want statues in the pocket. It's a day-by-day approach with Shrout's return to the gridiron, but everything appears to be trending up in Dorrell's eyes.
"He (Shrout) should push the envelope a little bit" he said. "I'm excited about the competition and it's going to help us be a better offense."
Regardless of who wins the starting position and take helms of the offense, they're still going to need better protection than last year. The Buffaloes finished 11th in the Pac-12 and 97th nationally in sacks allowed. Which is why Dorrell hit the transfer portal hard during the offseason. He snagged former Alabama offensive lineman Tommy Brown, who's expected to anchor the big boys up front.  It helps that Colorado returns three starters along the offensive line too. Senior tight end is a solid blocker also.
The Buffaloes ground game appears to be a team strength, so a quarterback with an arm like Strout's should be able to take advantage of defenses with the play-action. Strout will likely have a chip on his shoulder and hunger in his eyes when he takes snaps because it's been a long time coming. What's important for the Californian now is continuing to build chemistry with the new pass catchers. And Dorrell is confident Strout will deliver when his number is called.
"He does everything that everybody does in terms of their summer training, so he's ready to go."