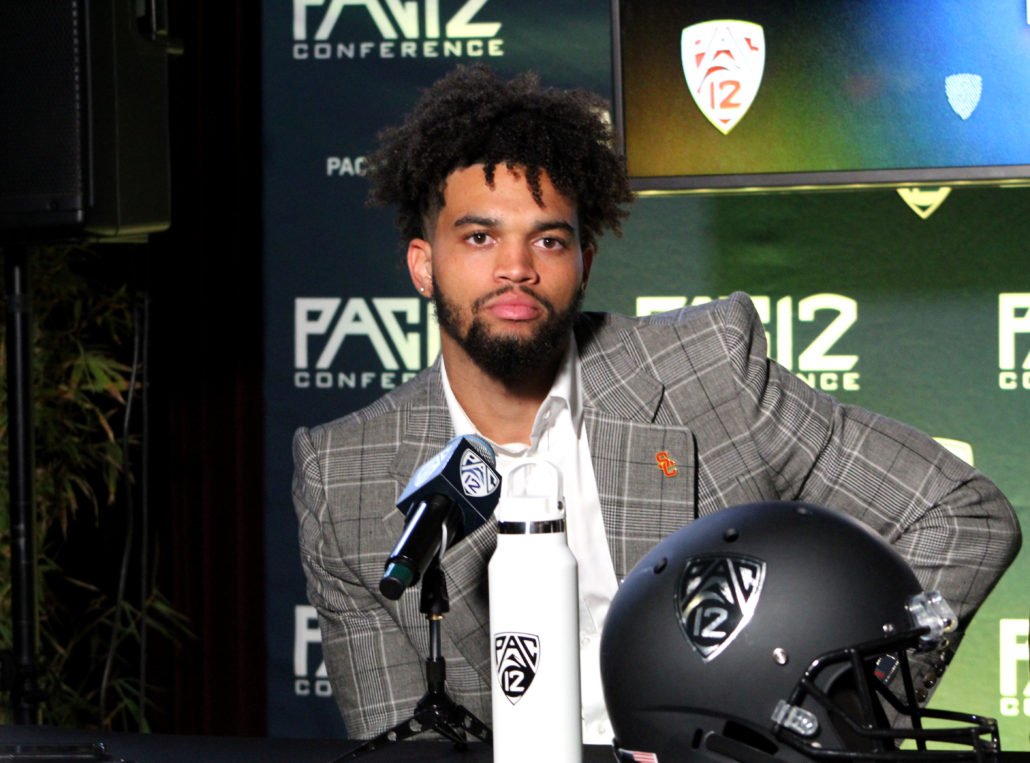 LOS ANGELES — The quarterback was thrown to the wolves as a true freshman at Oklahoma last season, and emerged out of the pack a star.
Not only did Caleb Williams snatch the red carpet from under Spencer Rattler's feet, but he also finished fifth in the FBS in passing efficiency and earned second-team, All-Big 12 honors. Coach Lincoln Riley raised eyebrows across the nation when he accepted the USC job, and it was crystal clear that Williams would follow pursuit.
The signal-caller did just that, and now he's the big man on campus. The players want to be part of something special. And there's no denying what Riley has built so far at USC has resembled early signs of a dynasty. It all started with Williams' arrival to Los Angeles. However, Riley kept the big names coming to the west coast and landed last year's Biletnikoff Award winner Jordan Addison.
Not to mention Oklahoma wideout Mario Williams joined USC, as well as Colorado's Brenden Rice. Now all eyes will be on Williams to deliver after Riley's upgrades to the Trojans' offense. Pac-12 media members obviously took notice and released their preseason poll last Friday, with USC at No. 3. So it's no mystery Riley has assembled a championship-caliber team, and revived a sleeping giant program.
In Williams' eyes it's all just a foundation of the new culture that Riley is cementing. Williams quickly recognized how all of the players have bought in. They're all confident, plus they've been working hard on the field and in the weight room for the past six months. Williams has even lost six pounds and trimmed down two percent of his body fat.
Williams himself wanted a fresh start and doesn't regret his decision for leaving Oklahoma. After all, he was familiar with Riley's staff, family, the nutrition doctors and strength and conditioning. It's all coming full circle for the former five-star prospect, and he's enjoying every minute of it.
"I just wanted to keep progressing, feeling more free," Williams said. "Be a Coach Riley part two out here, and enjoy playing more because I know more."
Surprisingly, Williams doesn't feel any pressure to win a certain amount of games. Instead he feels that comes with the territory of being a Trojan quarterback. It's a position of pride and excellence, and he plans on keeping the school's legendary legacy going. Riley is very high on Williams' ceiling, and believes he's one of the nation's best players. And that's saying a lot, considering Riley has coached two Heisman Trophy winners.
"You get a lot of guys that are really athletic quarterbacks, but maybe leave something to be desired with accuracy or arm talent, or vice versa," Riley said. "Caleb is one of the rare young guys that has elite ability with both."
The Washington D.C. native is clutch also and not afraid of the big moment. Last season Williams generated 300 all-purpose yards in the Red River Rivalry victory over Texas. The following week Riley gave Williams his first start, and threw for four touchdowns in the win over TCU. Williams put on his best performance against Texas Tech, when he passed for 402 yards and a jaw-dropping, six touchdowns, which were both season-highs.
The six-foot-one, 215-pounder carried that momentum into spring ball. Williams completed 10 of his 12 passes for 98 yards and two touchdowns in USC's spring game. With Addison in his arsenal, Williams is poised to put up video game numbers this fall. During summer workouts, Williams quickly found out that Addison is the real deal.
"He's been pretty good, he's very explosive, really good body control and probably one of the fastest people on our team," the 19-year old said. "I can't wait to see him on game day with all that adrenaline going when he gets the ball in his hands and see what he can do."
Make no mistakes, balls will be flying around in fall camp. The players are carrying themselves with swagger now, pushing the standard, and Williams is confident they're going to change the narrative of the blueblood.
"Just trying to be part of something historic, trying to get USC back to what it was."