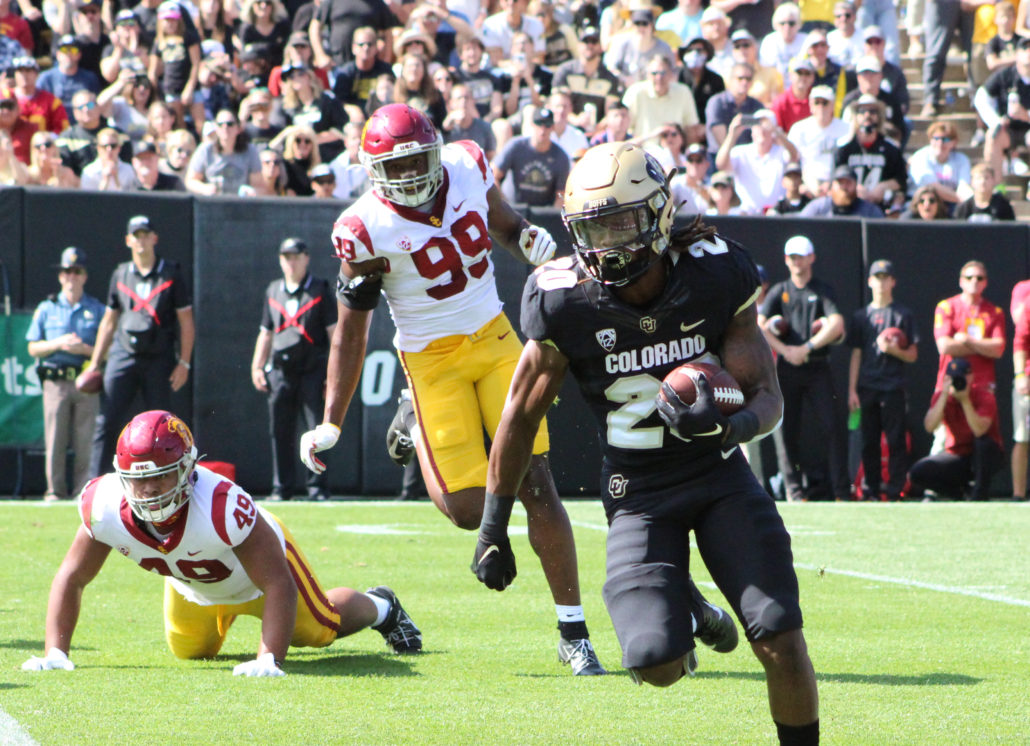 LOS ANGELES — Colorado's Coach is gearing up for his third season in Boulder, and remains confident about the firepower in his backfield.
Karl Dorrell spoke highly about his top-two running backs at Pac-12 Media Day. It's a position group that he feels will be a team strength this fall. Alex Fontenot and Deion Smith are expected to get the majority of the carries. And both have showed flashes of brilliance during their time with the Buffaloes.
Fontenot is the veteran, who led Colorado in rushing last season. He packs a lot of power behind his six-foot, 200-pound frame, and has a nose for the endzone. Although Fontenot's career has been plagued by injuries, he still has 1,243 yards on the ground, to go along with 11 rushing scores.
Fontenot didn't participate in spring ball because of an injury. Still, Dorrell emphasized how he's ready to go entering fall camp. Smith is more of the slasher, with great cut-back ability and speed to outrun defenders in the open field. Last year he generated a rushing score in the season-opening victory over Northern Colorado, and added another against USC. Dorell believes they have the potential to be a dynamic duo, and could even be one of the best rushing tandems in the league.
"Both of them had great off-seasons," Dorrell said. "Both of them are over 200 pounds, which is kind of one of those mandates that I wanted them to get a little bit more muscle, girth, depth in terms of those things."
The Buffaloes could use some of Smith's lighting and Fontenot's thunder in their ground game. Fontenot welcomes physicality and has great hands out of the backfield. The Texas native hauled in a 43-yard pass against Arizona State and caught a touchdown at Oregon last year.
Colorado fans had their concerns about the teams' rushing attack after Jarek Broussard transferred to Michigan State during the offseason. However, Dorrell never had any worries because he knows the value the two bring to the Buffaloes offense. Not to mention the running back room is full of depth now.
"They understand both of them are kind of leaders of being the 1-2 punch for us offensively," the 58-year old coach said. "We do have some good young players though, that are fighting to get some playing time, but it's going to be led by those two."
Colorado finished 98th in the FBS in rushing offense, and Dorrell knows from experience that's not a formula for success. In order for the Buffaloes to get back to the postseason, they'll have to establish an effective ground attack. Quarterback Brendon Lewis can also contribute to the ground game, with his dangerous mobility, but Colorado can't just be one-dimensional.
Instead Fontenot and Smith needs to keep defenses honest by putting the offense in short yardage situations. Defenders will stack the box to stop the run on third downs, and Lewis can take advantage of secondaries with the play-action pass over the middle to stud tight end Brady Russell.
The new scheme Sanford has installed gives the running backs plenty of options, and Dorrell is very encouraged by that.
"They look better physically and they have digested the offense."