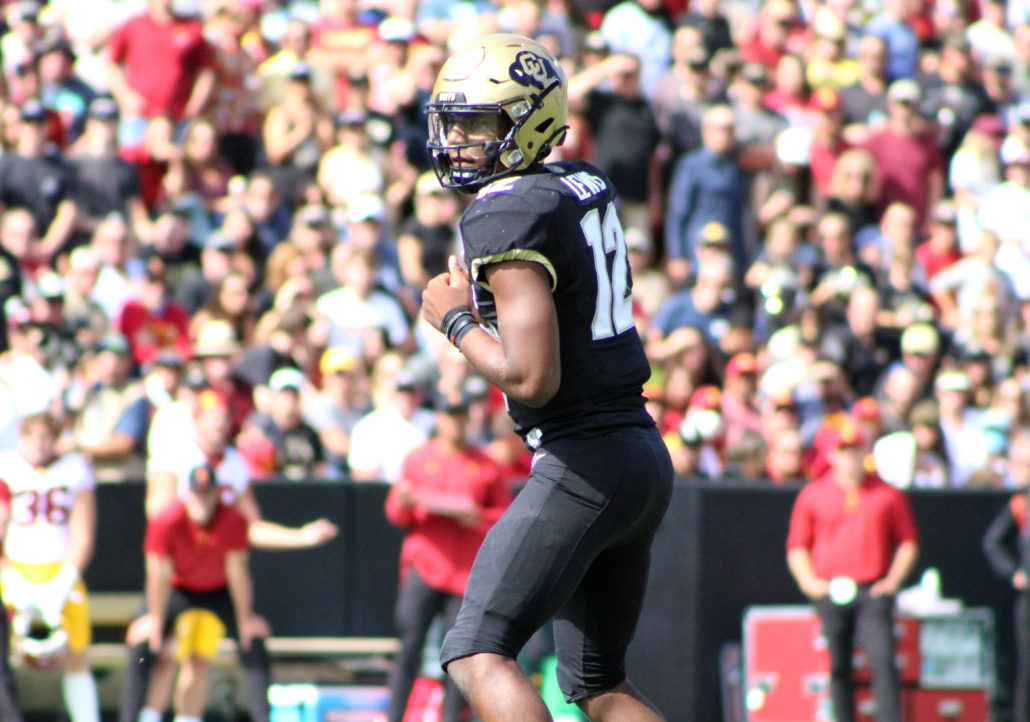 LOS ANGELES — It's no mystery Colorado's offense was the worst in the Power Five last season.
The Buffaloes couldn't pass the ball, had no consistency and much of the blame fell on quarterback Brendon Lewis' shoulders. Coach Karl Dorrell only had two scholarship gunslingers when he entered his 2021 campaign, and went down to one after J.T. Shrout suffered a season-ending knee injury in the middle of fall camp.
Although Lewis gained valuable experience, Dorrell watched him struggle with his accuracy through most of the game. It was overwhelming at times for Colorado fans. So much so, that Karl Dorrell fired Offensive Coordinator Darrin Chiaverini and replaced him with Mike Sanford. Not to mention wide receivers Brenden Rice and Dimitri Stanley, plus running back Jarek Broussard transferred.
However, Dorrell was encouraged by Lewis' hard work over the spring. The Texas native worked on his accuracy and footwork. Lewis kept the momentum going in summer workouts too, and now Dorrell believes he's going to surprise a lot of people over the next few weeks.
"To his credit, he's invested a lot of time and blood, I would say sweat equity, this last season to develop into being a better quarterback than where he was last fall," Dorrell said. "There's no question in my mind and his mind he's not even the same player."
Inconsistency plagued Lewis last year and Dorrell didn't know what quarterback he was going to get each week. Lewis had his bright spots, like when he completed 12 of his 19 passes for 248 yards, two touchdowns and no interceptions in the shutout victory over Arizona. The former three-star prospect threw for three touchdowns apiece against Oregon and Oregon State.
And then there were some embarrassing performances, like when he completed nine of his 17 passes for 69 yards and interception against California. Lewis only completed nine of his 23 throws for 84 yards in the season finale against Utah. Regardless, Dorrell feels those days are in the rearview mirror for Lewis, with the Buffaloes a little over a month away from kicking off the season.
Colorado now has six scholarship quarterbacks, and Dorrell feels quality depth will be good for all parties involved. J.T. Shrout is back fully healthy and expected to push Lewis throughout the month of August. So intensity should be high in the quarterback room, plus Sanford has safety in numbers.
Dorrell believes this will bring out the best in Lewis because of his competitive spirit.
"The first thing that came to me after the season is he went back and watched all of the games just by himself and made notes and critiques about what he could have done better, what he did well, what he needs to improve on," he said. "So he went through that process for himself at the end of the season."
In Dorrell's eyes that shows a determined individual who's proactive at perfecting his craft. Colorado's offense is basically starting over from scratch, and have nowhere to go, but up.
The big boys up front will have to provide better protection for the quarterbacks though. The group allowed 32 sacks last season, which ranked 11th in the Pac-12. Still, with three starters returning and the addition of Alabama transfer Tommy Brown anchoring the group, Dorrell is feeling optimistic about the group's potential in the trenches.
The opportunity is there for Lewis to take that next step, and Dorrell is confident he can conquer the moment.
"You gain from that experience, whether it's good or bad, you learn from that experience, and that's what Brendon was able to do."