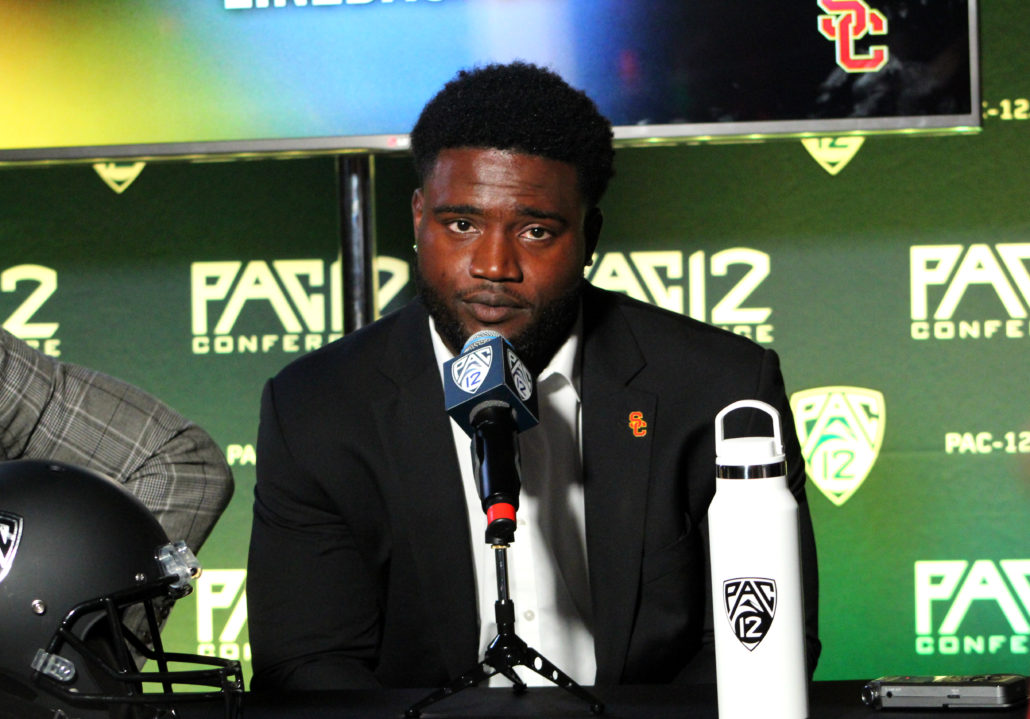 LOS ANGELES — The former Alabama linebacker has been all work and no play since he arrived at USC.
Shane Lee is arguably Coach Lincoln Riley's best defensive grab from the transfer portal since he's been on the job. The Maryland native is an elite defender too, who doesn't tolerate nonsense. Lee hates hearing about all of the hoopla and hype regarding the Trojans' upcoming season.
That's because he's too busy bonding with his new teammates on and off the field. There are guys that talk the talk, but Lee prefers to walk the walk, and that's also what he expects out of his teammates. If everyone is not on the same mission, than they're a liability to the overall team morale.
Lee knows all about what it takes to win a championship and be elite, considering he played the past three seasons with Nick Saban and the Crimson Tide. Not to mention he was Alabama's second-leading tackler in 2019. However, a nagging hernia injury halted his production the following two seasons.
Now he's back fully healthy on the gridiron and ready for a fresh start at a legendary program. It's all been a smooth transition for Lee leading up to this point, and he can't wait to get the pads popping in fall camp. He'll be looking for more leaders to establish themselves during the process.
The Maryland native could care less about how high they're ranked in the polls, or how many games they're projected to win. That's because Lee understands his team hasn't accomplished anything of merit.
"We haven't done anything yet, everything has just been noise and conversation up to this point," Lee said. "As a football team we haven't won any games or even stepped on the field against anybody else except ourselves."
Lee is just grateful to be in the position that he's in, healthy and motivated. His journey has been all about perseverance and overcoming obstacles. Make no mistakes though, Lee is a firm believer in Riley's vision and proud to be part of USC's rebuild.
"When I met Coach Riley it just didn't feel like a conversation I had with any other head coach before," he said. " It was just a unique conversation, it was about building something special, building culture and setting the standard."
Lee has been enjoying the student-life with his teammates in Los Angeles. The bond is what will make the team stronger, and they've been doing everything together. Living in the big city comes with options too, and Lee's teammates took him golfing for the first time in his life. They also go hiking and to the beach.
Life on the field is starting to get intense though with the Trojans approaching fall camp. The six-foot, 245-pounder embraces physicality and wants the rest of the defense to feed off of his energy. Alex Grinch followed Riley to USC and will be orchestrating the defense. Lee is a vital piece for Grinch to build the rest of the defense around and he's a natural at holding down the middle because of his great instincts.
Adapting to a new system can be challenging, but Lee is thriving so far and his explosiveness has returned. There's nothing like having a defender who can fly from sideline to sideline.
Leading by example is one of Lee's best traits because he's a man of few words. The former four-star prospect embraces the action that comes with backing up those words. Lee thought everyone was just talking a good game when he first arrived, but now he's confident that they're all on the same page. And there's a big reason for their early chemistry.
"It comes from players believing in what coaches are saying," the senior said. "I think the special thing about a program that's successful is when players are setting standards, and holding each other accountable."
With the season a month away, Lee will continue to push himself, by paying attention to the small details daily. Just anything to become a better, smarter and faster defender. The Trojans are going to need his experience, production and leadership. Regardless, the standard is set for USC, and Lee plans on upholding it, so finishing 11th in the league in scoring defense won't be tolerated under the new regime.