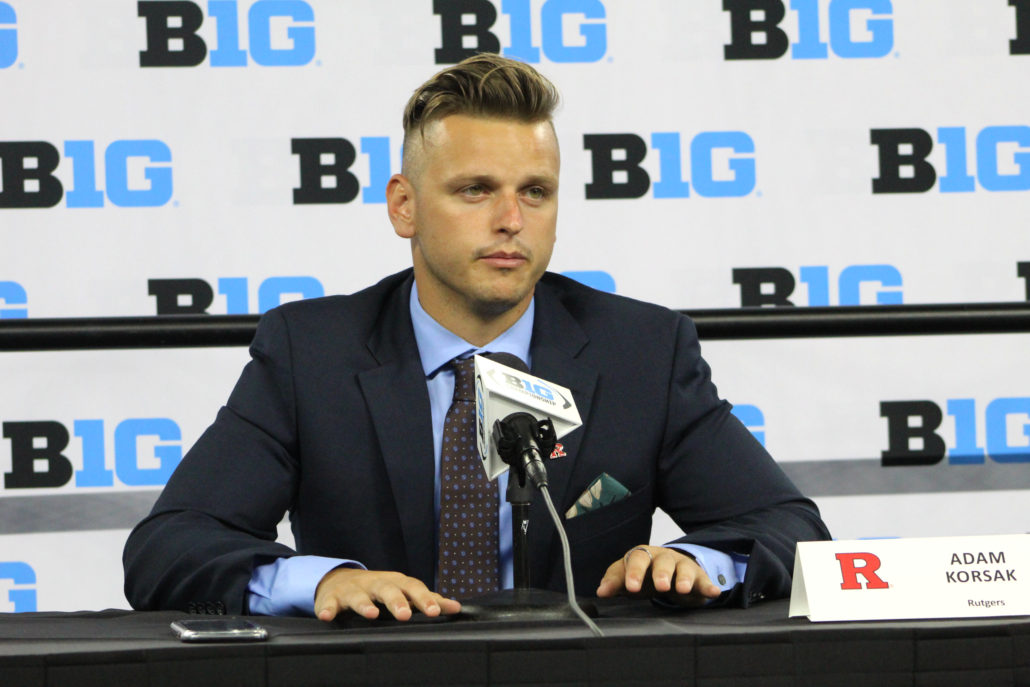 INDIANAPOLIS — He's one of the most productive punters in Rutgers history, and has set the bar high when it comes to booting the pigskin.
Not only is Adam Korsak a three-time, All-Big Ten performer, but he also earned second-team, AP All-America honors last season. He was a Ray Guy Award finalist too. However, Korsak could care less about the accolades or personal stats. What matters to him is the team and winning.
The Australian thought the Scarlet Knights made strides in 2021, after their first bowl appearance since 2014. Although Rutgers had a 5-7 record at the end of the regular season, the players' academics paved a path for them to be eligible. Not to mention Greg Schiano's squad had very little time to prepare for it, but played the game anyway.
Korsak and his teammates didn't take any of it for granted either.
"It's such a great experience to be there and gives us a taste of what we can do," Korsak said. "We know what a bowl game is about now and we have to get there this year, we have experience and it's such a great motivator in general."
With fall camp approaching, Korsak is all dialed in. The former two-star prospect already gained notoriety over the last four seasons with his leg power. Regardless, Korsak plays a position that's undervalued because and their stats don't jump out on paper. There's no denying punters are vital when it comes to field position, which that matters in close games and teams that are evenly-matched.
Korsak has a gift when it comes to punting though. The six-foot-two, 185-pounder landed a jaw-dropping, 38 punts inside the 20-yard line last season. Not to mention 19 of his punts went for 50-plus yards, including one for 74 against Penn State. The impressive part was the fact that none of those punts went for a touchback.
Schiano is a veteran coach, who always puts a strong emphasis on special teams, and understands the value Korsak brings to the table.
"Adam is the best punter that I've been around in 35 years," Schiano said. "That's a pretty big statement."
College football is filled with Australian punters, and it's almost as if they grow on trees down there. Korsak credits Australian Rose Football for that, which is the country's beloved sport. It's like a religion in Australia and everyone takes it seriously.
"We play a sport in Australia called Aussie Rules Football, and to pass and score the ball you have to punt it, he said. "So punting the ball comes very natural to Australians, and it's such a big sport in Australia."
Korsak will likely be the Ray Guy Award favorite heading into the 2022 season. Rutgers fans thought he got snubbed for the hardware over the past two years. Regardless of the matter, he doesn't think stats should indicate his success. In Korsak's eyes, punting is less exciting if his team isn't winning. So of course he wants to end his legacy at the program with a winning campaign. In return, the accolades will pile up.
"That's not really me, I just try to do the best thing for the team and I try to execute on every single punt," the senior said. "I feel like I'm a great member of the team and it's a position that requires execution."
Korsak knows if he stays true to those goals this fall, the Scarlet Knights will be in a great position.