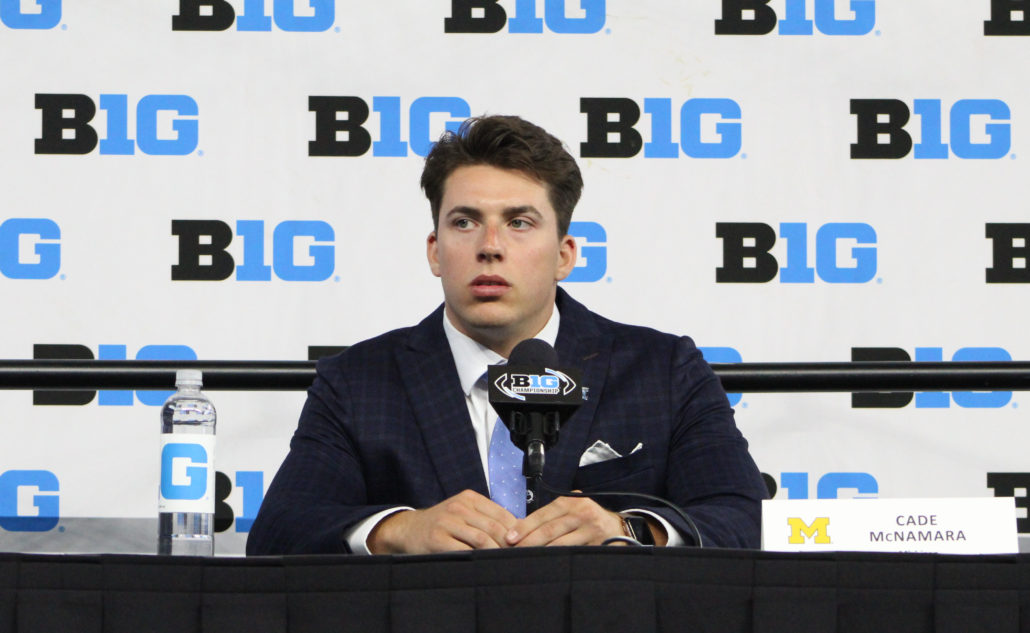 INDIANAPOLIS — Last season the signal-caller beat Ohio State, led Michigan to a Big Ten Title and finally kicked down the doors of the College Football Playoffs.
Although those were all major accomplishments for Cade McNamara, he was humbled in the Playoffs against Georgia. The Bulldogs eventually won the National Title and set a record for number of players selected in this year's NFL Draft. Which is why McNamara hasn't let the Wolverines last game hang over his head.
Instead the Nevada native is taking away the positive parts from the clash and making his own adjustments. After all, it wasn't the first time he squared off with an elite SEC team. He was on the roster when Michigan played Alabama in the Citrus Bowl also. Both of those experiences reminded him that he has to work non-stop at becoming a better quarterback. And he believes his teammates feel the same.
"Us getting that perspective of it, is the talent we're going to see, and this is what it's going to take to win a National Championship," McNamara said. "I think that perspective was huge for this team, it was humbling, and now we know what it looks like."
Not only is McNamara focusing on his body, but he's improving his accuracy and changing his footwork. Building chemistry with receivers like Ronnie Hickman and tight end Erick All has McNamara feeling confident approaching fall camp.
The former four-star prospect will be operating under new Offensive Coordinators in Matt Weiss and Sherrone Moore. The duo is replacing last year's Frank Broyles Award Winner Josh Gattis. McNamara has been enjoying learning new concepts from the two, despite their opposite personalities.
"He (Moore) is very serious, but at the same time you can joke around with him," he said. "Coach Weis is really laid back, but he understands what it takes to play quarterback as far as movement and throwing."
The gunslinger won't have the option of handing the ball off to Hassan Haskins this time around. However, Blake Corum is a punishing rusher, and very capable of handling the workload. McNamara just wants to sustain success and he's confident the defense will remain tenacious this fall.
Being a quarterback at Michigan comes with great responsibility and leadership. And McNamara has handled himself well up to this point. His teammate J.J. McCarthy is also very talented, and will continue to push McNamara through fall camp. Regardless, McNamara welcomes competition because it's nothing new to him. Still, when the smoke settles, he has the experience, leadership and production on his side. It also is beneficial that he plays for a head coach who used to be a Wolverine quarterback.
The reigning Big Ten Champs will have a bullseye on their jerseys this time around, but McNamara is perfectly fine with being the hunted. He wouldn't have it any other way playing for the winningest program in College Football history.
"Anything I do is going to be for the good sake of the team winning and that's what's most important on my mind," the 22-year old said. "Having good relationships with my teammates, and I take a lot of pride in what I bring to the team from a leadership standpoint."
The six-foot-one, 212-pounder believes positivity is a great foundation for a championship-caliber team. Everyone is a close-knit group too, from the coaches down to the players. Not to mention they're all loyal to Jim Harbaugh, even after he flirted with going back to the NFL during the offseason.
"The team respected him because we love Coach Harbaugh, and couldn't be happier that he came back."