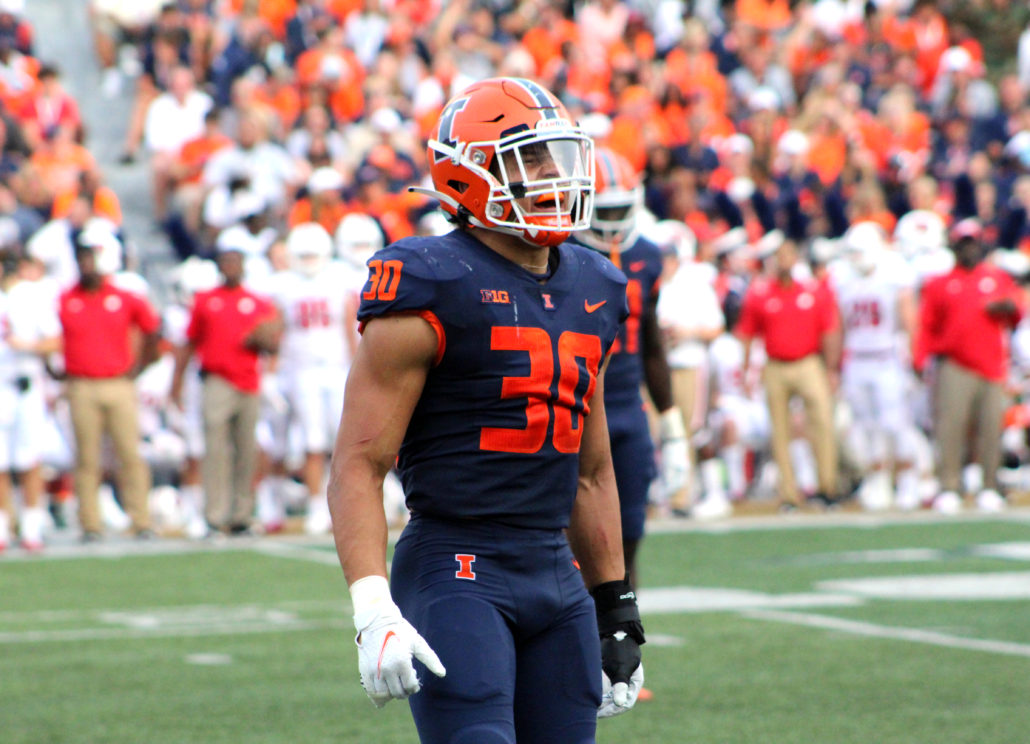 INDIANAPOLIS — The Fighting Illini's most productive defender can't wait to bump helmets in fall camp.
After all, Illinois was one win short of reaching bowl eligibility in Bret Bielema's first year in Champaign, and now the players are anxious to get to the postseason this time around.
Senior safety Sydney Brown probably wants it the most, considering he's been on the roster since 2018, and only played in one bowl game. The one narrative he wants to avoid is ending his career with four-straight losing campaigns. So the Canadian is prepared to give it his all in 2022.
Brown led Illinois in tackles last season, he believes the Fighting Illini has what it takes to do something special.
"We're confident, but we're ready for the challenges that come up this year," Brown said. "We're focusing on being the better team in week 12 than we are in week one."
There appeared to be light at the end of the tunnel after the Fighting Illini won four of their final seven games, despite losing four of their first five. Brown knows it's going to take a complete effort from players on both sides of the ball, plus solid coaching to get his team over the hump.
Most importantly he's going to enjoy playing with his twin brother Chase again, who's the star rusher that earned third-team, All-Big Ten honors in 2021. The siblings look identical in their stature and build, but their personalities are completely different.
Brown believes Chase is more laid back with his personality, while he's more of the aggressor. He's not the drill sergeant on the sidelines in practice by any means, but he's quick to check his teammates if they constantly make the same mistakes.
"I'm vocal in my own way and I speak when I need to," he said. "I'm a high-energy guy for sure, and I definitely hold my guys accountable when needed."
Brown doesn't scold his teammates in front of everyone though. In his eyes that's sort of humiliating. Instead he prefers to take them to the side, tell them what they did wrong and recommends how they should fix it. Sometimes he gets assertive, but they all respect his advice because of his production, experience and leadership.
Even his brother Chase takes notice when they clash in practice.
"It's something that happens day in and day out when we're in pads and we had the opportunity to go against each other in spring," said the former three-star prospect. "We thrive, we both love competition, and sometimes that passion can get mixed with aggression when we're on the field together."
The six-foot, 208-pounder has been working on all aspects of his game during the entire off-season. Efficient movement in his breaks and steps are some of the things, but he also wants be a technician at finishing his tackles. That's saying a lot, considering Brown has 262 career stops.
Regardless, he's down to do whatever to help Illinois finish better than 46th nationally in total defense. He admires the playing style of the Buffalo Bills secondary, and the physicality of Budda Baker from the Arizona Cardinals.
As for the rest of Illinois' defense, Brown believes there's enough talent on the roster to accomplish a lot this fall. So he's taking nothing for granted. And the fact that Illinois will be opening up the season against a conference for the second-straight year, gives him even more motivation.