Jaxon Smith-Njigba anticipating heavy workload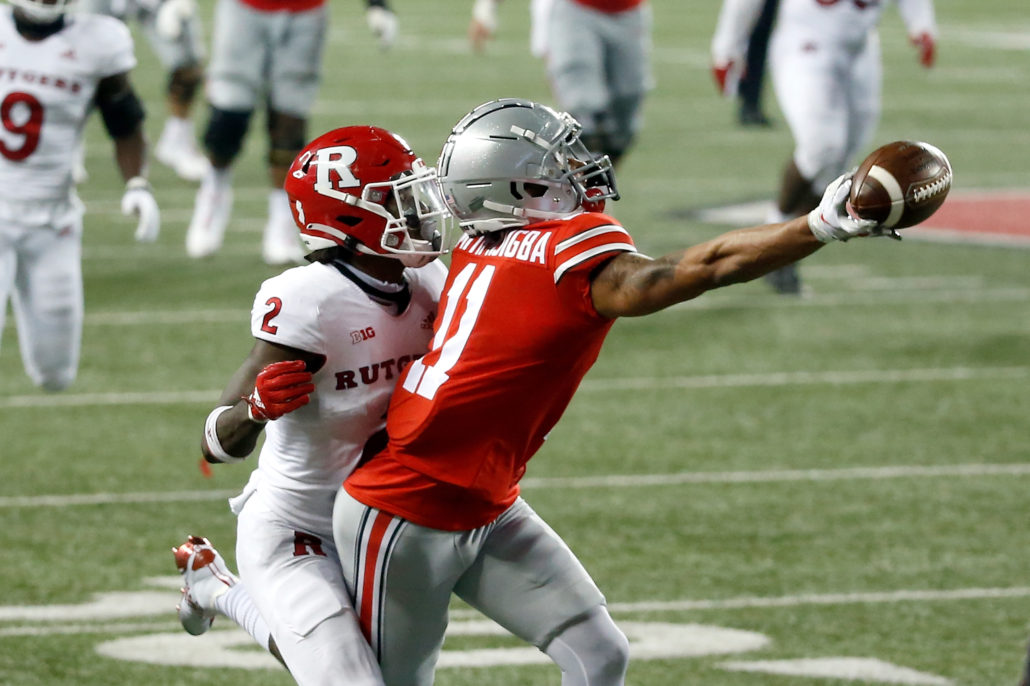 INDIANAPOLIS — Ohio State's junior wideout is coming off a campaign of epic proportions, and will likely have to do more in 2022.
Jaxon Smith-Njigba broke single-season school records for catches and receiving yards. However, he accomplished those amazing feats while playing alongside Chris Olave and Garrett Wilson, who were both first-round NFL Draft picks.
Now Smith-Njigba is embracing the role of being the go-to receiver. And he understands what comes with the territory, which requires double-coverage from defenders, and cornerbacks looking to knock him off his routes.
He's not backing down from the challenge, despite not having Olave or Wilson around to play decoys. Knowing this, the Texas native is trying to elevate his game to the next level. And that's a scary thought for Big Ten defenses, considering Smith-Njigba embarrassed teams last year with his acrobatic talent.
Often times the former five-star prospect looked like he had super powers on the gridiron and made difficult catches look easy. There's no denying that, especially after he went over 100 yards receiving in seven different games in 2021. Still, the Buckeyes are going to need to develop a second and third option if they expect to have the league's best passing attack again.
Smith-Njigba is confident that the younger pass catchers have enough talent to keep the wheels rolling on offense. After all, star receivers grow on trees in Columbus.
"It's Ohio State, great guys leave, great guys come in, and we're ready to prove ourselves," Smith-Njigba said. "The young guys are ready to prove themselves and they're great players, so we're ready for it."
He's expecting teammates like Emeka Egbuka and Jalen Ballard to play significant roles in the Buckeyes' aerial attack. Not to mention they all been pushing themselves throughout the off-season.
Smith-Njigba is just trying to stay focused approaching fall camp. He understands guiding the youngsters come with the territory. As well as losing to Michigan and having to hear the fans grumble.
"We don't accept that, it's unacceptable for us," he said. "It's definitely a focus point, it's something that we hear a lot and it's a big motivator for us."
One of the individuals who gives him slack about it is his older brother Canaan, who's an outfielder for the Pittsburgh Pirates. Canaan is the only person who gives him honest criticism and he welcomes it. The six-foot, 198-pounder believes it all has molded him into the beasty receiver he is today.
Most importantly, it all keeps him hungry and not complacent. Canaan even stayed with him during MLB's off-season. Now Smith-Njigba expects to translate all of that energy onto the field this fall.
With All-American gunslinger C.J. Stroud throwing him the ball, and play-making rusher Treveyon Henderson taking handoffs, Ohio State's offense should be able to march up and down the field on foes. And that's how Smith-Njigba likes it.
"We go on the field and we try to score every possession," the 20-year old said. "We're just looking forward to the challenge of being the best and holding that standard."
After all, the Buckeyes are always the hunted instead of being the hunters, so it's nothing new to him. Bottom line, defenses better be ready. And it'll be a complete shocker if Smith-Njigba isn't hoisting the Biletnikoff hardware by the end of the season. An award he should've won last year.