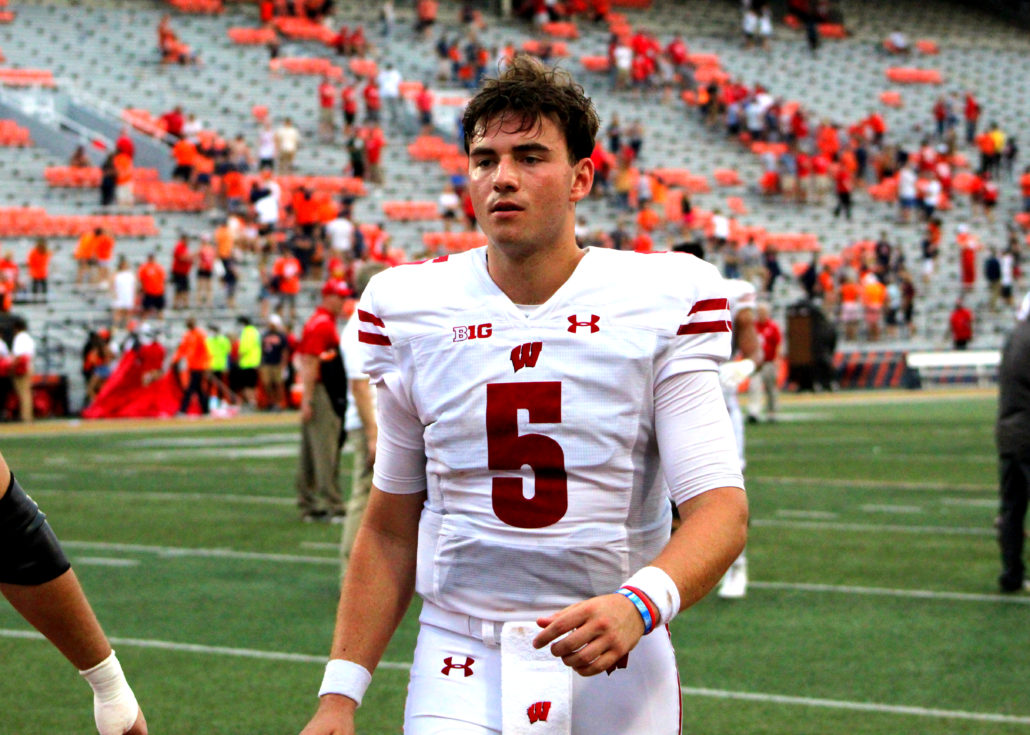 INDIANAPOLIS — The junior quarterback took the shoulder of the blame for Wisconsin's shortcomings early on last season.
The Badgers lost three of their first four games and Graham Mertz threw six interceptions during that span. Not to mention he was sent to the hospital after he got mauled by Michigan's defense.
However, a light bulb came on for the embattled signal-caller down the stretch. Mertz passed for 1,013 yards, eight touchdowns and four interceptions over the final six contests, which included five victories.
The Kansas native was proud that he was able to change the narrative on last year's campaign. Learning from mistakes is priceless, and now he's looking to carry that momentum into fall camp.
"Just taking that ownership in everything you do, truly having that purpose in the ownership and know why you're doing what you're doing," Mertz said. "For me, my feel is just how can I do my job better for ny guys, and how can I make them have the best careers that they can have, so that's what fuels me everyday."
He's a firm believer that great quarterbacks make others around them better. Mertz will have the luxury of dynamic duo of Braelon Allen and Chez Mellusi in the backfield. Regardless, the Badgers must replace All-Big Ten tight end Jake Ferguson, who was Mertz' safety blanket in clutch situations. He'll also be operating behind an experienced offensive line.
Last Tuesday the Big Ten media members picked the Badgers to win the West in 2022, but Mertz tries his best to avoid the rat poison.
"Honestly we don't even look at it, but that's how it should be and that's our goal every year," he said. "That should be the standard, but we know we have to develop it and there's a lot of work to do."
Filling the void left by Ferguson won't be an easy task, but Mertz is confident in Jack Eschenbach, who'll be a senior and has valuable experience. Allen and Mellusi are dogs in Mertz' eyes, so the entire offense should be able to take a step forward this fall. Anything for Wisconsin to finish better than 89th nationally in total offense.
Still, there's a ton of unknown commodities until the Badgers start fall camp, even with the rushing attack, which is the program's bread and butter.
"We really haven't talked about it a lot, but we know whoever is out there they're going to freaking go," the 21-year old said. "They're all hungry, we got some guys in that room who's going to give it their all when they're out there."
One aspect no one can question Mertz about is his toughness. There has been times when he cracked like an egg under pressure, but he understands being a Power Five quarterback is all about evolving, plus they can take a beating during the process.
The Badgers will have a much easier slate in the first three games this season compared to last. That should be more than enough time for Mertz to develop chemistry with the new pass catchers before the showdown with Ohio State at the Horseshoe.
Until then, the six-foot-three, 225-pounder will continue to lead by example on and off the field, in pursuit of having a successful 2022 campaign.