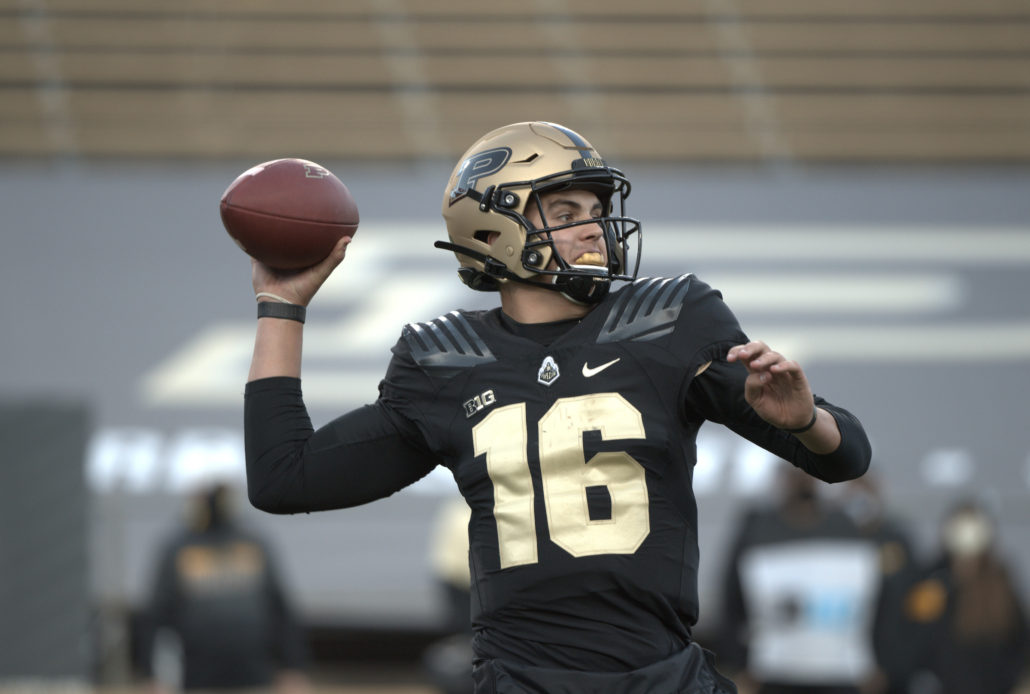 INDIANAPOLIS — The Purdue quarterback took the Big Ten by storm last season, and now he has everyone's attention approaching his sixth year with the program.
Coach Jeff Brohm played musical chairs with Aidan O'Connell and Jack Plummer before he decided who was best for the Boilermakers' offense.
Great signal-callers make others around them better, and O'Connell had Purdue's aerial attack humming. Not only did he finish second in the league in passing yards per game, touchdown tosses and passing efficiency, but O'Connell also set a school record for completion percentage.
That's saying a lot, considering the program's history of talented gunslingers like Drew Brees and Kyle Orton. O'Connell threw for a jaw-dropping, 2,394 yards, 21 touchdowns and three interceptions over the last six games. Not to mention he earned second-team, All-Big Ten honors along the way.
Now Purdue fans are wondering what he can do for an encore. Whatever O'Connell does he'll have to do it without star wide receiver David Bell, who caught 93 balls last year.
Plummer also transferred to California, so O'Connell won't have to deal with a quarterback controversy this time around. The Illinois native understands that several pieces have to come together for him to have the same production.
"I think it's a combination of things that comes from our play-calling of our head coach, who does a great job of game planning against different defenses that we're going to see," O'Connell said. "Lining up different concepts that are going to work, but for the most part it's getting the ball out and into our playmakers' hands."
Purdue opens the season against a hungry Penn State team, so O'Connell is anticipating a physical fall camp. The Boilermakers won't be sneaking up on anyone this fall, and O'Connell knows he must be ready out of the gates.
"It's always intense when you start off with a Big Ten opponent at home for a Thursday night game," he said. "It's going to be a lot of fun."
Purdue also added Iowa wideouts Charlie Jones and Tyrone Tracy to fill the void left by Bell. And stud tight end Payne Durham returns after hauling in 45 passes last season.
Brohm understands the value O'Connell brings to the team and he regrets not giving him the nod earlier. He just wants his quarterback to stay consistent, not turn the ball over and use his legs when he has to.
"He's worked hard on his mobility, it may not be his strength, but he has worked hard at it" Brohm said. "Extending the play occasionally, buying a little time, his numbers over the last half of the year were at an elite level and he helped us win a lot of big games."
None of O'Connell's success happened overnight though, and he worked countless hours learning the playbook. His maturation process continues to grow and O'Connell will be getting married this Saturday.
Brohm just wants him to enjoy it all, because after fall camp starts it's going to be all work and no play. After all, there's no denying this is going to be one of the most anticipated seasons for the Boilermakers in quite some time.
O'Connell just wants to deliver and not disappoint during his final year with Purdue.
"I hope to leave this place better than I found it."