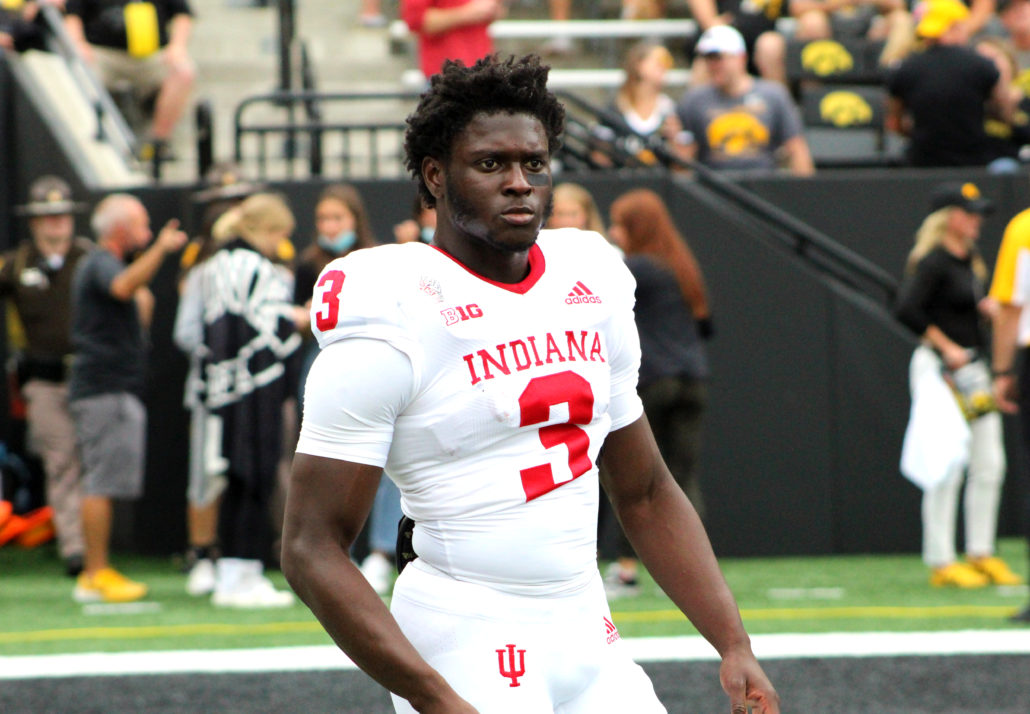 INDIANAPOLIS — The Hoosiers suffered a very disappointing campaign last season, and their star cornerback even took a step back in production.
There's no easy way to slice the pie when Indiana has lost its' last nine conference games, including a winless mark in 2021. Tiawan Mullen knew there was plenty of reasons for the Hoosiers lackluster year, but he's not pointing any fingers. Instead Mullen is using the teams' shortcomings as a tool of motivation.
Deep down in his heart he believes the 10 losses were a fluke, despite the fact that Indiana was blown out by at least 21 points in seven of those defeats. Not to mention the Hoosiers ended the year on a nine-game losing streak. It was a far cry from the program's top-15 finish in 2020.
"We're not going to keep mentioning it, but everybody know what happened last season wasn't us, that wasn't our identity," Mullen said. "Everything happens for a reason, it's still football, but just because you went 2-10 doesn't mean you can't go 12-0 the following season."
The Florida native was an All-Big Ten performer two years ago and he's trying to get back into that form for the fall. Mullen feels he hasn't lost a step and is ready to be the ball hawk in the secondary again. After all he has broke up 20 passes in his career and hauled in three interceptions.
Mullen still has his confidence, his natural instincts and speed, so he's going to be ready to shutdown the opposing teams' No. 1 receiver. The vibe is different around campus this time. Mullen's brother Trevell is now on the team, making it a family affair. So he's trying to guide his younger sibling on the ins and outs of being an ideal student-athlete.
The senior feels it's an honor to be in the position that he's in. He wants to make the most out of the situation. One of his main goals is to remind everyone around the league that he's still a force to be reckoned with on the gridiron.
"It's a team sport and I know in God's eyes I'm an All-Big Ten player," he said. "So whatever happens in 2022, I'm going to make sure I don't look back and I'm going to give it my all."
The Hoosiers will be opening the season against a conference foe for a third-straight year, and motivation won't be an issue.
Illinois will be just a hungry to get back in the win column. Which is why Mullen isn't taking any opponents for granted. In his mind there's no such thing as overlooking and underlooking a foe. Mullen and the rest of his teammates have a huge chip on their shoulder. They all want to prove the naysayers wrong. And it only adds more fuel to the fire that the Big Ten media members predicted the Hoosiers will finish last in the East this fall.
Mullen can't for his team to show what they've been building over the past six months and the Fighting Illini better be prepared when they come to Bloomington under the Friday night lights.
"Illinois just happens to be the next game, and when September 2 comes, we're going to be ready."