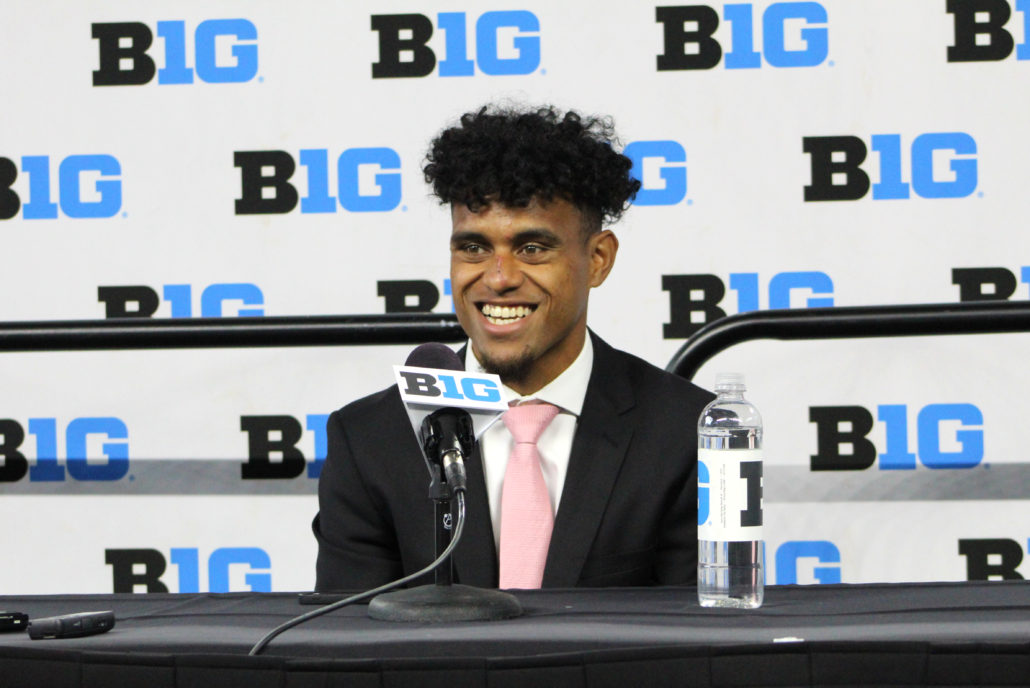 INDIANAPOLIS — Last year Maryland's quarterback raised eyebrows across the Big Ten when he broke single-season school passing records.
Now Taulia Tagovailoa is looking to build on his stellar campaign, and he has an arsenal of weapons to make a lot of noise in 2022. Everyone is expecting the Terrapins to have one of the league's best passing attacks this fall. And it's safe to say Tagovailoa could very well put up better numbers this time around.
That's a scary thought for opposing secondaries, considering the gunslinger's go-to-receiver Rakim Jarrett is back. Not to mention Dontay Demus is expected to be on the field by game one. The cherry on top for Tagovailoa is the fact that his offensive line returns intact. Everything is trending up approaching his third season as the Terrapins' starter. There's no denying that after the Hawaii native led Maryland to its' first winning season since 2014, and first bowl win since 2010.
"Going into this third year I feel very comfortable, confident, I'm just ready," Tagovailoa said.
Although he earned third-team, All-Big Ten honors and finished 13th in the country in passing yards per game, Tagovailoa still suffered some bad outings. The signal-caller's five-interception performance in the loss to Iowa stands out in his eyes. Injuries to other players didn't help the cause either, and the Terrapins lost six of their next seven games after winning their first four.
Now Tagovailoa is doing everything in his power to avoid a mid-season collapse like that again. He believes the Terrapins are more deep now to deal with the injury bug. Tagovailoa strongly feels his teammates will have that next man up mentality just in case.
He's just proud the team responded to adversity and was able to see light at the end of the tunnel. Now the accolades are pouring in for him, but he could care less about stats. Tagovailoa is more concerned with stacking wins and guiding the youngsters on the team.
"I'm the quarterback and I think whatever accolades I get is just a testament to the whole offense," he said. "I think the biggest stat that matters is that we won games and last year's message was taking that big step."
Regardless, he needs 2,431 passing yards and 17 touchdown tosses this fall to become the school's career leader. Tagovailoa would love nothing more than to break those records against teams the Terrapins lost to last year. Most importantly, he's happy that Coach Mike Locksley has finally found his footing in the Big Ten. From the outside looking in, it appears the Terrapins have finally arrived and they're not going anywhere anytime soon.
Locksley has been in awe of his quarterback's maturation process and believes big things are on the horizon for Tagovailoa.
"I don't think there's a more underrated player in the country than Taulia Tagovailoa, and I'll continue to say it, as he's a guy that has really been the catalyst to making us go on offense," Locksley said.
The 52-year old coach wants more of a balanced attack to keep defenses from keying in on his quarterback. However, the running backs will need to prove themselves as a viable option this fall. Anything helps after the Terrapins finished 91st nationally in rushing offense.
The September schedule sets up nicely for Maryland to get off to a fast start. So it'll be a complete shocker if the Terrapins aren't undefeated headed into the conference opener at the Big House.