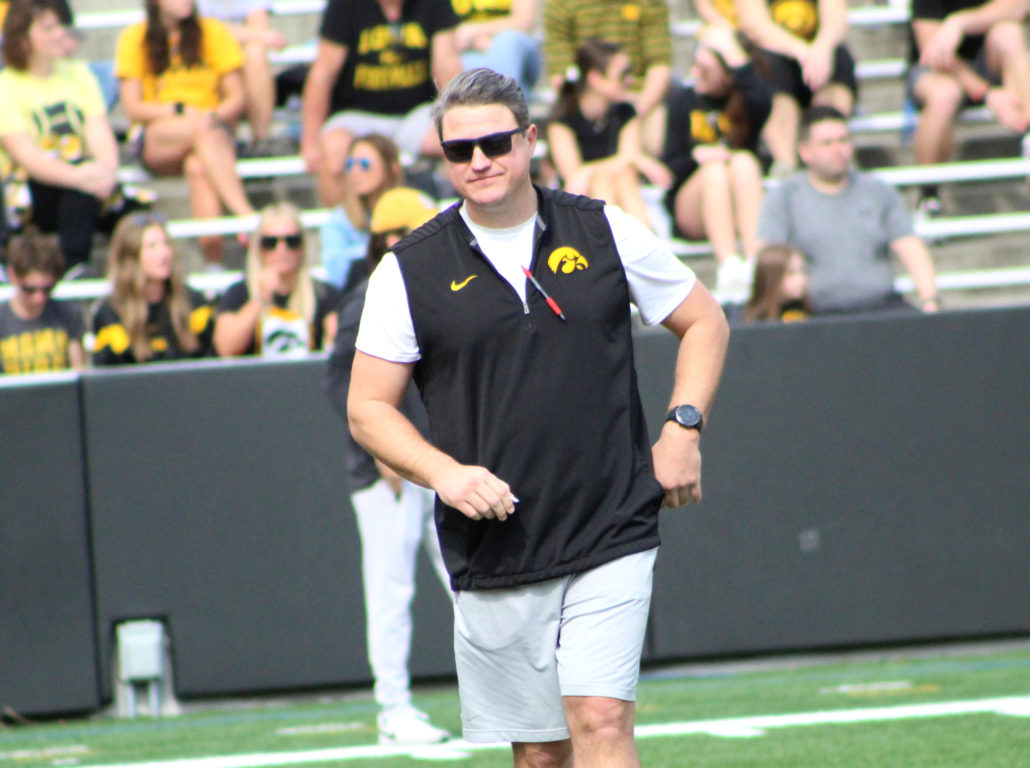 INDIANAPOLIS — Last week Iowa's assistant coaches received a significant increase in their salaries for the upcoming season.
Much of it was well-deserved and long overdue. After all, the Hawkeyes are coming off a double-digit win campaign, which included a berth in the Big Ten Championship Game. Most of the assistants will have a 31.4 percent increase in what they make, including longtime Defensive Coordinator Phil Parker.
The 59-year old was already Iowa's highest-paid assistant, but now he'll be earning over a million dollars per year. And rightfully so, with the way Parker annually fields elite defenses. However, Offensive Coordinator Brian Ferentz received the least amount.
When Coach Kirk Ferentz took the podium Tuesday at Big Ten Media Days, he was asked about his son's $40,000 bump. If it was a reflection of the Hawkeyes struggles on offense the past few years. Regardless, Ferentz emphasized how Brian is well compensated, plus he'll be making $800,000 this fall.
"Bottom line, two things, I feel like our staff, the numbers, there's reasons for everything we do, and we have private conversations regarding that," Ferentz said. "I feel like the staff salaries reflect levels of experience, contributions to the program."
Brian is now working more with the quarterbacks. Still, it's no mystery that the Hawkeyes' offense has been the team's achilles heel. Iowa finished 13th in the Big Ten and 121st in the FBS in total offense in 2021, which left fans with a foul taste in their mouths. Often times the Hawkeyes had to rely on their attacking defense to win games. So when the unit failed to make stops last year against the likes of Purdue, Wisconsin and Michigan, Iowa's offense couldn't answer the bell.
Gunslingers Spencer Petras and Alex Padilla combined for 12 touchdown tosses and 11 interceptions. Not to mention star players like running back Tyler Goodson and center Tyler Linderbaum are now on NFL rosters. Even receivers Tyrone Tracey and Charlie Jones transferred to Purdue during the offseason.  It's a lot of experience, leadership and production that Brian must find replacements for.
Now Iowa's embattled Offensive Coordinator is picking up the pieces approaching fall camp. Fans want Brian to open up the playbook instead of being so conservative. Iowa is traditionally blue-collar on offense. Pounding the ball, play-action and time of possession has been Brian's repertoire. The explosive plays don't happen too often, and until the Hawkeyes can show that they can stretch the field, opposing Big Ten defenses will continue to stack the box.
Ferentz believes all of his assistants are all doing a solid job leading the players. In today's game money has diminished loyalty and destroyed the traditions that made the sport special. So Ferentz is just glad he got to keep his staff intact during the offseason.
"Most important was just making sure our staff was well compensated," he said. "I just got done saying I really feel good about our entire staff, and if we end up losing a coach, I want it to be for really good reasons, not because we're not able to pay them enough."
There will be plenty of opportunities this fall for Brian to prove he has the offense headed in the right direction. Which is why Ferentz is expecting fall camp to be intense with preparation and building chemistry. In the meantime the 66-year old will be monitoring his team and expecting improvement. People outside of the program don't know what the Hawkeyes will have brewing for the fall. And there's nothing like the element of surprise.
College football's longest-tenured coach remains confident in his staff and believes they all have earned every penny of what they're going to be making.
"I think we're in a good place with everybody on the staff."