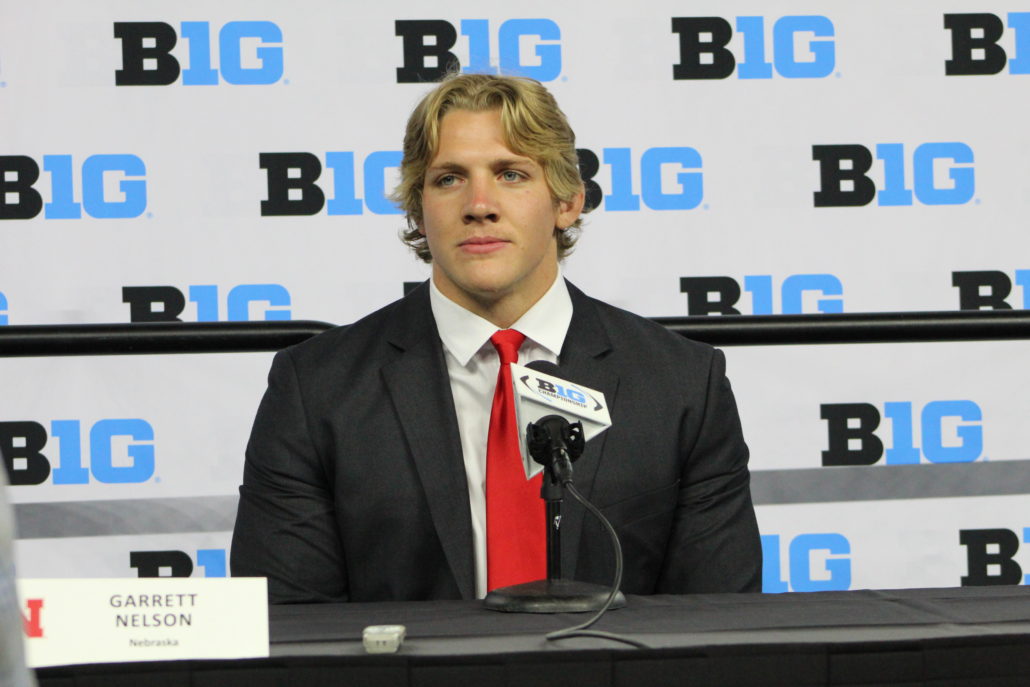 INDIANAPOLIS — Nebraska's junior linebacker is ready to change the narrative of Scott Frost's tenure.
After all, Garrett Nelson is approaching his fourth season with the program after suffering through three-straight losing campaigns. Nebraska's recent shortcomings instilled a fire inside of him, and he's all work and no play heading into fall camp.
There's no denying the entire team is hyped up to get back on the gridiron, especially after the Huskers we're predicted to finish fifth in the West by Big Ten media members Tuesday. Nelson plans on taking charge of the Blackshirts. He's also determined to bring respect back to Nebraska's defense.
The six-foot-four, 245-pounder has been proactive with his dieting and training. Not to mention Nelson has been working on his flexibility, fine tuning his pass rush skills and his explosiveness. He's basically molding himself into a complete defender.
And Nelson is doing everything to build on his 2021 campaign, when he led Nebraska in tackles for loss and sacks.
The vibe around the team is intense. Everyone is dialed in on the task at hand. That's just how Nelson likes it, because he considers himself a high energy guy.
"We're so ready to win, we all want to win so badly for this coach and for this team," Nelson said. "Finally change our lives and the trajectory of this program into a positive light."
Being a Nebraska native he takes the criticism to heart, especially when it's about his head coach. Nelson tries his best to block out all of the outside noise and negativity surrounding Frost. However, it's hard to turn off the antennas when the naysayers are constantly trashing Frost on social media platforms.
He wishes all of the haters knew how much Frost has done for the program and his players. Nelson even looks up to Frost as a father figure, so any insults makes him livid. Still, he can't ignore the fact that Frost is 15-29 at his alma mater, and the Huskers are riding a six-game losing streak into the fall.
Nelson believes everything is coming full circle for Big Red Nation, and they're due for something special. The players and staff are rallying behind the embattled coach.
"This is probably the closest team we've had, everybody wants to play for each other," he said. "Nobody wants to let their teammates down, and we understand our goals that we want to have."
Nelson thought the Blackshirts played solid last season, but knows there's plenty of room for improvement after they finished 47th nationally in total defense. The talent that's on the unit now, including All-Big 12 defensive lineman Ochaun Mathis, has bought plenty of excitement on that side of the ball.
The former three-star prospect excels along the edge and at outside linebacker, plus he's cherishing his role as the enforcer of the front seven. Frost understands what Nelson brings to the table in terms of leadership, experience, physicality and production. So he's ready to unleash the beast.
"He (Nelson) is a little crazy, and he's just done a good job stepping to the front and making plays," Frost said. "I think he has the respect of the team, so they're going to listen to him, he's been around long enough to know what coaches expect and he expects the same thing out of his teammates."
Nebraska is going to need the best out of Nelson and the rest of the defense. There's no time to slack either, with a conference opener looming against Northwestern in Ireland in week zero. That's why Nelson is anticipating a physical camp over the next few weeks. His No. 1 priority is establishing leaders, plus he wants to build confidence and chemistry with the rest of the Blackshirts.
In Nelson's perfect world the defensive line will be penetrating opponent's backfields, with edge rushers generating double-digit sacks. Most importantly, he's remaining optimistic that the Blackshirts can accomplish those feats in 2022. It's all about evolving and getting to the promised land.
"If we come together as a team the record will take care of itself, I know that for sure."