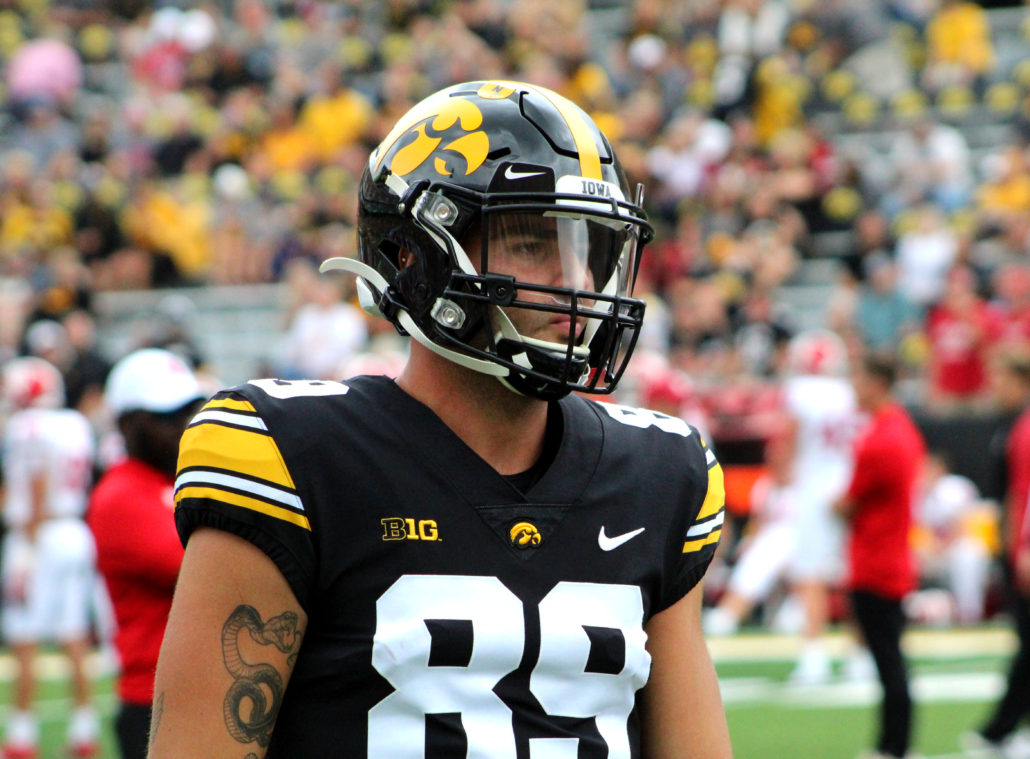 IOWA CITY, Ia. — Iowa's leading returning wide receiver was sort of blindsided by the departure of one his beloved teammates.
Charlie Jones entered the transfer portal shortly after the conclusion of spring ball, and landed at Purdue earlier this month. The timing of it all caught Nico Ragaini's attention, considering the two wideouts' history with each other. Not only were they quarantined together, but Jones also showed Ragaini how to be a professional on and off the field.
Jones even hauled in 21 passes and scored four total touchdowns last season. Ragaini isn't denying how valuable the former Hawkeye was to the teams' aerial attack and return game. So he's preparing to elevate all aspects of his game in summer workouts. In Ragaini's eyes, nothing lasts forever when it comes to the transfer portal.
"I definitely was upset, but that's my guy and I love Charlie," Ragaini said. "It's selfish that he left me to be the only grandpa on the team, but he taught me a lot since we've been together."
Ragaini is no stranger to his fellow wideouts leaving the program and then playing against them on opposite sidelines. Oliver Martin transferred to Nebraska, and Ragaini felt it made the Heroes Rivalry more intense. With Jones and Tyrone Tracy now on the Boilermakers' roster, Ragaini is looking forward to the Hawkeyes' trip to West Lafayette on November 5th.
Until then he's going to embrace being the leader in the wide receiver room. The six-foot, 191-pounder strongly believes with his experience and production, Iowa's passing attack shouldn't miss a beat. After all, Ragaini has caught 91 balls for 968 yards during five seasons in Iowa City, plus he scored four total touchdowns.
Ragaini was consistent at getting his hands on the ball last year too, with at least one reception in every game during the regular season. His best performance was in the victory over Penn State, when he caught four passes for 73 yards and a score.
The Connecticut native is all about building chemistry with the quarterbacks and his fellow receivers during the offseason. Ragaini and signal-caller Spencer Petras have been together for the past five years and communication is never a problem. With the offense installing new packages, Ragaini has spent more time with Petras learning different areas of the playbook.
"We're working on the new routes, getting them down and seeing what works for us," he said.
Ragaini feels Petras has a cannon for an arm and is encouraged by his growth. Not to mention Petras is attending the Manning Passing Academy that's taking place this week. As far as guiding the younger receivers, Ragaini is preparing to lead by example. He's never been a vocal guy or the drill sergeant that scolds his teammates when they make mistakes.
Instead the former three-star prospect prefers a different approach that requires him to coach the younger receivers one-on-one on how to correct what they did wrong.
"Even after somebody runs the wrong route, I'll get right next to him and tell him what I think he can do better," the senior said. "Not embarrassing him in front of everybody."
Ragaini strongly believes it'll all go a long way with them trusting and respecting him as a leader. He's hoping to make others around him better, as they pay a lot of attention to detail. Delivering in the clutch and remaining a possession receiver will be vital.
Regardless, everything is trending up towards Ragaini having his best season since 2019, when he caught 46 balls. As for now, he's just going to continue riding the wave of momentum.