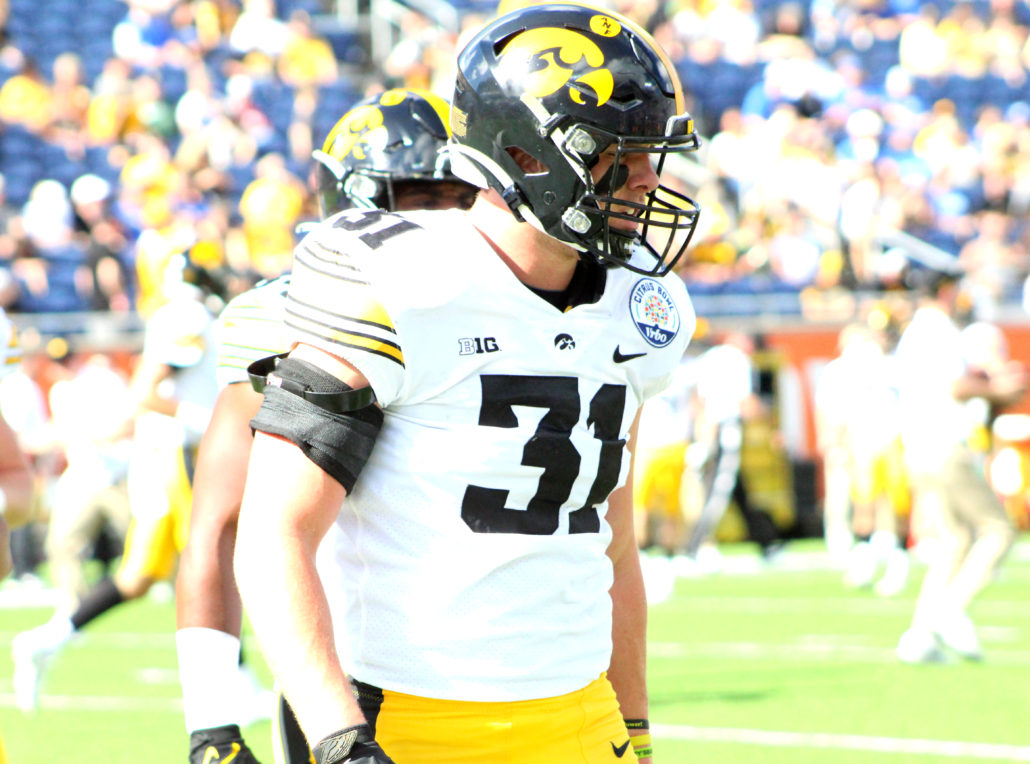 IOWA CITY, Ia. — After leading the nation in tackles last season, Iowa's All-Big Ten linebacker is embarking on another mission in summer workouts.
There's no denying the Hawkeyes will be fielding one of the best group of linebackers in the conference this fall. Jack Campbell is the headliner, but the rest of the supporting cast is just as fierce. Still, Iowa's reigning defensive MVP wants to continue providing growth to a unit he believes has a solid foundation.
Seth Benson and Jestin Jacobs are the two other veterans of the group. Campbell feels they bring the same amount of intensity and success to the position as he does. Which is why he never tries to hog all of the credit. Experience, leadership and production is vital for the linebackers in Phil Parker's defense.
After all, Campbell, Benson and Jacobs combined for a jaw-dropping, 300-plus tackles in 2021. The trio remains a close-knit group and they view the rest of their fellow linebackers as a brotherhood. Campbell and Jacobs even came into the program together, and were with each other on recruiting trips.
The younger defenders are soaking up their football knowledge like a sponge. Which is why Campbell is trying his best to lead by example on and off the field. The Iowa native has put his focus on respecting and getting to know the youngsters.
Campbell feels taking them under his wing and earning their trust will go a long way as they approach the season. Once upon a time he was in their shoes looking for guidance. The former three-star prospect remembers the legacy his predecessors Josey Jewell and Nick Niemann left at the program. So Campbell wants to continue to set the bar high for all the freshman and sophomore linebackers who'll one day replace him.
"If you're coming in here on the defensive side for Hawkeye football, just the tradition and the legacy that's been built, it's a little bit of pressure to uphold that," Campbell said.
The Iowa native is all about work ethic, which his family instilled in him as an adolescent. Staying humble and taking nothing for granted keeps him grounded. Campbell understands there's a lot of responsibility that comes with the territory. Chemistry is built on how teammates practice with each other and Campbell prides himself on that.
"I feel like this program has been built on the culture of the veterans taking the young guys in," he said. "Obviously it's my job now that I'm a fourth-year player, I have to show them what it means to be like a Hawkeye linebacker."
Campbell is flattered with how all of the underclassmen gravitate towards him. He's always open to responding to their texts, answering questions and watching film with them. In Campbell's heart, showing them the ropes is what being a true leader is all about. They're all grinding hard on the field, in the weight room, and Campbell is enjoying the strength and conditioning sessions too.
The intensity stays high because everyone wants to improve on a daily basis. Campbell understands mistakes will happen, but learning from those mistakes is what's really important. Keeping everyone positive and on the same page relies heavily on the shoulders of the veterans. Outsiders may think a room filled with fierce defenders is heated and stressful, but Campbell emphasized how it's the complete opposite.
"Instantly when you walk in there it's just full of laughs, having fun, messing around, almost acting like the kids that we are," the 21-year old said. "We're all working tirelessly every single day just to be the best versions of ourselves that we can be."
Despite having 143 stops last year, Campbell wasn't even a finalist for the Butkus Award. However, he's not trying to use the lack of recognition as fuel of motivation. The junior came into the program with a chip on his shoulder and embraces being the underdog, so nothing surprises him. Campbell could care less about any individual accolades anyway, when his No. 1 goal is to help the Hawkeyes get back to the Big Ten Championship.
The six-foot-five, 243-pounder will have a bullseye on his back this fall though. Every week opposing Offensive Coordinators will be planning their scheme around big No. 31 in the middle of Iowa's defense. In return that's going to open up opportunities for Campbell's teammates to make plays.
The season is still over two months away and each passing day builds anticipation. And once game day approaches, Campbell can't wait to listen to some Matthew West and Christian music before buckling up the chin strap. In the meantime, he'll continue to enjoy the summer. Campbell is a monster out on the field, but very laid back in his social life.
Independence Day weekend will provide some thrills for Campbell too. He plans on weight surfing on the lake in the back of his girlfriend's house. Being away from football gives Campbell time to hang out in nature and bond with his two younger brothers.
"I like to spend time outdoors, hunting, fishing, anytime I can get outside," the middle linebacker said. "I love catching walleye, hunting wild turkeys and pheasants, or white-tails."
Iowa fans wants their star defender to enjoy the next couple of weeks as much as possible, because once he steps back on the gridiron it's going to be all work and no play.