Ranking the Pac-12's best running backs of 2022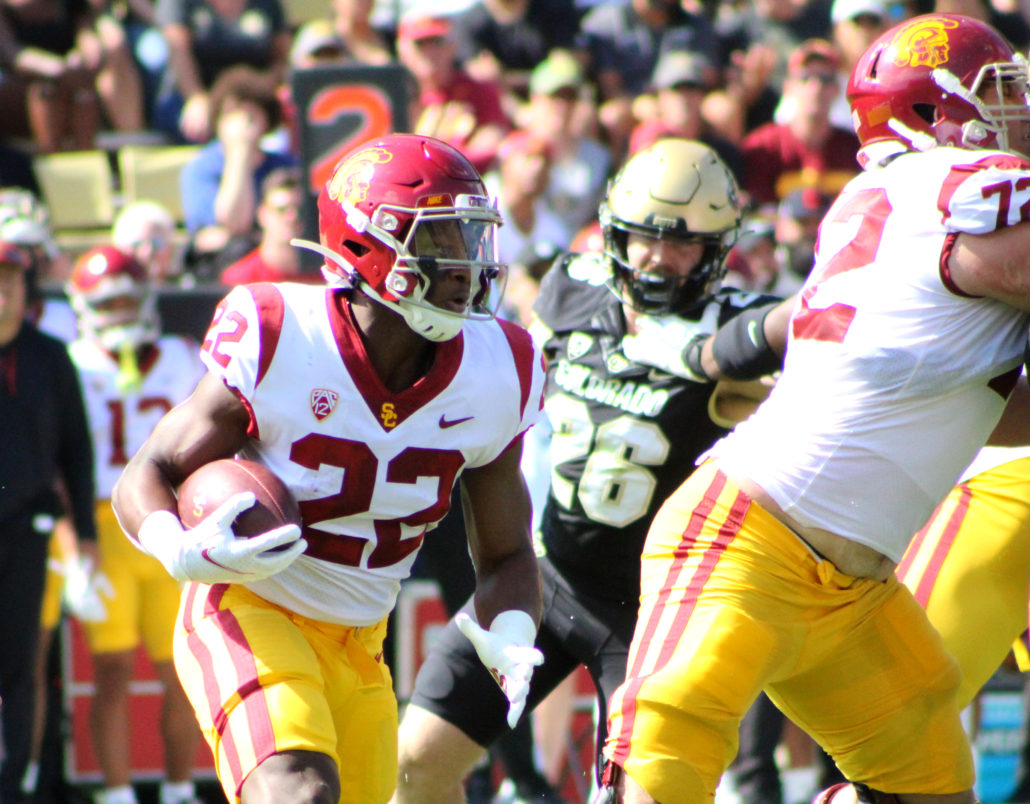 The league will boast some young talent in the backfield this fall.
There are a plethora of rushers who'll be looking to make a name for themselves. Some are veterans, while others are inexperienced, but they all share a common goal, which is doing whatever it takes to make their respective teams better.
They come in all shapes and sizes too. From big bruisers, to sideline speedsters and most of them provide mismatches out of the backfield with their hands. These 14 individuals are poised to carry out all of the duties required of a No. 1 rusher in 2022. Rather it's running the ball or blocking, taking pressure off the quarterback and protecting the football, running backs are the most trusted individuals on offense.
12. Nakia Watson, Washington State: The former three-star prospect racked up 522 rushing yards and five touchdowns in three seasons at Wisconsin, before he transferred to Washington State last year. Watson finished third on the Cougars in rushing yards in 2021. He generated 20 yards on the ground in the victory at Arizona State. Watson had 16 rushing yards against Portland State and 14 against Arizona. However, Watson saved his best performance for last in Washington State's bowl game against Central Michigan. The Austin native carried the pigskin 15 times for 58 yards, which were both season-highs. Now that Max Borghi is gone, Watson has the opportunity to become Washington State's No. 1 rusher. Although his journey has been promising, the Cougars ranked 107th nationally in rushing offense.
11. E.J. Smith, Stanford: The former four-star prospect was David Shaw's third-leading rusher last season. Smith has great size, standing six-foot and weighing 213 pounds. The Dallas native made the most out of his opportunities when he had the ball in his hands and even caught 15 passes out of the backfield. Smith generated 26 yards on the ground and his only touchdown of the year in the victory at Vanderbilt. He carried the ball seven times for 53 yards against Utah, which were both season-highs. Not to mention Smith left a lasting impression with 25 rushing yards in the finale against Notre Dame. Smith looked promising in Stanford's spring game, and hauled in a 41-yard touchdown pass. He'll be pushed by Caleb Robinson in fall camp, who only appeared in two games last year and is inexperienced.
10. Cameron Davis, Washington: The Californian served as Sean McGrew's backup, and tied for second on the Huskies in rushing yards last season. Davis rushed for a touchdown in the victory at Arizona. He carried the ball 18 times for 99 yards in the win at Stanford, which were both season-highs. The former four-star prospect had 18 carries for 67 yards and a touchdown against Arizona State. Davis also recorded 18 carries and hauled in six passes for 58 yards against Colorado. The Huskies finished 11th in the Pac-12 and 125th in the FBS in rushing offense. In order for those numbers to improve Washington's offense must get better at blocking up front and control the trenches. The Huskies haven't had a 1,000-yard rusher since Salvon Ahmed, but with the right number of carries, Davis could end the two-year drought.
9. Michael Wiley, Arizona: The Houston native led the Wildcats in carries, and tied for first on the team in rushing touchdowns last season. Wiley had a season-high, 15 carries for 64 yards in the opener against BYU. He rumbled for 63 yards on the ground at Oregon, and hauled in a touchdown pass the next game against UCLA. Wiley rushed for a touchdown in the victory over California, plus another against USC. Not to mention he generated a touchdown reception in each of Arizona's final three games. Wiley caught a season-high, eight balls, including a 27-yard touchdown against Washington State. His ability to hurt defenses on the ground and through the air will be beneficial for the Wildcats in 2022. Wiley has 630 yards rushing, 495 receiving and scored nine total touchdowns in his career at Arizona.
8. Alex Fontenot, Colorado: The former three-star prospect led the Buffaloes in rushing touchdowns last season. Fontenot accomplished that feat despite serving as Jarek Broussard's backup. He rushed for 40 yards and a touchdown in the opener against Northern Colorado. The Texas native also had a rushing score at Arizona State, where he carried the ball 14 times for 65 yards, which were both season-highs. Fontenot displayed his soft hands in the victory over Arizona and hauled in a 43-yard pass. The six-foot, 200-pounder generated a rushing score and caught a touchdown pass at Oregon. Fontenot had another season-high, with two rushing scores at UCLA. Although the senior was sidelined with an injury in spring ball, Deion Smith stepped up and made the most out of his carries during Fontenot's absence.
7. Deshaun Fenwick, Oregon State: The Florida native rushed for 523 yards in three seasons at South Carolina. Fenwick backed up B.J. Baylor last season and finished second on the Beavers in carries and rushing yards. Oregon State ranked third in the Pac-12 and 19th in the FBS in rushing offense last year. Fenwick was a huge contributor of that production. He's a load for defenders to bring down too, standing six-foot-three and weighing 230 pounds. Fenwick carried the ball 15 times for 127 yards and two touchdowns at Washington State, which were all season-highs. The former three-star prospect also had a rushing score against Idaho and California. Fenwick doesn't have the position on lock. He'll have to beat out true freshman Damien Martinez in fall camp, who wowed everyone throughout the spring.
6. Byron Cardwell, Oregon: The former four-star prospect was the Ducks' third-leading rusher as a true freshman last season. Cardwell rushed for 358 of his 417 yards over Oregon's final five games of the regular season. He recorded 98 yards on the ground and two touchdowns in the victory over Washington State. His 16 carries at Washington were a season-high. However, Cardwell's best performance came in the victory over Colorado. The San Diego native rushed for a season-high, 127 yards on just seven carries and a score against the Buffaloes. Cardwell will be on a crash collision course with Noah Whittington for the Ducks' starting job. Whittington led Western Kentucky in carries and rushing yards last year. The Georgia native rushed for a season-high, 150 yards and a score in the Hilltoppers' bowl game.
5. Damien Moore, California: The former three-star prospect led the Golden Bears in rushing touchdowns, and finished second on the team in yards on the ground last season. Moore was able to generate that production despite serving as Christopher Brooks' backup. He also scored six total touchdowns through California's first four games. Moore stockpiled two rushing scores apiece in back-to-back contests against TCU and Sacramento State. The Californian recorded a season-high, 18 carries, plus he caught a 26-yard touchdown pass at Washington. Moore stockpiled a season-high, 111 yards on the ground and a score in the victory over Oregon State. Although California finished 61st in the FBS in rushing yards per game in 2021, Moore has enough experience and production to improve those numbers.
4. Xazavian Valladay, Arizona State: The Sun Devils lost their top-three rushers from last season. However, the addition of new talent to the running back room should be enough to keep the wheels rolling this fall. After all, Arizona State finished 35th in the FBS in rushing offense in 2021. Valladay was a two-time 1,000-yard rusher over the past three seasons at Wyoming. His 3,274 rushing yards ranks third all-time with the Cowboys. Valladay earned second-team, All-Mountain West honors last year, and has a jaw-dropping, 11 100-yard games in his career. He also has two 200-yard performances, but Valladay will battle Daniyel Ngata in fall camp. Ngata rushed for a season-high, 82 yards and a touchdown at BYU. The Californian punched the pigskin in the endzone against Southern Utah, UNLV and Wisconsin.
3. Travis Dye, USC: The former three-star prospect has spent the past four years at Oregon. Dye stockpiled a jaw-dropping, 3,125 rushing yards, to go along with 21 touchdowns on the ground during that span. Not to mention Dye earned most of that production being CJ Verdell's backup. The 5-foot-10, 200-pound Dye rushed for 1,271 yards in 2021, which ranked second in the conference. The Californian hauled in 46 passes, and tied for 10th nationally with 16 rushing scores. Dye's explosiveness allowed him to average a Pac-12-best, 6.02 yards per carry. Dye scored four total touchdowns in the victory over UCLA and rushed for 211 yards at Washington. Darwin Barlow and Stanford transfer Austin Jones will be in the rotation. Barlow was USC's No. 3 rusher last season, and Jones led Stanford in carries.
2. Tavion Thomas, Utah: The Ohio native took the conference by storm with a spectacular campaign for the reigning Pac-12 Champs. Thomas is tough as nails and a load for tacklers to bring down, with his massive six-foot-two, 238-pound frame. Not only did the former Juco stampede for 1,108 yards yards on the ground, but he also raised several eyebrows with 21 rushing touchdowns. Thomas led the Pac-12 in rushing scores and was No. 3 in the country. Those eye-popping touchdowns were a single-season school record. He surpassed the century mark in rushing in five games, including four conference tilts. Thomas even scored four touchdowns apiece in back-to-back victories over UCLA and Stanford. For his heroics Thomas earned first-team, All-Pac-12, but he'll have to cut down on the fumbles in 2022.
1. Zach Charbonnet, UCLA:  The former four-star prospect rushed for 850 yards and 12 touchdowns in two seasons at Michigan before he transferred to UCLA last year. Charbonnet provided an immediate spark in Chip Kelly's offense in 2021. He scored seven touchdowns through the Bruins' first five games. Not to mention Charbonnet averaged 95 yards per game, and went over 100 yards rushing against Hawaii, LSU, Stanford, Arizona, Washington, USC and California. The Californian's 28 carries for 167 yards in the win over the Trojans, were both season-highs. Not only did Charbonnet finish the year with 1,137 yards on the ground and 13 rushing touchdowns, but he also caught 24 passes out of the backfield. The cherry on top to Charbonnet's amazing campaign was earning second-team, All-Pac-12 honors.