Ranking the Big 12's best running backs of 2022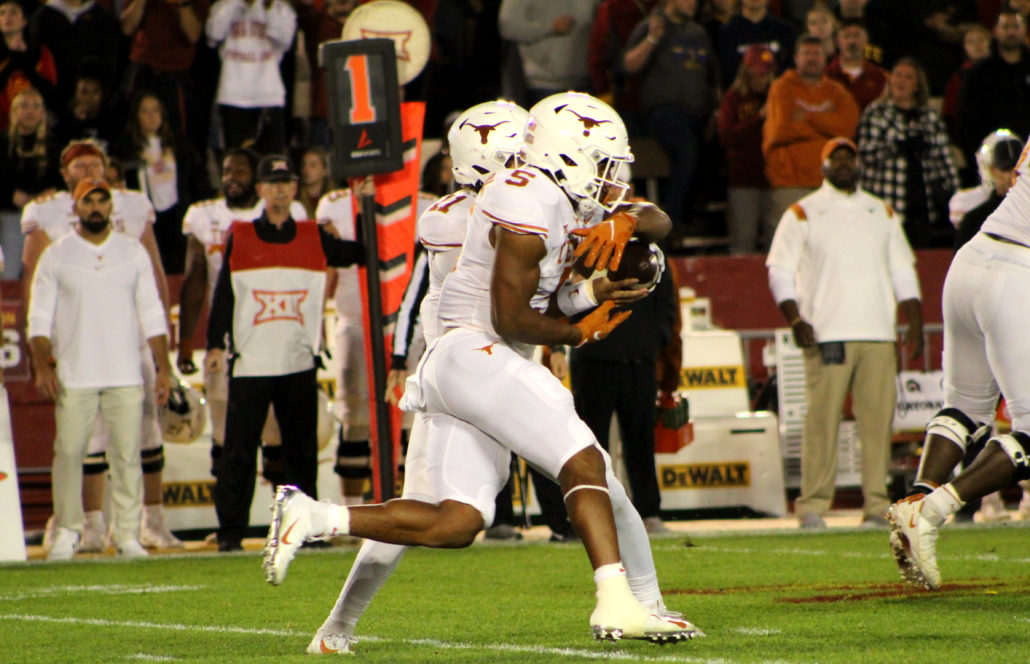 The conference lost six of its' top-eight rushers from last season due to eligibility, NFL and the transfer portal.
However, the Big 12 will have a plethora of talented young running backs looking to jumpstart their legacies. The league still has star power in a couple of players, and their names ring bells across the College football landscape.
Although nothing will be set in stone until fall camp, these rushers have generated enough momentum from last season and through spring ball, for their teams to rally behind them in 2022
10. Taye McWilliams, Baylor: The Bears' top-two rushers from last season are now on NFL rosters. McWilliams was Baylor's fourth-leading rusher in 2021 and made the most out of his opportunities. He carried the ball six carries for 102 yards and a touchdown in the victory over Texas Southern. The following week at Kansas McWilliams added 54 yards on the ground and another rushing score. The Texas native generated 25 rushing yards in the win over West Virginia. However, McWilliams didn't receive another carry for the rest of the season after Abram Smith and Trestan Ebner took over the backfield. Quarterback Gerry Bohanon carried the ball 76 times last season, but now that he's gone, McWilliams numbers should flourish. Craig Williams split carries with McWilliams in Baylor's spring game, who'll likely be No. 2.
9. Dominic Richardson, Oklahoma State: The Oklahoma City native is the Pokes' second-leading returning rusher behind quarterback Spencer Sanders. Richardson looked promising as Jaylen Warren's backup last season. He rumbled for 79 yards and a touchdown in the win over Kansas. The former three-star prospect stockpiled 104 total yards and found the endzone in the win at Texas Tech. Not to mention Richardson carried the ball 20 times for 84 yards against the Red Raiders, which were both season-highs. The six-foot, 210-pounder also displayed great hands with a 24-yard reception on the road at Texas. In 2020 Richardson steamrolled for 169 yards and three scores at Baylor, which were both career-highs. He's generated 462 yards on the ground and five touchdowns through 19 games with the Pokes.
8. Jirehl Brock, Iowa State: Life after Breece Hall is starting, and the former four-star prospect appears to be the torch-bearer to the All-American rusher. Brock was the Cyclones' third-leading rusher in 2021 and had some bright moments. The six-foot, 215-pound downhill runner had his coming out party in Iowa State's bowl game against Clemson. In Hall's absence, Brock carried the ball 14 times for 42 yards, which were both season-highs, plus he hauled in three passes. He also displayed soft hands and caught a touchdown in the victory over Kansas. The Illinois native has looked very promising up to this point, and Coach Matt Campbell was very impressed with Brock throughout spring ball. So much so that Campbell will likely nab Brock as his starter for the fall, but he's still going to need a solid backup.
7. Tony Mathis, West Virginia: The former three-star prospect was the Mountaineers' second-leading rusher behind Leddie Brown last year. Mathis carried the ball 22 times for 118 yards in the road victory at Kansas, which were both career-highs. He followed up that performance with 56 yards on the ground in the bowl game against Minnesota. Not to mention Mathis rushed for 225 of his 312 yards over West Virginia's final five games. As promising as the Florida native's 2021 campaign was, Mathis failed to find the endzone. The 5-foot-11, 206-pounder has scored two total touchdowns in three seasons with the Mountaineers. However, with Brown no longer around, Mathis is expected to get the bulk of the carries in West Virginia's backfield. The redshirt junior has generated some momentum for the fall.
6. Eric Gray, Oklahoma: The former four-star prospect rushed for 772 yards and scored six total touchdowns with Tennessee in 2020. Gray has some of the best hands of any running back in the Big 12. He was Kennedy Brook's backup last season, and finished as Oklahoma's third-leading rusher. The Sooners have a plethora of unproven talent in their backfield approaching the fall, but Gray is the most experienced. The Memphis native generated 74 yards on the ground and caught a 20-yard touchdown against Western Carolina. The following week Gray carried the ball 15 times for 84 yards in the win over rival Nebraska, which were both season-highs. Gray left a lasting impression when he steamrolled for 82 rushing yards and hauled in a six-yard touchdown pass in the bowl victory over Oregon.
5. Tahj Brooks, Texas Tech: He led the Red Raiders in rushing yards last season. Brooks accomplished that feat despite the fact that he carried the ball 20 less times than teammate SaRodorick Thompson. Brooks had a season-high, 134 rushing yards and two touchdowns in the opening victory over Houston. The following week against S.F. Austin, Brooks rumbled for 103 yards on the ground and two scores. The 5-foot-10, 220-pounder left a lasting impression with 107 rushing yards in the bowl win over Mississippi State. Thompson was solid and led the team with 10 rushing scores. The Texas native rushed for 118 yards and three touchdowns against TCU, which were both season-highs. After Brooks and Thompson split carries over spring ball, Texas Tech could potentially have a dynamic duo in its' backfield this fall.
4. Kendre Miller, TCU: The former three-star prospect led the Horned Frogs in rushing touchdowns last season, despite splitting carries with Zach Evans. Miller is a bigger back, standing six-foot and weighing 218 pounds, and he uses his frame to punish defenders. He rushed for 185 yards and three touchdowns in the victory at Texas Tech, which were both season-highs. Miller rumbled for 102 yards on the ground at Kansas State. The Texas native steamrolled for 112 yards and a touchdown in the win over Kansas. Miller also had a rushing score against Duquesne, SMU and Texas. Not to mention Miller hauled in a touchdown pass against Oklahoma. Now that Evans has transferred to Ole Miss, Miller's numbers should flourish this fall. However, he'll have to adjust his game operating in Sonny Dykes' pass-happy offense.
3. Devin Neal, Kansas: The hometown kid led the Jayhawks in yards on the ground and rushing touchdowns as a true freshman last season. Neal was dynamic at times with the ball in his hands and he's a matchup nightmare out in the open field. The 5-foot-11, 214-pounder had 24 carries for 143 yards and scored four total touchdowns in the victory at Texas, which were all season-highs. Not to mention it was Kansas' first win at Darrell K Royal as a Big 12 member. Neal rumbled for 107 yards on the ground and a touchdown at Duke. The former three-star prospect generated 100 rushing yards and two scores against Oklahoma. Neal also found the endzone against Coastal Carolina and TCU. Now he's poised for an All-Big 12 caliber season in 2022, if the Jayhawks can provide Neal with solid blocking up front.
2. Deuce Vaughn, Kansas State: Last season as a true sophomore he ranked ninth in the FBS in rushing yards per game. Not only has Vaughn led the Wildcats in receptions for the past two years, but he also has racked up 2,046 yards on the ground and 25 rushing scores during that span. The Texas native has eclipsed a 100 yards rushing in nine of Kansas State's last 13 games. There's no denying he's the Wildcats' most explosive rusher since Darren Sproles. What the five-foot-six, 176-pounder lacks in size he makes up for in vision and production. Over Kansas State's final six games, Vaughn scored 12 total touchdowns, including four in the bowl victory over LSU. Vaughn also earned first-team AP All-America honors. With Breece Hall off to the NFL, he has a chance to become the Big 12's next rushing champion.
1. Bijan Robinson, Texas: The Longhorns ranked second in the Big 12 in rushing offense last season and he's a big reason why. Robinson went over the century mark in rushing through six of the Longhorns' first seven games, including a 216-yard performance at TCU. Not to mention he averaged 112.7 rushing yards per game, which ranked eighth in the country. The former five-star prospect generated 1,127 rushing yards, hauled in 26 passes and scored 16 total touchdowns in 10 games. Although Robinson didn't play in the Texas' last two games because of an injured elbow, he still earned first-team, All-Big 12 honors. His teammate Roschon Johnson is also a dangerous rusher, and the two will form the Power Five's best running back duo this fall. Robinson just landed a NIL deal with Lamborghini too.