Ranking the Big 12's best coaches of 2022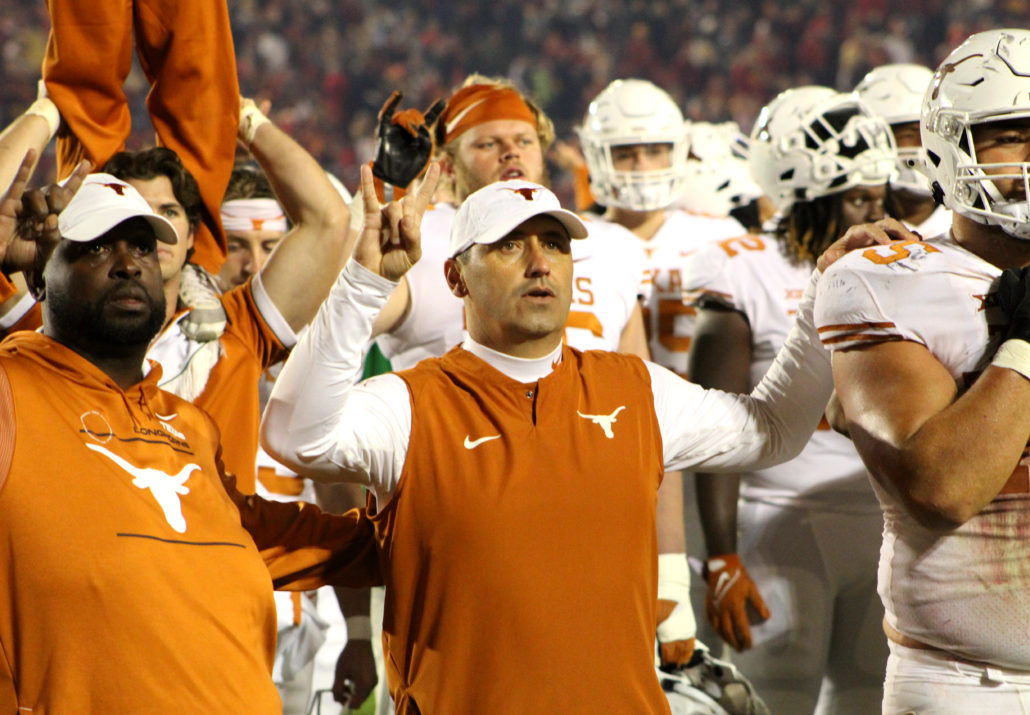 It's a conference that's going through a transition.
With all of the new hires and the transfer portal, the Big 12 is due for a new identity for the upcoming season. No more Lincoln Riley or Gary Patterson, but new arrivals like Brent Venables and Sonny Dykes will bring a different level of excitement to the league.
These 10 coaches are out to prove that the Big 12 is still one of the best Power Five conferences. And with a slate of epic battles in the non-conference this fall, they'll have an opportunity to show their worth to the rest of the College football world.
10. Joey McGuire, Texas Tech: Although the 50-year old has never been a head coach, he's very familiar with the Big 12. After all, McGuire was a former tight end at Baylor under Matt Rhule. Despite playing an offensive position, he's a defensive-minded coach. Working nearly two years under Dave Aranda ironed out some of the wrinkles to McGuire's x's and o's. Now he's replacing Matt Wells, who led the Red Raiders to a 5-3 record last season before his departure. Texas Tech has momentum approaching the 2022 season, especially after capping off a 7-6 campaign with a bowl victory over Mississippi State. It's going to be up to McGuire to keep the wheels rolling. The Red Raiders aren't known for having an attacking defense. McGuire will need to dig deep to change the culture and implement his vision with the program.
9. Neal Brown, West Virginia: The Louisville native made a name for himself as the head coach of Troy. Brown went 31-8 over his last three seasons with the Trojans, which included road victories over LSU and Nebraska. He was also 20-4 against Sun Belt opponents. However, Brown quickly found out that the Big 12 is a different type of animal, in terms of speed, physicality and coaching. In three seasons with the Mountaineers he has compiled a 16-18 record, including a 11-15 mark in conference play. Although Brown posted two losing seasons in the three years he's been on the job, he still led West Virginia to back-to-back bowl games. The 42-year old is an offensive-minded coach, but the Mountaineers ranked 87th in the FBS in total offense last season. There will be some pressure for him to produce more wins in 2022.
8. Steve Sarkisian, Texas: The 48-year old has participated in some of the best dynasties of this century as an assistant coach. Sarkisian was part of Pete Carroll's regime at USC and Nick Saban's at Alabama. He was the head coach at Washington for five seasons and stockpiled a 34-29 record. The California native coached 18 games at USC and finished 12-6, before Saban took Sarkisian under his wing, and refined his coaching knowledge. Sarkisian's first season with the Longhorns was a disappointing campaign. After starting off 4-1, the Longhorns blew several fourth quarter leads and lost six of their final seven games. However, Sarkisian lured in a couple of transfers that should help his offense. Upgrading the program's talent is vital, considering Texas had no players selected in this year's Draft.
7. Lance Leipold, Kansas: His track record goes back three decades. Leipold gained notoriety as a head coach at Buffalo. Over his last four years with the Bulls, Leipold never suffered a losing season and won 30 games. The 57-year old led Buffalo to three-straight bowl appearances and won the last two. Although Leipold wasn't the first former Buffalo coach to come to Lawrence, Jayhawk fans are hoping he fares better than Turner Gill's two-year tenure. And Leipold's first season on the sidelines was promising. Kansas won two games, including its' first-ever victory at Texas as a Big 12 member. There were some bright spots in his 10-loss campaign, and the team started to turn the corner over the final three games. The Jayhawks' last two losses were by a combined nine points, so there's optimism in 2022.
6. Chris Klieman, Kansas State: The Iowa native won a jaw-dropping, four FCS Nattys at North Dakota State before he landed in Manhattan. Klieman has gained some traction after three seasons at Kansas State. With two winning campaigns, plus a bowl victory over a SEC powerhouse, the Wildcats have a ton of momentum approaching the fall. Klieman has taken advantage of the transfer portal to fill voids and added depth to his team. Although he has posted a 20-16 record with Kansas State, Klieman is still 13-14 against Big 12 foes. However, Wildcat fans believe Klieman has everything trending up with the program, and there's plenty of pieces in the right place, at the right time for Kansas State to make a run at the conference title. Having rusher Deuce Vaughn and a loaded defense are the reasons for optimism.
5. Brent Venables, Oklahoma: It's ironic how times have changed. Venables is the head coach at a program that he left as its' Defensive Coordinator 11 years ago. However, Oklahoma's hiring of the 51-year old shouldn't come as a surprise, considering how much Venables accomplished as Clemson's Defensive Coordinator. Not only was Venables named the Frank Broyles Award Winner as the nation's best assistant in 2016, but he also was part of two Nattys and six ACC Titles. Not to mention Venables has major ties to the Big 12, and was a linebacker at Kansas State. He made arguably the best hire of the offseason. Offensive Coordinator Jeff Lebby is a wizard with the x's and o's. Not to mention Venables snagged gunslinger Dillon Gabriel from the portal. Fans aren't expecting the Sooners to miss a beat.
4. Sonny Dykes, TCU: He's a disciple of Mike Leach's Air Raid regime, which has taken College football and the NFL by storm. Dykes has been an assistant in the SEC and a head coach in the Pac-12 and AAC. Not to mention he's a quarterback guru. Dykes coached the likes of Nick Foles at Arizona, and groomed California's Jared Goff into the first overall pick in the 2016 NFL Draft. His gunslingers set single-season records at SMU. Shane Buechele threw for 3,929 yards in 2019, and Tanner Mordecai had 39 touchdown passes last year. The Mustangs also led the AAC and finished 13th nationally in total offense in 2021. Fans are hoping Dykes will have that type of impact with TCU's offense. It's never easy replacing a legend like Gary Patterson, but Dykes definitely has what it takes to succeed in the Big 12.
3. Matt Campbell, Iowa State: The Cyclones went from being the laughing stock of the Big 12, to legit contenders under his watch. Campbell made himself a household name in the MAC as Toledo's head coach. He went 34-15 in four seasons with the Rockets before landing in Ames. Campbell suffered a 3-9 campaign in his first season at Iowa State. However, he has gone 39-25 over the past five seasons with the program, including a 29-17 mark in Big 12 play. The Cyclones played in the Big 12 Championship Game and won the Fiesta Bowl in 2020. Campbell has started to recruit like a monster and lured in Iowa State's best-ever class in 2022. The talent on the roster is light years ahead of where it was under Paul Rhoads and Gene Chizik. Not to mention the Cyclones just had four players selected in the NFL Draft.
2. Mike Gundy, Oklahoma State: He's the Big 12's longest-tenured coach, who's been patrolling the sidelines in Stillwater since 2005. Gundy is most known for his mullet and infamous 'I'm a man, I'm 40' rant, but he has also delivered some great coaching for the Pokes. There's no denying the former quarterback is an offensive guru. Not to mention Gundy has coached 151 games at Oklahoma State, which ranks No. 1. The 54-year old has stockpiled a 91-75 record in Big 12 action. Gundy won a Big 12 Title in 2011 and his squad came within an arm reach of winning another last season. The Oklahoma native's loyalty to his alma mater is second to none. Gundy has turned down a couple of powerhouse gigs during his tenure with Oklahoma State, which means he's not going anywhere, anytime soon.
1. Dave Aranda, Baylor: What he accomplished in his second season at Baylor was flat-out remarkable. Not only did Aranda orchestrate a 12-2 campaign, but he also captured a Big 12 Title and won the Sugar Bowl. The 45-year old accomplished those feats with a disciplined, blue-collar team. Aranda is a defensive guru, but showed he can make it work with two quarterbacks. Baylor didn't miss a beat after Blake Shapen replaced Gerry Bohannon last season. And the Bears finished fourth in the league in total defense. Some critics would argue that Aranda had all of that success with players Matt Rhule recruited, but it's crystal clear that he's one of the fastest-rising coaches in today's game.  However, Aranda and the reigning Big 12 Champs will now deal with being the hunted instead of being the hunters in 2022.