Ranking the Big 12's best quarterbacks of 2022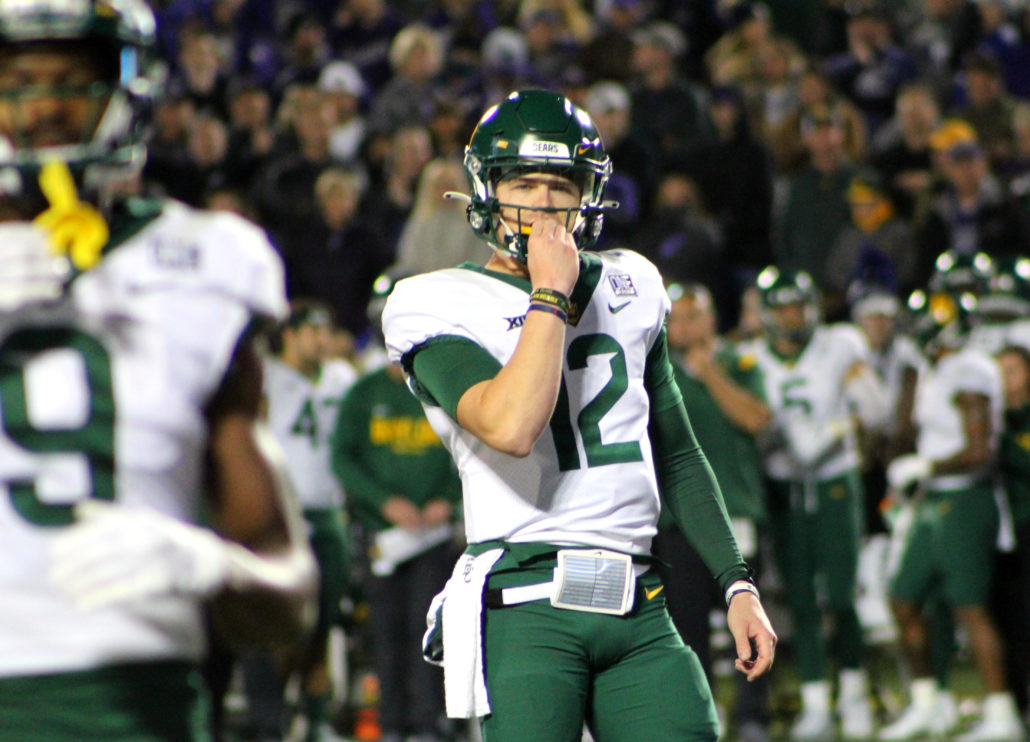 The conference will have a lot of new faces.
Studs like Skylar Thompson, Brock Purdy, Spencer Rattler, Caleb Williams and Casey Thompson are no longer in the league. All of those departures have left the door wide open for a new arsenal of signal-callers for 2022. The Big 12 has some talented gunslingers ready to make a name for themselves, and a few veterans looking to add to their legacies.
In a conference that's full of parity, anything can happen. If last season taught fans anything, it's to expect the unexpected, especially after Baylor flew under the radar throughout the 2021 season, but finished as Big 12 Champs. With spring ball in the books for all 10 teams, the evaluation begins.
10. Jalon Daniels, Kansas: The former three-star prospect split snaps with Jason Bean last season. The two quarterbacks were in a heated battle during spring ball, which will likely continue well into fall camp. Coach Lance Leipold is in his second season on the job and likely won't play musical chairs with his gunslingers again. Daniels has passed for 1,578 yards, eight touchdowns and seven interceptions over the past two seasons with the Jayhawks. He also has six rushing scores during that span. Bean led Kansas in passing yards and touchdowns tosses in 2021. Daniels has the more accurate arm, while Bean has better mobility. At this point, Daniels appears to have a slight edge.
9. Hunter Dekkers, Iowa State: Life after Brock Purdy has started in Ames. Dekkers was Purdy's backup for the past two seasons. During that span he passed for 311 yards and scored five total touchdowns, which was mostly mop up duty. Now he's poised to be the Cyclones' next great signal-caller. Last year the former four-star prospect completed 11 of his 16 passes for 114 yards and a touchdown against Iowa. He threw a touchdown and a pick at Oklahoma. Dekkers has tremendous upside, and All-Big 12 wideout Xavier Hutchinson in his arsenal. Ashton Cook, Rocco Becht and Blake Clark are Iowa State's other gunslingers competing for reps this fall, but Dekkers is clearly sitting atop the depth chart.
8. Adrian Martinez, Kansas State: Although he never led Nebraska to a winning campaign over the past four seasons, he still left as the program's all-time leader in total offense. There's no denying Martinez' athleticism, but his career with the Huskers was very inconsistent. He suffered an injury that caused him to miss at least one game every year. Martinez is still rehabbing his shoulder, and didn't participate in throwing drills during spring ball. However, he was able to learn some of the playbook and built a bond with his teammates. Will Howard has started multiple games for the Wildcats over the past two seasons. During that span he has thrown for 1,510 yards, nine touchdowns and 11 interceptions.
7. Quinn Ewers, Texas: There hasn't been this much buzz about a Longhorn freshman gunslinger since Chris Simms. Ewers is a former five-star prospect, who has tremendous upside. Texas fans believe he brings instant credibility to the offense. The six-foot-two, 205-pounder was at Ohio State last season, but never took a snap. However, Ewers had a promising performance in Texas' spring game. The Texas native connected with wideout Isaiah Neyor for a 62-yard touchdown pass on the third drive of the game. Ewers was picked off over the middle though and had to slug it out with Hudson Card, who led the offense on a touchdown drive on his first possession. This battle will carry into fall camp.
6. Donovan Smith, Texas Tech: New Coach Joey McGuire has three gunslingers who are capable of getting it done. Last year's starter Henry Colombi transferred to Marshall and left the door wide open. Smith has a legit shot at winning the job. After all, the Las Vegas native combined for 1,111 passing yards, seven touchdown tosses and two interceptions over the Red Raiders' final five games. Tyler Shough led Oregon to a Pac-12 Championship in 2020. He threw for a season-high, 399 yards, four touchdowns and no interceptions in the win over FIU last year. Shough completed 22 of his 32 passes in the spring game, while Smith threw for 49 yards and a score. Behren Morton also impressed fans.
5. JT Daniels, West Virginia: The former five-star prospect has ton of experience in the Pac-12 and the SEC. Daniels threw for 2,887 yards, 15 touchdowns and 11 interceptions in two years at USC. He had 1,953 yards through the air, 17 touchdown tosses and five interceptions over the past two seasons at Georgia. Now Daniels is in the Big 12 and brings instant credibility to West Virginia's offense. Daniels is poised to replace last year's starter Jarret Doege, who transferred to Western Kentucky this past January. The Mountaineers need Daniels to provide an immediate impact after they finished eighth in the Big 12, and 87th in the FBS in total offense in 2021. Daniels must deliver for Neal Brown's sake.
4. Max Duggan, TCU: The former four-star prospect is one of the Big 12's most experienced quarterbacks. Duggan is a dual-threat nightmare, who has started the past three seasons for the Horned Frogs. During that span he's racked up 5,920 yards through the air, 1,433 on the ground and scored 60 total touchdowns. However, Gary Patterson was handed his walking papers and got replaced by Sonny Dykes. Now Duggan is trying to learn an entire new playbook and the Air Raid system takes time to implement. Still, Duggan looked sharp in TCU's spring game and battled it out with Chandler Morris. The Iowa native completed six of his seven passes, including a 13-yard touchdown strike to Quentin Johnston.
3. Blake Shapen, Baylor: The reigning Big 12 Champs had two proven signal-callers. Both Shapen and Gerry Bohanon  started multiple games last season and sustained success. Shapen kept the wheels rolling on offense and then some, after Bohanon suffered a hamstring injury at Kansas State. Bohannon didn't play in the regular season finale or the Big 12 Championship Game. In Bohannon's absence, Shapen combined for 434 passing yards, five touchdown tosses and no interceptions. Bohannon started in Baylor's bowl game, but only completed seven of his 17 passes. Both of them split snaps in the spring game, but Shapen won the job and Bohannon entered the transfer portal four days later.
2. Spencer Sanders, Oklahoma State: The 22-year old has started the last three seasons for the Pokes. During that span Sanders has generated 6,911 yards through the air, 1,565 on the ground and scored 60 total touchdowns. He finished third in the league in passing yards, touchdown tosses and earned third-team, All-Big 12 honors last season. Although Sanders threw four interceptions against Baylor in the Big 12 Championship Game, he bounced back with a season-high, 371 passing yards and four touchdowns in the bowl victory over Notre Dame. Sanders completed 11 of his 19 passes for a touchdown and two interceptions during throwing drills in Oklahoma State's spring game last Saturday.
1. Dillon Gabriel, Oklahoma: New coach Brent Venables landed a gem out of the transfer portal in the talented gunslinger. Gabriel led the FBS in passing yards per game at UCF in 2020. Over the past three seasons with the Knights he stockpiled 8,037 yards through the air, 60 touchdown tosses and 14 interceptions. Now Gabriel is suiting up in the crimson and cream at a powerhouse program. He also has Jeff Lebby as his Offensive Coordinator, who's one of the nation's best assistant coaches. The Hawaii native looked solid in the Sooners' spring game and displayed chemistry with wideout Marvin Mims. Gabriel completed 19 of his 28 passes for 250 yards, a touchdown and an interception.