Ranking the Big Ten's best quarterbacks of 2022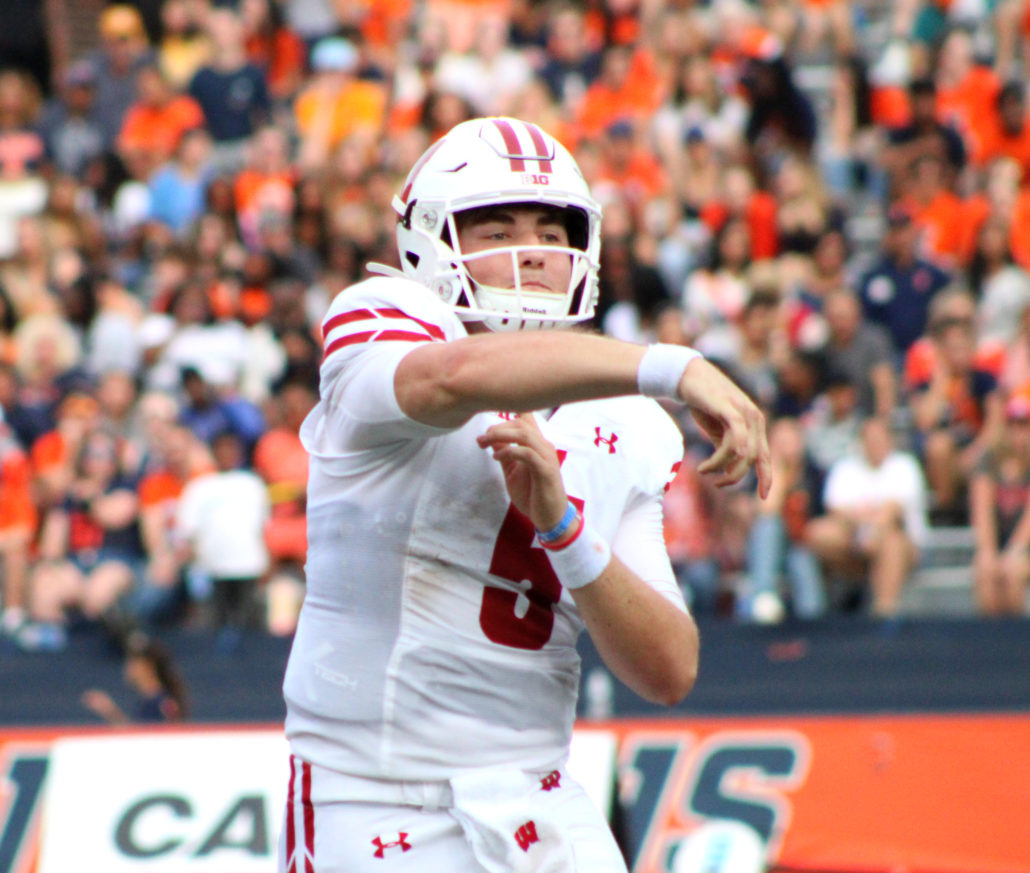 In a league full of great coaching and physicality, the Big Ten takes the quarterback position to another level.
There will be several veteran gunslingers at the helms of the offenses, which means teams will boast a lot of leadership inside the huddle this fall. It's no mystery the league has some star power in the top half, but there's a big drop off in talent in the bottom portion.
Now that 12 of the 14 teams have completed spring ball, fans are already looking towards fall camp. And with all of the anticipation comes the evaluation.
14. Ryan Hilinski, Northwestern: The junior is most known for leading South Carolina to a victory over Georgia in 2019. The former Gamecock transferred to Northwestern last year and replaced Peyton Ramsey, but it was a miserable campaign. The Wildcats finished 116th in the FBS in total offense and went 1-8 in Big Ten play. Hilinski only threw for 978 yards, three touchdowns and four interceptions. Not to mention Hilinski didn't have any touchdown tosses over the final five conference games he played in. He was in a heated battle with sophomore Brendan Sullivan over the spring. Coach Pat Fitzgerald feels comfortable with those two signal-callers approaching fall camp, when the battle resumes.
13. Noah Vedral, Rutgers: The former three-star prospect has had a crazy journey up to this point. Vedral originally played for UCF and Nebraska before he transferred to Rutgers in 2020. Over the last two seasons with the Scarlet Knights, he has thrown for 3,107 yards, 16 touchdowns and 15 interceptions. The Nebraska native also has 490 yards on the ground during that span. He got off to a great start in 2021 and had 762 passing yards, five touchdown tosses and no interceptions through the first four games. However, he passed for two touchdowns and seven interceptions over the final nine contests. Vedral threw a 18-yard touchdown to Taj Harris on the first drive of the spring game last Friday.
12. Tommy DeVito, Illinois: The New Jersey native's name ring bells because Joe Pesci won an oscar for a role he played in Goodfellas under the same moniker. DeVito is trying to have that same type of success on the gridiron. He played the past four seasons at Syracuse and threw for 19 touchdowns in 2019. The former three-star prospect passed for 3,866 yards, 28 touchdowns and 12 interceptions during his time with the Orange. DeVito started the first three games for Syracuse last year before he entered the transfer portal in October. However, the 23-year old enrolled at Illinois this past January. DeVito displayed a strong arm and threw two touchdowns in the first half of the spring game.
11. Graham Mertz, Wisconsin: The 21-year old has started the past two seasons for the Badgers. During that span Mertz has thrown for 3,196 yards, 19 touchdowns, and 16 interceptions. He also led Wisconsin to back-to-back bowl victories. Mertz got off to a rough start last season, with 945 passing yards, two touchdown tosses and seven interceptions through the first seven games. However, Mertz had a solid finish to his 2021 campaign, with 1,013 yards through the air, eight touchdown passes and four interceptions over the final six contests. The former three-star prospect carried that momentum into the offseason and capped off a strong spring with the Badgers' offense.
10. Tanner Morgan, Minnesota: He's the Big Ten's most experienced signal-caller. Morgan is most known for the 30 touchdowns he threw for the Golden Gophers in 2019. The former three-star prospect has passed for 8,072 yards, 56 touchdowns and 27 interceptions over the past four seasons. Morgan's production has decreased significantly since leading Minnesota to an 11-win campaign two years ago. However, he's still a great leader, who has overcome numerous injuries to make it to this point. Last year he threw for a season-high, 209 yards in the win over Nebraska and 205 against Ohio State. Morgan finally beat rival Wisconsin and led Minnesota to a bowl victory over West Virginia.
9. Spencer Petras, Iowa: The former four-star prospect has been the Hawkeyes' starter for the past two years. During that span Petras has thrown for 3,449 yards, 19 touchdowns and 14 interceptions. Last season Petras was inconsistent and even got benched for three games. Petras passed for 1,138 yards, nine touchdowns and two interceptions through Iowa's first six contests. However, he struggled down the stretch. Over the final six games he played in, Petras threw for 742 yards, one touchdown and seven interceptions. Backup Alex Padilla started against Northwestern Minnesota and Illinois. Padilla passed for 461 yards, two touchdowns and one interceptions in those games. After spring ball, Petras is still No. 1.
8. Connor Bazelak, Indiana: He spent the past three seasons at Missouri and was the starter for the last two. During that span Bazelak passed for 5,058 yards, 23 touchdowns and 17 interceptions. The former four-star prospect earned Freshman All-SEC honors in 2020. Last year Bazelak got off to hot start. The Ohio native threw for 1,690 yards, 12 touchdowns and five interceptions through the first six games. However, he passed for 858 yards, four touchdowns and six interceptions over the final five contests he played in. Bazelak transferred to Indiana this past January and brings instant credibility. The Hoosiers really needed the upgrade after they finished dead last in the league in total offense.
7. Sean Clifford, Penn State: The 23-year old is one of the most experienced gunslingers in the Big Ten, and has started the past three years. During that span Clifford has racked up 7,644 yards through the air, 900 on the ground and scored 38 total touchdowns. In 2021 he threw for 401 yards and four touchdowns in the victory over Villanova, which were both season-highs. Not to mention he passed for three touchdowns apiece against Indiana, Maryland and Michigan State. The former four-star prospect is in year two of Mike Yurcich's system, and fans are expect more consistency. Clifford will need better offensive line play after Penn State allowed 32 sacks, which was the worst in the league.
6. Casey Thompson, Nebraska: The former four-star prospect had a solid campaign with Texas in 2021. Thompson led the Big 12 with 24 touchdown passes, and ranked second in the conference in passing efficiency. The Oklahoma native threw for a season-high, 388 yards and five touchdowns in the Red River rivalry. Not to mention he scored seven total touchdowns, including six through the air against Kansas, which was also a season-high. Thompson racked up six total touchdowns in the victory over Texas Tech. The 23-year old transferred to Nebraska this past January and participated in spring ball. Thompson didn't reveal much in the Red and White Game, but he's a big upgrade to the Huskers' offense.
5. Taulia Tagovailoa, Maryland: The Hawaii native has started the past two seasons for the Terrapins. During that span Tagovailoa has passed for 4,871 yards, 33 touchdowns and 18 interceptions. His 3,860 yards through the air in 2021 was a single-season school record. Tagovailoa ranked fourth in the Big Ten with 26 touchdown tosses. The former four-star prospect ranked 13th in the FBS in passing yards per game. Not to mention he led Maryland to a bowl victory for the first time since 2010. Tagovailoa had three touchdown passes apiece against Howard Kent State and Rutgers. He threw for a season-high, 419 yards in the win over Indiana. Tagovailoa finished with third-team, All-Big Ten honors.
4. Payton Thorne, Michigan State: Last year he set a single-season school record in touchdown passes. Thorne's 27 touchdown tosses ranked third in the Big Ten. Not to mention he led Michigan State to an 11-win campaign, which included a victory over rival Michigan. The Illinois native threw for four touchdowns apiece in victories over Youngstown State, Miami and Maryland. Thorne left a lasting impression with 50 pass attempts, 29 completions and 354 yards through the air in the New Year's Six bowl win over Pittsburgh, which were all season-highs. The former three-star prospect has star wideout Jayden Reed back in the lineup for 2022, so expect the two to do more damage this fall.
3. Cade McNamara, Michigan: Last season the Nevada native led the Wolverines to their first Big Ten Title since 2004, and a first-ever berth in the College Football Playoffs. McNamara threw for a season-high, 383 yards and two touchdowns against Michigan State. He had three touchdown tosses in the win over Penn State, which was also a season-high. Most importantly, McNamara helped Michigan snap an eight-game losing streak to rival Ohio State. Not to mention McNamara will have speedy receiver Ronnie Bell back in his arsenal.The former four-star prospect played four total series in the Wolverines' spring game, and completed three of his seven passes for 16 yards. He's a great leader.
2. Aidan O'Connell, Purdue: The Illinois native gained notoriety with a monster campaign in 2021, and earned second-team All-Big Ten honors. O'Connell finished second in the conference in passing yards per game, touchdown tosses and passing efficiency. His 71.8 completion percentage set a school record. He threw for a season-high, 536 yards in the victory over Michigan State. The next game O'Connell shredded Ohio State's defense for 390 yards through the air and four touchdown tosses. O'Connell saved his best performance for last in the bowl victory over Tennessee, when he passed for a season-high, five touchdowns. He was sluggish in the spring game and was picked off in the first half.
1. C.J. Stroud, Ohio State: The former four-star prospect was one of four Heisman finalist in 2021. Not only did Stroud lead the Big Ten in passing yards and touchdown tosses, but he was also named the league's Offensive Player and Quarterback of the Year. The California native finished first in the Power five and second in the FBS in passing efficiency. Stroud threw for a season-high, six touchdowns in the win over Michigan State. He broke a single-game school record for passing yards, with 573 in the Rose Bowl victory over Utah. Not to mention Stroud earned third-team, AP All-America honors. Stroud completed 14 of his 22 passes for 120 yards and a touchdown in the spring game.