Ranking the Pac-12's best quarterbacks of 2022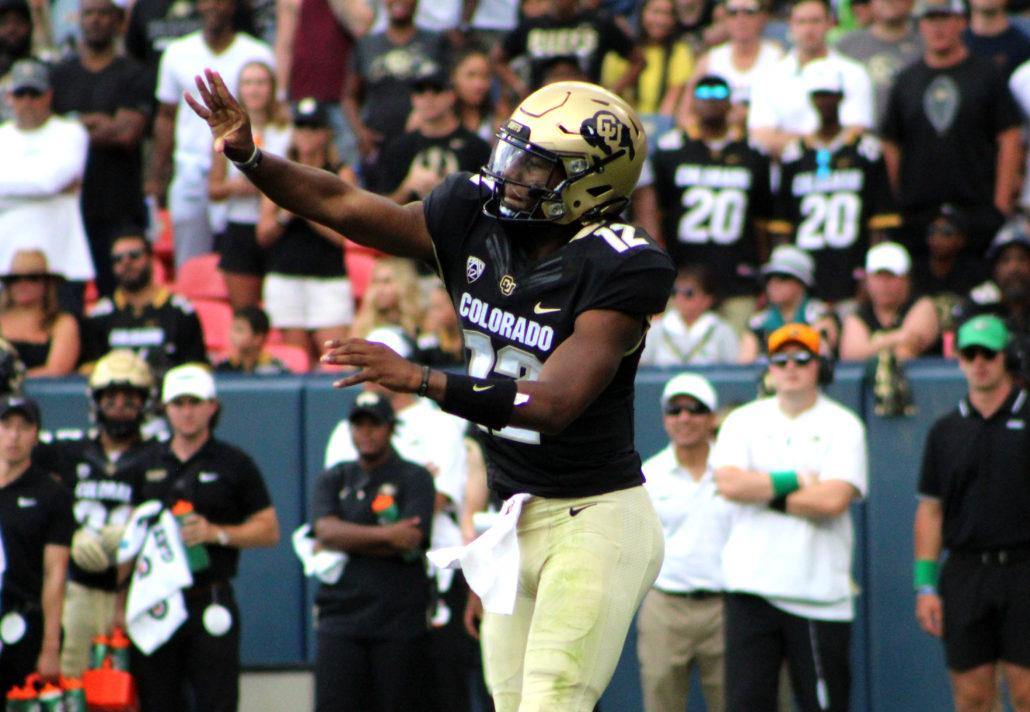 It's a conference filled with a plethora of gunslingers looking to make a statement this fall.
With spring ball in the books for all 12 teams, the anticipation begins for the 2022 season. The Pac-12 will boast one of the best collection of veteran signal-callers of any Power Five conference. Some arrived to the league via the transfer portal, while others have patiently waited for their opportunity behind center.
Regardless, they're all out to bring national credibility back the Pac-12, and end the league's five-year Playoff drought.
12. Trenton Bourguet, Arizona State: The departure of three-year starter Jayden Daniels left a big void in the Sun Devils' quarterback room. Bourguet served as Daniels' backup last season and played mop up duty in four games. He completed three out of his four passes for 47 yards and a touchdown against Washington State. Bourguet was in a heated battle with Alabama transfer Paul Tyson throughout spring ball. Tyson backed up Heisman winner Bryce Young in 2021. The Alabama native threw for 39 yards against Mercer, 58 against Southern Miss and 43 against New Mexico State. Both gunslingers have soaked up the playbook, but the arrival of Florida transfer Emory Jones will make fall camp interesting.
11. Brendon Lewis, Colorado: Last season was his first as a full-time starter, and the Buffaloes finished dead last in the Pac-12, and 129th in the FBS in total offense. Although Lewis threw for 10 touchdowns and three interceptions, Colorado had a stagnant aerial attack that ranked last in the Power Five in passing offense. The Buffaloes aerial production was so bad that Coach Karl Dorrell parted ways with Darrin Chiaverini and hired Mike Sanford during the offseason. Colorado fans are hoping Sanford's scheme will have a positive impact on Lewis' passing ability. It helps that J.T. Shrout should be fully recovered from knee surgery by fall camp, and will push Lewis for the starting role.
10. Cameron Ward, Washington State: The Cougars landed one of the most underrated quarterbacks from the transfer portal this past January. Ward won the Jerry Rice Award as the best freshman in FCS during the 2021 spring season at Incarnate Word. He threw for 6,908 yards, 71 touchdowns and 14 interceptions over the past two seasons with the Cardinals. Ward chose Jake Dickert and Washington State over Lane Kiffin and Ole Miss. The six-foot-two, 223-pounder will be operating in a hybrid Air Raid system. The Texas native displayed a quick release and threw for two touchdowns in the first half of the spring game. Cougar fans are expecting Ward to make an immediate impact this fall.
9. Michael Penix Jr., Washington: The left-handed gunslinger threw for 4,197 yards, 29 touchdowns and 15 interceptions over the last four seasons at Indiana. Staying healthy is Penix's biggest obstacle, considering he has a history of season-ending injuries. He was in a three-way battle with Dylan Morris and Sam Huard throughout the spring. Morris started in 2021 and finished with 14 touchdown passes and 12 interceptions. Penix was picked off twice in the  spring game Saturday, but threw a 38-yard touchdown on the last drive of the event. Morris had a handful of arrid throws. Huard looked the best out of the group, and threw a nine-yard touchdown pass to Lonyatta Alexander.
8. Tanner McKee, Stanford: The former four-star prospect got off to a great start last season. McKee threw for 1,093 yards, 11 touchdowns and no interceptions through the Cardinal's first five games, which included three conference tilts. However, he was picked off seven times over the final five games he played in. The California native had a bittersweet moment against Arizona State, when he passed for a season-high, 356 yards, but was picked off three times. McKee looked solid in Stanford's spring game, and threw a 40-yard touchdown to E.J. Smith. The offense returns receivers Benjamin Yurosek, Elijah Higgins and John Humphreys, who combined for 109 catches and eight touchdowns in 2021.
7. Chance Nolan, Oregon State: The former Juco started 12 games for the Beavers last season, and led them to their first bowl appearance since 2013. Nolan passed for 2,677 yards, 19 touchdowns and 10 interceptions. He also had 286 yards on the ground to go along with three rushing scores. Nolan got off to a great start, with 847 yards through the air, nine touchdown tosses and two interceptions through Oregon State's first four games. Not to mention he threw for 308 yards against rival Oregon, and had four touchdown tosses in the victory over USC, which were both season-highs. Nolan battled Tristan Gebbia this spring, who started four games in 2020, but missed all of last year with an injury.
6. Bo Nix, Oregon: The former five-star prospect passed for 7,251 yards, 39 touchdowns and 16 interceptions over the last three seasons at Auburn. Nix also has an Iron Bowl victory under his belt. The Alabama native has dangerous mobility, with 869 yards on the ground and 18 rushing scores during that span. New coach Dan Lanning hails from the SEC and coached against Nix. So he knows what the gunslinger brings to the table. Nix threw a four-yard touchdown to Seven McGee on the first drive of the spring game. He had a 40-yard touchdown pass to Donte Thornton on his second drive of the contest. Although Nix was picked off in the second quarter, he looked sharp throughout the first half.
5. Jack Plummer, California: Justin Wilcox needed a replacement for four-year starter Chase Garbers and landed a gem out of the transfer portal. Plummer passed for 3,405 yards, 26 touchdowns and 10 interceptions over the past three seasons at Purdue. The Arizona native is deadly accurate and got off to a hot start in 2021. Plummer threw for 313 yards and two touchdowns in the opening victory over Oregon State. The following week Plummer had a season-high, four touchdown tosses in the win over Connecticut. The former three-star prospect passed for 187 yards and a score against Notre Dame. He also threw a nice over the shoulder touchdown to Mavin Anderson in California's spring game.
4. Jayden De Laura, Arizona: The Hawaii native passed for 3,684 yards, 28 touchdowns and 13 interceptions over the past two seasons at Washington State. De Laura was also named the Pac-12's Freshman Offensive Player of the Year in 2021. The former four-star prospect threw for three touchdowns apiece in victories over Portland State, California, Oregon State and Stanford. He brings instant credibility to Arizona's offense. After all, the Wildcats finished 10th in the Pac-12 and 101st in the FBS in total offense. De Laura battled Jordan McCloud throughout spring ball. McCloud had two touchdown tosses and five interceptions last year. Both quarterbacks were picked off in the first half of the spring game.
3. Dorian Thompson-Robinson, UCLA: He's the dean of the Pac-12 gunslingers, with four seasons worth of starting experience. Thompson-Robinson has thrown for 7,541 yards, 61 touchdowns and 28 interceptions during that span. He also has 1,181 yards on the ground, to go along with 16 rushing scores. The former four-star prospect holds the school record for total yards in a single game. Thomson-Robinson also earned second-team, All-Pac-12 honors in 2021. Now he's poised to become the program's all-time leader in total offense this fall. Chip Kelly is approaching his fifth campaign as the Bruins' coach, and with the signal-caller's return, the Bruins will be contenders in the Pac-12 South.
2. Cameron Rising, Utah: Last season he outlasted Charlie Brewer and led the Utes to their first-ever Pac-12 Title and Rose Bowl appearance. Rising solidified he's one of the best dual-threat gunslingers in the league, and earned first-team, All-Pac-12 honors. He threw for three touchdowns against San Diego State. Rising had a season-high, 306 passing yards, and four total touchdowns in the win over USC. The California native scored three touchdowns apiece in victories over Arizona State, Arizona, and Colorado. Rising left a lasting impression against Ohio State in the Grandaddy, with three total touchdowns. The former four-star prospect threw for an eight-yard score on the first drive of Utah's spring game.
1. Caleb Williams, USC: The former five-star prospect outplayed Spencer Rattler as a true freshman at Oklahoma last season. Not only did Williams finish fifth in the FBS in passing efficiency, but he also earned second-team, All-Big 12 honors. He racked up 300 all-purpose yards in the victory over Texas. The next game Williams torched TCU's defense for four touchdowns. However, his 402 yards through the air and six touchdown tosses against Texas Tech were both season-highs. Williams delivered on the hype at Oklahoma, and followed Coach Lincoln Riley to USC. The D.C. native looked very sharp, and completed 10 of his 12 passes for 98 yards and two touchdowns in USC's spring game.