Matt Campbell excited for Breece Hall's NFL future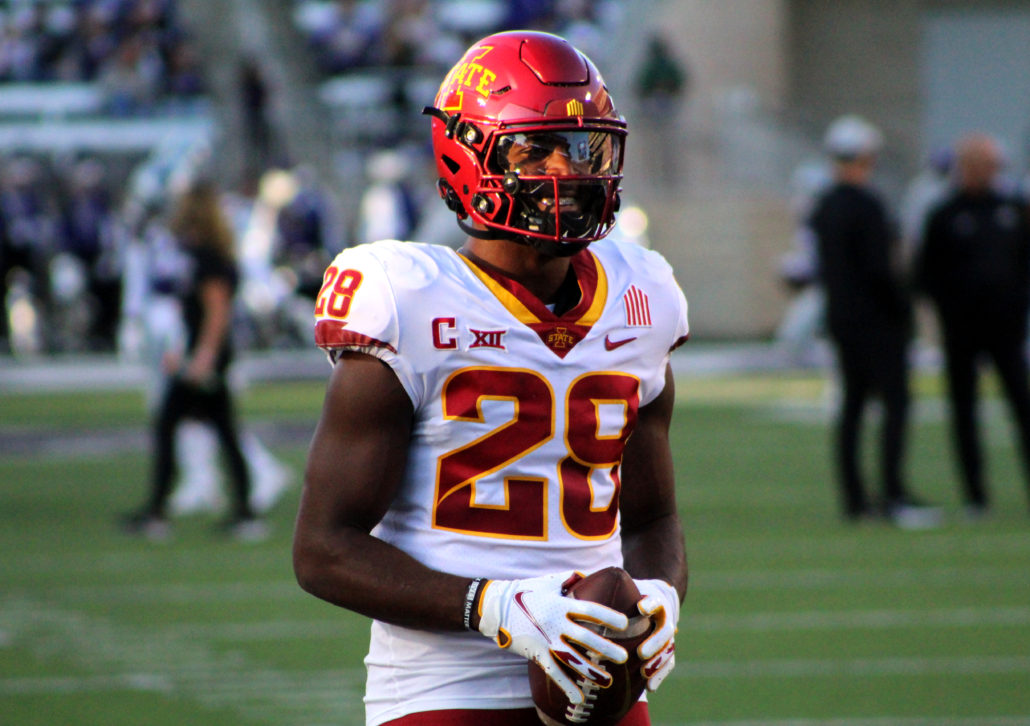 GILBERT, Ia. — When Matt Campbell spoke with reporters Friday night, he couldn't avoid questions regarding his former running back.
After all, Breece Hall has built himself quite a resume as a potential NFL franchise back. His 4.39 40-yard dash time at the Scouting Combine impressed many. Not to mention he followed up that performance with a solid pro day. Which is why Hall's projected by many Draft analysts to be the first running back selected off the board. Some even have him sneaking into the first round.
With Las Vegas set to host the major event in 11 days, Campbell and his staff are dealing with inquiring NFL minds regarding the prolific player.
"We've gotten a lot of phone calls over the last two weeks, I think it's really going to be interesting to see what that looks like," Campbell said. "My most appreciation for what they're saying about Breece is how he's handling himself through the interview process in terms of getting on board with different teams."
Iowa State hasn't had a running back selected in the first round since George Amundson accomplished that feat in 1973. However, Campbell believes Hall has a great chance at reaching that milestone for the program. And rightfully so. He has the numbers, with 50 career rushing touchdowns, which ranks first in school history.
Scouts love Hall's vision, acceleration and soft hands. Not to mention he's only 20-years old. The six-foot-one, 220-pounder is as durable as they come, but not damaged goods. Hall even carried the ball 30 times in the road victory over Kansas State. He has a ton of tread left on his tires, and that's what separates Hall from the other rushers.
The former All-American also has several accolades, including back-to-back Big 12 Offensive Player of the Year honors. Off the field Hall was the ideal student athlete to Campbell. The Wichita native always carried himself with class, which is a reflection on how he was raised.
Hall is a local hero and inspiration to the youth of his hometown, and the NFL loves individuals with great character. The 42-year old Campbell strongly believes Hall has the experience, leadership and production to make an immediate impact on any team that picks him.
"From the combine, to what he did at pro day and how he's interviewed, Breece has done everything he needs to put him in the best position for Breece Hall," he said. "I know Breece is going to be ready no matter what situation occurs come Draft time."
Hall's positive energy and work ethic rubs off on the players around him, which a couple of teams need in their locker room. Campbell remembers recruiting the former four-star prospect, and is proud to be part of his journey. Now Hall is on his way to making a lot of money.
Despite the fact that very few running backs go in the first round these days, Campbell is confident Hall could change the narrative. If that happens, it'll solidify Campbell's program has arrived. Potential recruits are beginning to see that Iowa State has established a pipeline that can get them to the league. And Hall has an opportunity to be the poster boy of it all. The seventh-year coach believes Hall's ceiling is that high approaching April 28.
"I think he's in a really good spot."