The 10 teams that could use Corey Kiner's services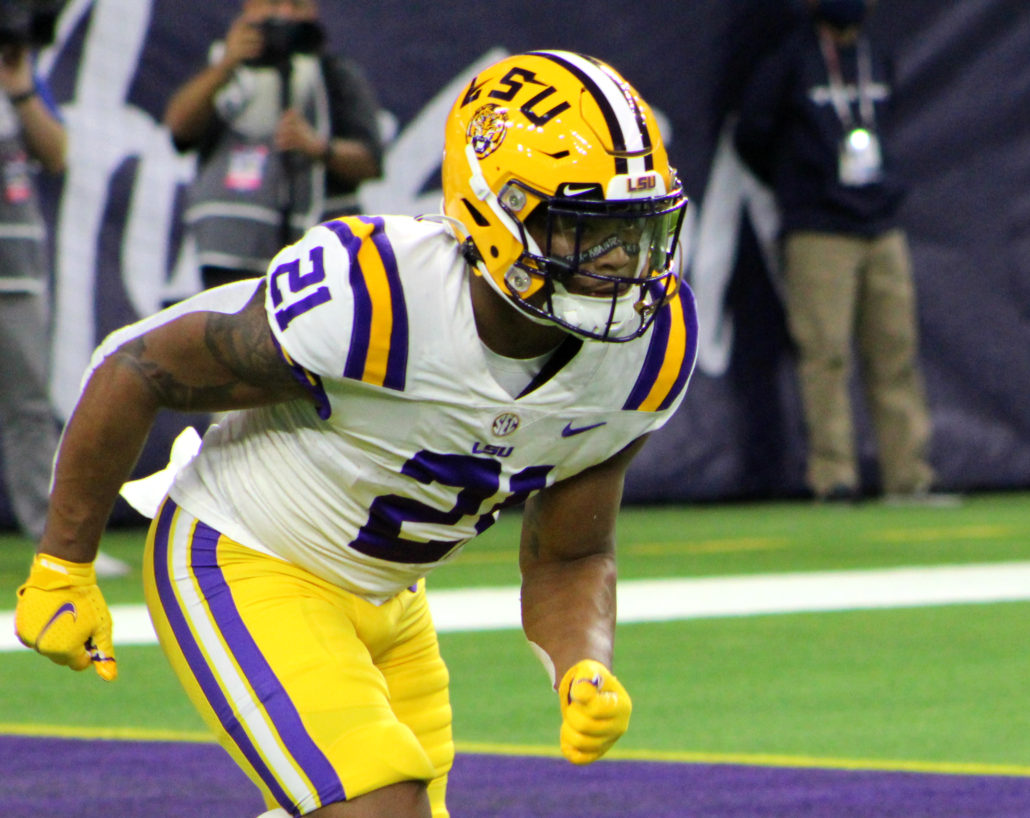 The former four-star prospect raised eyebrows when he entered the transfer portal Monday morning.
Whether it was LSU's new coaching staff, or his nagging high ankle sprain, Corey Kiner decided to test the market. After all, the transfer portal has become the free agency of College football and that's not going to change anytime soon.
He was the Bayou Bengals' second-leading rusher as a true freshman last season. The Cincinnati native was recruited by several powerhouse programs out of high school, and was named Ohio's Mr. Football. Not to mention he signed an NIL deal with Jay Z's Roc Nation earlier this year.
Kiner rushed for a season-high, 74 yards against Central Michigan, 56 against McNeese State, 53 against Kansas State and 49 against Ole Miss. The bruising running back won't be available for long, so these 10 teams need to act fast.
Cincinnati: This move would make sense because it's Kiner's hometown, where he's treated like a celebrity. However, going from the SEC to the AAC is a downgrade in competition, especially coming from the West division. The Bearcats recruited Kiner tough and would embrace him with open arms. Luke Fickell has built the program into a national contender, so Kiner wouldn't miss much exposure. Not to mention Cincinnati has to replace All-AAC performer Jerome Ford, who steamrolled for 1,319 yards and 19 rushing touchdowns last season. Ryan Montgomery is the Bearcats' leading returning rusher and only had 46 carries in 2021. That means Kiner could make an immediate splash.
Michigan: He was definitely on the Wolverines' radar a couple of year ago, and took two official visits in 2019. Michigan flexed its' muscles last season with a battering ram rushing attack that led the Big Ten. Hassan Haskins and Blake Corum combined for 2,279 yards on the ground and a jaw-dropping, 31 rushing scores. With Haskins off to the NFL, the door could be potentially open for Kiner to come to Ann Arbor and be a tandem with Corum. Kiner has that punishing running style that would fit well with Michigan's offense and the physical Big Ten. The loss of Frank Broyles Award Winner Josh Gattis would be the only reason Kiner could pass up on the Wolverines.
USC: Clay Helton's staff tried to lure Kiner in out of high school. USC was the only Pac-12 program to get strong consideration from Kiner, but he never pulled the trigger. Now that Lincoln Riley is in Los Angeles, anything is possible. After all, Riley got quarterback Caleb Williams to follow him from Oklahoma. USC hasn't had a 1,000-yard rusher since Ronald Jones accomplished that feat in 2017. Riley had a 1,000-yard rusher in four of the five seasons he coached at Oklahoma. He gets that kind of production out of running backs, which should make Kiner's mouth water. The Trojans also have an All-American blocker in Andrew Vorhees. It'll be hard to pass up on that California sunshine again.
Nebraska: The Huskers haven't had a star running back since Ameer Abdullah left the building. For decades the position used to be a big deal at the program, but running the ball hasn't been a priority for the the last two coaches. Scott Frost's staff recruited Kiner out of high school, so they're familiar with his skill set. Former LSU assistant Mickey Joseph is Nebraska's Wide Receiver Coach and worked with Kiner in 2021. As of now it's a running back by committee with the Huskers' offense. Running Back Coach Brian Applewhite wants a five-man rotation for the season. However, the arrival of Kiner in Lincoln could potentially change that strategy. Kiner would have an immediate impact on the offense.
Florida: The Gators would likely be the ideal pick for Kiner if he wants to stay in the SEC, but out of the West division. Although Florida recruited Kiner out of high school, it was Dan Mullen's staff. However, Billy Napier is patrolling the sidelines in Gainesville now, and he's a proven winner. Napier's offense produced a 1,000-yard rusher in his first two seasons at Louisiana-Lafayette. The only reason the Ragin Cajuns' abandoned the run on offense was because of Levi Lewis' passing prowess. Napier is an offensive-minded coach, and has already made an impact on Florida's offense. The Gators' moved the ball up and down the field in last week's spring game , so that should be enticing for Kiner.
Penn State: The Nittany Lions were one of several Big Ten teams that recruited Kiner out of high school. A stud running back is what Penn State's offense been missing for the past few seasons. If Sean Clifford had a reliable rusher to take off some of the pressure, the Nittany Lions would've won a couple more games. It's mind-boggling that the program hasn't had a 1,000-yard rusher since Miles Sanders. Mike Yurcich is in his second season orchestrating Penn State's offense and fans are expecting improvement from the running backs. Kiner could fit into the rotation or become the starter. His hometown is only seven hours away from University Park, which is much closer than Baton Rouge.
Louisville: This move would make sense proximity wise for Kiner, considering Louisville is just 90 minutes away from his hometown. The good news for Cardinal fans is that Kiner took three official visits to campus during his recruitment. The bad news is Coach Norval McKenzie, who tried to recruit Kiner hard, left for Vanderbilt this past January. Still, playing in the ACC and close to home should be enticing for Kiner. Louisville has a stacked running back room though, including Jalen Mitchell, who scored three touchdowns in the spring game. The addition of Kiner would put him in the same boat he was in at LSU. Regardless, competition brings out the best in players and fall camp would be intense.
Notre Dame: Kyren Williams' departure to the NFL left the door open for a couple of Fighting Irish rushers. Chris Tyree and Logan Diggs are trying to seize the opportunity to become a starter. The two combined for 452 rushing yards last season. Kiner could potentially come to Notre Dame and challenge the two for that job in fall camp. After all, Notre Dame was very interested in the rusher out of high school. Not to mention Kiner took an official visit to South Bend in 2018 Notre Dame Stadium is only a four hour drive from Cincinnati. New Coach Marcus Freeman would likely welcome Kiner a seat at the table. However, Tyree and Diggs are just as hungry to carry the torch Williams left.
Texas A&M: Jimbo Fisher has an eye for running backs and is one of the nation's best recruiters. Like several other SEC teams, the Aggies tried to snag Kiner out of high school. Running backs play a huge role in Fisher's offense, and Devon Achane will need a partner after Isaiah Spiller left for the NFL. Kiner is capable of filling that role, and would add the thunder to Achane's lightning. That's only if Kiner wants to stay in the toughest division in College football. Fisher would make sure there'd be enough carries to go around. Quarterback Max Johnson displayed great mobility in the Aggies' spring game, and Kiner would be a change of pace back from Achane, to compliment Texas A&M's rushing attack.
Michigan State: The Spartans recruited Kiner heavily out of high school, but that was Mark Dantonio's staff. Not to mention Coach Paul Haynes, who played a huge part in recruiting Kiner, is now on Minnesota's staff. However, that doesn't mean Kiner shouldn't consider Michigan State. After all, Mel Tucker turned Wake Forest transfer Kenneth Walker into the Walter Camp Player of the Year. Walker was also the Big Ten's Running Back of the Year. Spartan rusher Donovan Eaglin just entered the transfer portal, so adding Kiner to the roster would be perfect timing for Tucker's staff. East Lansing is about a five hour drive from Cincinnati, and Kiner would be back up north in Big Ten country.