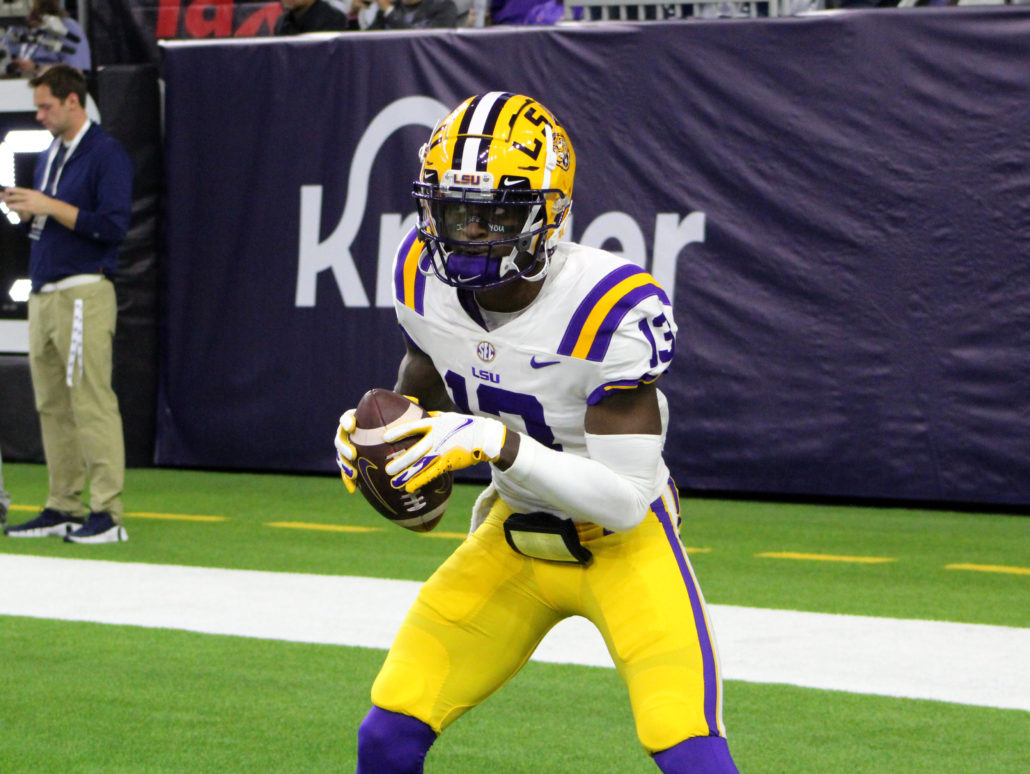 HOUSTON — Throughout his career with LSU he has played several positions.
Jontre Kirklin was recruited as a cornerback, which he played during his first two seasons with the Bayou Bengals. He later moved to receiver and also took snaps at quarterback for the scout team during that span. However, nothing could've prepared the former three-star prospect for what was ahead of him Tuesday night against Kansas State.
Kirklin made his first career start at quarterback because LSU had none on scholarship available. That didn't matter to the Louisiana native though, because he was willing to play whatever position to help his team succeed. Interim Coach Brad Davis kept it all a secret leading up to kickoff. Davis thought it would throw the Wildcats off with their scouting of the Bayou Bengals' offense.
"This week, it was a lot of preparation, and I know you guys were trying to figure out, but we kind of kept it under wraps," Kirklin said. "The guys fought hard and I commend everybody for fighting and having my back," Kirklin said.
Before the blink on an eye, LSU fell down 21-0 midway through the second quarter. It was a gut check to Kirklin and the rest of the offense, and they tried their best to answer the bell. Although Kirklin responded with a 13-play, 75-yard drive that was capped off by a touchdown pass, the Wildcats still had all of the momentum.
Pulling the Bayou Bengals within 14 points was the closest they got in the game. Kirklin completed seven of his 11 passes for 138 yards, three touchdowns and two interceptions in the 42-20 loss. He also led LSU in rushing, with 61 yards on the ground. It was an impressive feat, considering Kirklin had a limited amount of weapons to operate with. After all, the Bayou Bengals were only able to field 38 players for their bowl game.
Despite the odds stacked against them, Kirklin thought his team played hard and never gave up.
"We're fighting Tigers, man, we're not about to back down from nobody," he said. "If we've got 11, we're going to play, that's our mindset."
LSU (6-7) finished with 305 yards of total offense, which tied for its' second-lowest output on the season. Kirklin's best throw came on the last play of the game. He completed a 81-yard pass to wide receiver Chris Hilton, who took it all the way to the house. Kirklin thought that play made a statement to all the fans that stuck around, that the Bayou Bengals never say die.
Above all, the 5-foot-11, 186-pounder was satisfied with his performance, despite that it all happened on such a short time of preparation. He's proud of his time as an LSU Tiger and wouldn't change it for anything. Now Kirklin is looking forward to what he can accomplish at the next level, especially since he has experience at multiple positions.
"It gives me versatility, and it widens my perspective of the game," the 23-year old said. "I get to see on a defensive side, and I'm in the back field."
LSU's program is going through a transition after parting ways with Ed Orgeron and the hiring of Brian Kelly. Still, Kirklin believes the future of the program looks bright and he'll forever be an advocate for LSU moving forward.