Matt Campbell in awe of Jirehl Brock's stellar spring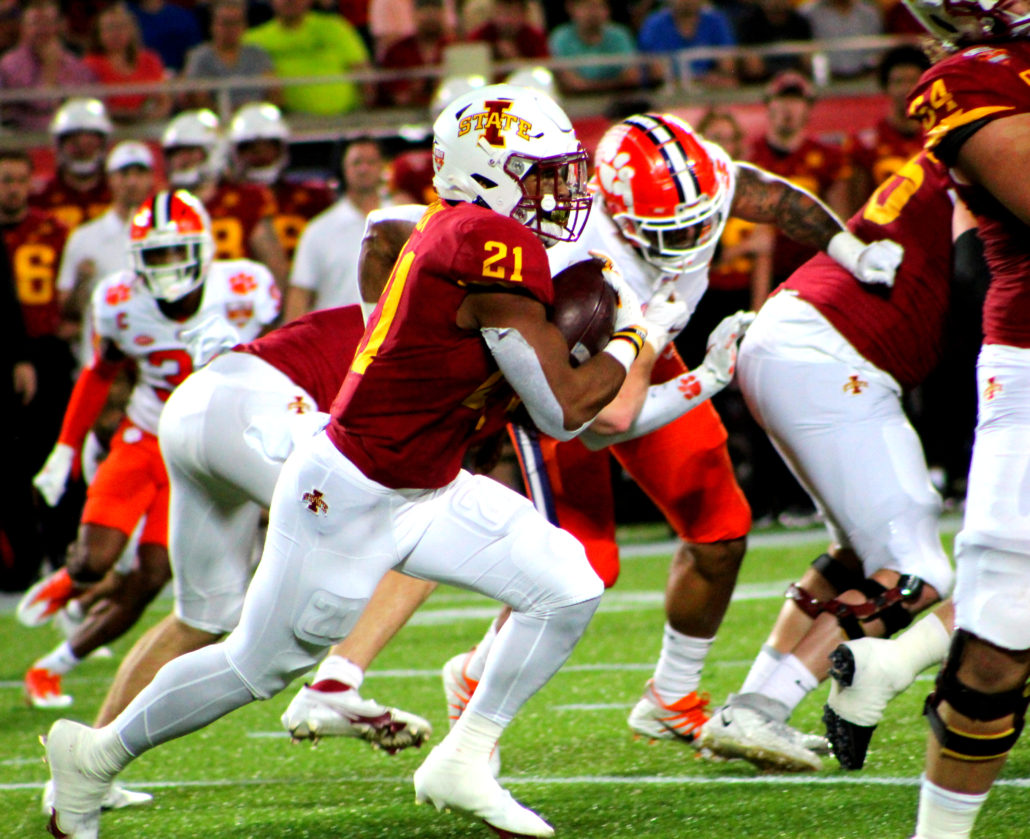 GILBERT, Ia. — The Cyclones concluded spring ball Friday night, and their backfield been promising.
Iowa State fans have attended public practices to get an early glance at who's going to replace All-American rusher Breece Hall. Coach Matt Campbell didn't think they had to look too far because there was a running back who separated himself from the rest.
Jirehl Brock went from playing behind Hall for the past two seasons, to earning the bulk of the carries this spring. The Illinois native has patiently waited his turn and now he's receiving his due. Not only has Brock made the most out of his opportunities this spring, but his work ethic has impressed Campbell.
The seventh-year coach wants to mold Brock into a complete back. Which is why Campbell had Brock work on his vision, speed and blocking. He wants an individual who's going to take charge in the running back room, and Brock has showed he's worthy.
After all, he generated some buzz last season when he got his hands on the ball, and finished as the team's third-leading rusher. The six-foot, 215-pound downhill runner also displayed soft hands, and caught a touchdown in the victory over Kansas. Brock left a lasting impression in Iowa State's bowl game against Clemson, when he carried the ball 14 times for 42 yards, which were both season-highs.
He also hauled in three passes against the Tigers. Campbell believes Brock kept that momentum going through spring ball. It remains to be seen if that means he likely solidified that No. 1 spot on the depth chart, but Brock has certainly caught Campbell's attention.
"Jirehl Brock is a guy that really continues to show up and been really consistent," Campbell said. "So those are some guys you think about at the top of your head that really had great spring for us, they're noteworthy."
Campbell has had an eye for talented running backs that dates back to his days at Toledo. The Ohio native groomed David Montgomery into a third round Draft pick, Kene Nwangwu into a fourth-rounder, plus Hall is expected to be the first rusher selected this year, so fans believe Brock is poised to be the Cyclones' next great rusher.
Campbell feels that's a reflection on his staff. Not to mention he just signed the program's best-ever recruiting class this past December. Everything has been trending up with the quality of talent on the roster over the past few seasons. So it shouldn't come as a surprise why Campbell is coming off six-straight winning campaigns.
Brock was a highly-touted, four-star prospect out of high school himself. So fans are expecting him to deliver on the hype he arrived on campus with this fall. Cyclone Nation trusts Campbell's judgement though, and if he's encouraged by Brock's skills on the gridiron, it means he's the real deal.
"I do think we know what we're looking for at tailback, I think that has proven to be the case over the course of years," the 42-year old coach said. "To me, that position in our world is really important, and I think we at least know what we're looking for."
There are other backs on the roster fighting for carries like wolves at the dinner table in Cartevious Norton, Deon Silas, Eli Sanders and Blaze Doxzon. Campbell just wants to keep everyone healthy and establish a nice rotation, which will become more intense in fall camp. Most importantly, Campbell wants his backs to get stronger with every carry to wear down defenses in the fourth quarter. And ball security will be vital.
Brock has displayed workhorse capabilities, but it's never easy following a legend, considering Hall left as the program's leader in rushing touchdowns. Regardless of the matter, Brock made the most out of his carries, and Campbell is confident the rest of his rushers took a big step forward this spring.