Matt Campbell motivated by Cyclones' strong spring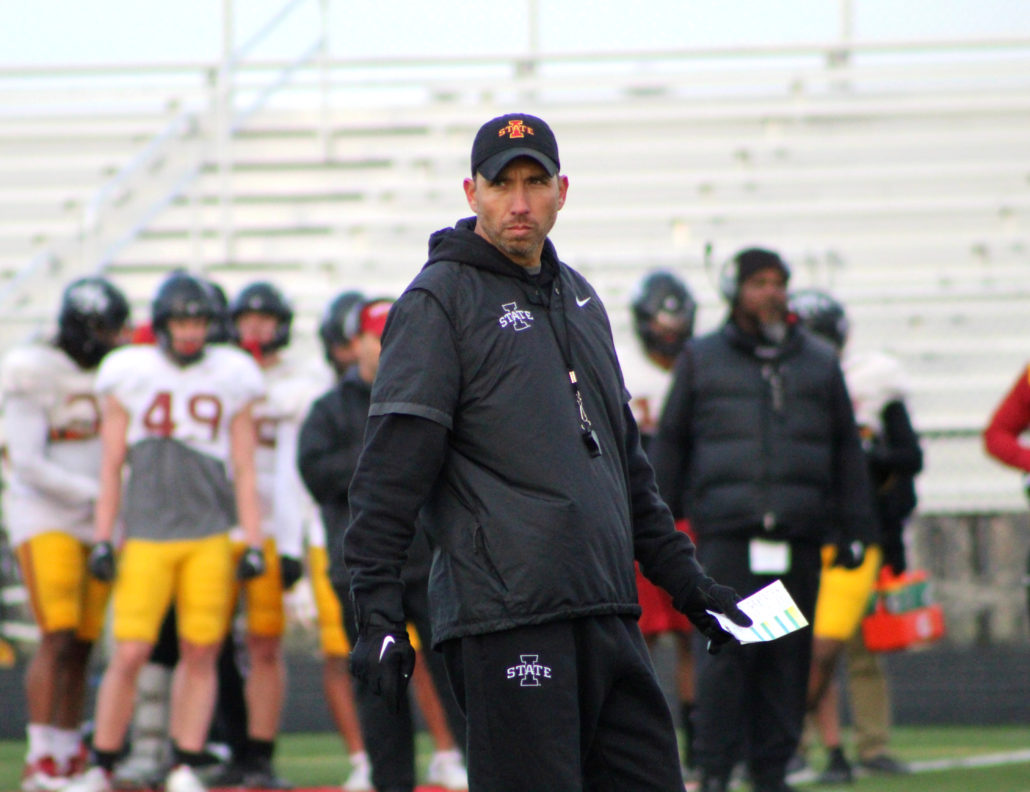 GILBERT, Ia. — With all of the new faces on both sides of the ball, there were a lot of uncertainties Iowa State's coach had to address over 15 practices.
Matt Campbell knew life after Brock Purdy, Breece Hall and Charlie Kolar was going to be a challenge for Iowa State's offense. The defense is a bit vulnerable with no experience, production and leadership from studs like Mike Rose, Greg Eisworth and Isheem Young.
However, after the Cyclones completed spring ball Friday night, Campbell has plenty of reasons to feel positive about his teams' rebuilding process. After all, he thought the spring was very productive. Campbell was able to identify Iowa State's strengths and weaknesses. Which will be vital as he approaches his seventh season on the job.
"This is a really young football team and the one thing I do appreciate about this group is I feel like there was great growth daily," Campbell said. "Some guys had really good springs for us, so it'll be really fun to watch this video and kind of see who put 15 great days together."
Despite the plethora of losses, Campbell will field some of the best players in the conference this fall. Edge rusher Will McDonald was the league's co-Defensive Lineman of the Year in 2021. Wide receiver Xavier Hutchinson is an All-Big 12 performer. Not to mention defenders Ryan Vance, Anthony Johnson, Isaiah Lee and Gerry Vaughn all have several starts under their belt.
Still, Campbell's No. 1 priority was to identify the youngsters. And he was encouraged by what he witnessed.
"I will say there are a lot of guys that are trending in the right direction and took advantage of their opportunity to get better," he said. "As of right now you really feel positive about where this team is, yet there's still a lot of work to do."
Having both Coordinators back always helps a team in transition. Jon Heacock helped Iowa State finish first in the Big 12 in total defense. Tom Manning's balanced attack was a reason the Cyclones' offense scored 47 total touchdowns in 2021.
All eyes have been on the quarterback position and who's going to replace Purdy. Sophomore Hunter Dekkers has caught Campbell's attention with his arm and moxie. Campbell placed the gunslinger in adverse situations and Dekkers checked out on most of the boxes. He strongly believes great quarterbacks make others around them better.
And up to this point the rest of the offense has fed off Dekkers' energy. One aspect Campbell was proud about, was the fact that mostly everyone concluded spring ball healthy.
"We got dinged up a little bit, we had a couple of guys out, but none of those injuries are season-ending, the 42-year old coach said. "When you practice like we've practiced over the last couple of weeks, you're going to get dinged up."
Campbell expects most of those players will be back at full strength by the time the team resumes training in late May. He's anticipating a critical summer and fall camp in order for his team to be ready by week one. Regardless, everything has looked promising thus far in Campbell's eyes.
The Cyclones are flying under the radar, and that's just how Campbell likes it There's something special to him about being the hunters instead of being the hunted. It helps that everyone is hungry and has a chip on their shoulder. Which is why a sixth-straight winning campaign could be in the works for Campbell's squad, but the process starts now.
"That's what's great about Iowa State football, you always got something to prove, and I think this group kind of got that edge about them."