Kansas State preparing to unleash Malik Knowles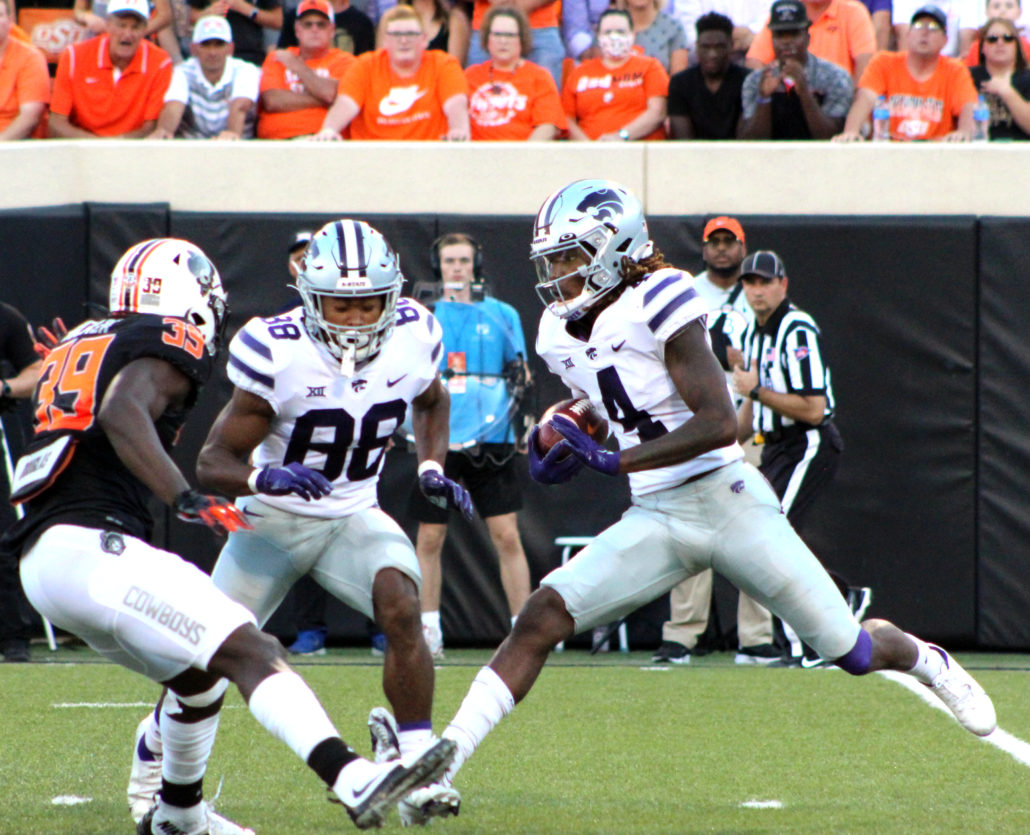 MANHATTAN, Kan. — He's one of the Big 12's most experienced players, and a natural at running past defenders with the ball in his hands.
Malik Knowles has quietly put together a very productive career over the last four seasons with the Wildcats. It's no mystery that the Texas native is the teams' swiss army knife. Knowles catches balls, delivers blocks, run jet sweeps and returns kickoffs.
However, Coach Chris Klieman feels his staff hasn't used the speedy wideout enough. That's mind-boggling, considering Knowles has hauled in 79 passes and scored 16 total touchdowns in his career. Not to mention he's a special teams demon, and explosive enough to change games in a wink of an eye.
The six-foot-three, 200-pounder's numbers look good on paper, but Klieman wants to utilize him in every way imaginable. After all, Knowles generated a ton of momentum after a solid campaign last season. He scored two touchdowns in Kansas State's bowl victory over LSU, and earned first-team, All-Big 12 honors as a return specialist.
The Wildcats are in their final week of spring ball and Klieman understands Knowles' value to the offense. Which is why the coaching staff been creating numerous ways to get his hands on the pigskin.
"We need to continue to find ways to get him (Knowles) the football" Klieman said. "Whether it's on a jet sweep to a quick little bubble or smoke screen, to crossing routes, to vertical routes as well as in the return game."
New Offensive Coordinator Collin Klein is all about opening everything up and spreading the wealth around. The former Kansas State signal-caller knows what it takes to be successful in the Big 12. Still, it's going to take the right gunslinger to get Knowles the ball on a consistent basis, and Klein knows quarterbacks.
Will Howard has started several games over the past two seasons, and improved his accuracy this spring. Jake Rubley's maturation process has been swift, and Nebraska transfer Adrian Martinez has yet to participate in throwing drills, but he's soaking up the playbook.
Klieman believes the new offense will elevate Knowles' skill set. The former three-star prospect is a human stat machine, who'll require a lot of attention from defenders. In return Klieman is confident Knowles' presence on the gridiron will open up opportunities for other receivers to make plays.
"He's really valuable, and we've got to continue to find ways to get him involved" the 54-year old coach said. "What I'm excited about Malik is I think he'll be a guy that we'll use on punt and kickoff."
So far, the offense has looked promising in Klieman's eyes. Knowles has the potential to be the 49ers' Deebo Samuel of College Football. Kansas State also has weapons at the skill positions, in All-American rusher Deuce Vaughn and leading returning receiver Phillip Brooks. With All-Big 12 performer Cooper Beebe anchoring the big boys up front, there's no limit to what the Wildcats' can do in 2022.
Knowles knows what the unit can accomplish with a productive spring. Fans been waiting for him to take over as the Wildcats' go-to receiver, so he's pushing himself everyday in practice.
"It's really exciting to see what our offense can really be capable of doing," Knowles said. "With Coach (Collin) Klein being the OC, he's dialing up new plays every day and giving us different looks offensively."
In back-to-back weeks against Oklahoma State and Oklahoma last year, Knowles returned two kickoffs for scores. So teams will avoid kicking to him. It doesn't matter though, because Knowles embraces change, just as long as his team is winning.
Don't be surprised to see the athlete lined up behind center in the wildcat formation, or even throwing a few passes. Bottom line, Knowles is out to prove he's more than just a return guy, and is looking to set the bar high for the rest of the receivers. Kansas State's offense is more uptempo now, which means more plays and opportunities for Knowles.
Regardless, he's in admiration that the process has been a smooth transition up to this point, and the fact that the offense is evolving.
"Hopefully changing the way that we're playing, being more diverse and the way that we have been practicing" he said. "We can hit defenses in all areas."
Knowles and his teammates want to show their bowl win was no fluke. And if the Wildcats' offense resembles anything similar to the unit's performance on January 4, the rest of the Big 12 better look out for the purple and white this fall.