Conor Riley encouraged by Wildcats' offensive line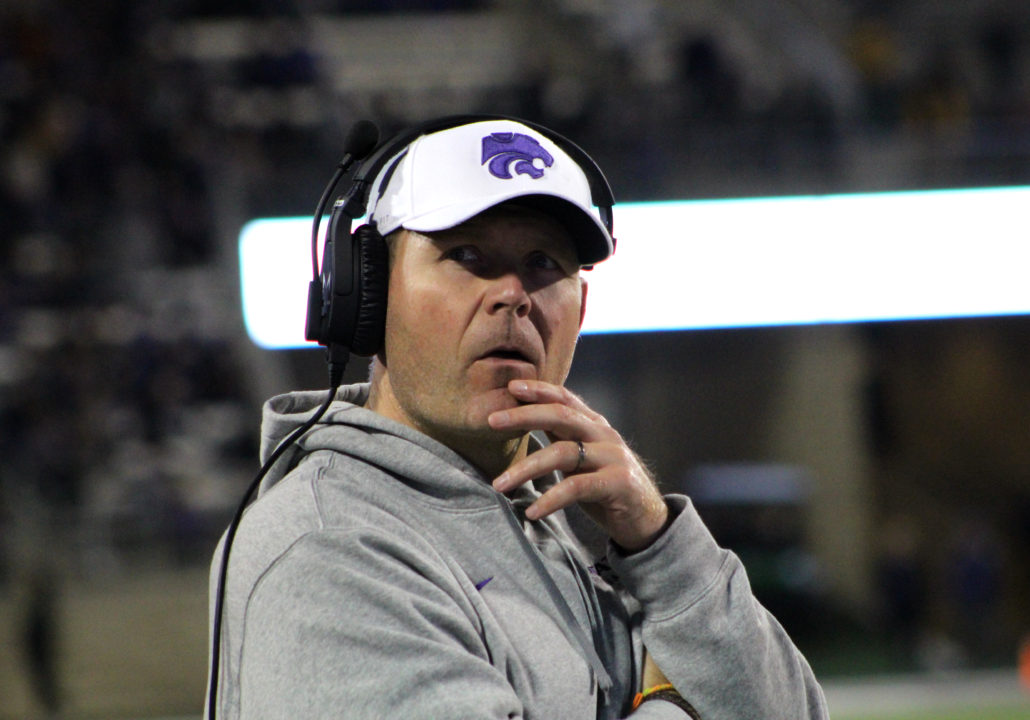 MANHATTAN, Kan. — Kansas State is three weeks into spring action, and its' revamped offensive line appears to be ahead of schedule.
There's no denying the group is talented and physical. However, there's been some inconsistency among the unit in Coach Conor Riley's eyes. That's because the Omaha native understands the unit's potential and what they're capable of accomplishing in 2022.
Riley has been orchestrating the big boys up front for the past three seasons, and this year's version could be his best yet. After all, Kansas State provided solid protection for its' quarterbacks last season and finished fifth in the Big 12 in sacks allowed.
The group flexed their muscles in the blowout bowl victory over LSU, thanks to the installation of Collin Klein's scheme. Now Riley wants his players to build on that performance with a strong spring, and they've looked promising thus far.
"That is a big point of emphasis on the entire unit on a daily basis, that we need to improve on the details," Riley said. "We need to improve on our physicality, and we need to compete."
Everything starts with All-Big 12 guard Cooper Bebee. He'll be anchoring the unit again this fall, and Riley wants to put the right pieces around him. Christian Duffie started all 13 games at right tackle in 2021. Dawson Delforge is a former Juco, who has one start under his belt. Not to mention former three-star prospect Hadley Panzer and Hayden Gillum are competing for the starting center position.
Riley has been putting the players in pressure situations to identify their strengths and weaknesses. Most importantly, he's trying to see how they respond to adversity, knowing attention to detail will go a long way.
"I thought our focus and effort are two things that need to significantly be improved upon," he said. "We're not afforded right now to be able to take two steps forward and one step back."
Regardless, the unit has a big amount of responsibility on their shoulders. Protecting the quarterbacks and opening up holes for All-American rusher Deuce Vaughn to dash through, starts in the spring and carries over to fall camp. Bebee and Duffie are the only offensive linemen with a starting position on lock. Meanwhile the others are grinding for snaps like food at the dinner table.
There's still two weeks of spring practice remaining. Riley is hoping some of the players will start to seperate themselves in competition during the process.
"It's awfully early to say, quite honestly, but I have been very pleased with Andrew Leingang and his transition to playing multiple positions," the fourth-year coach said. "Obviously, when you look at Cooper Beebe, he's a guy who is fulfilling those expectations."
It helps that the group is going up against one of the best defensive lines in the Big 12 everyday in practice. Riley simply wants his players to understand that winning the starting job is a marathon and not the 100-yard dash. There's only two words that matters to his players this spring. Compete and improve.
"That is going to be the number one objective going into every practice and every day."