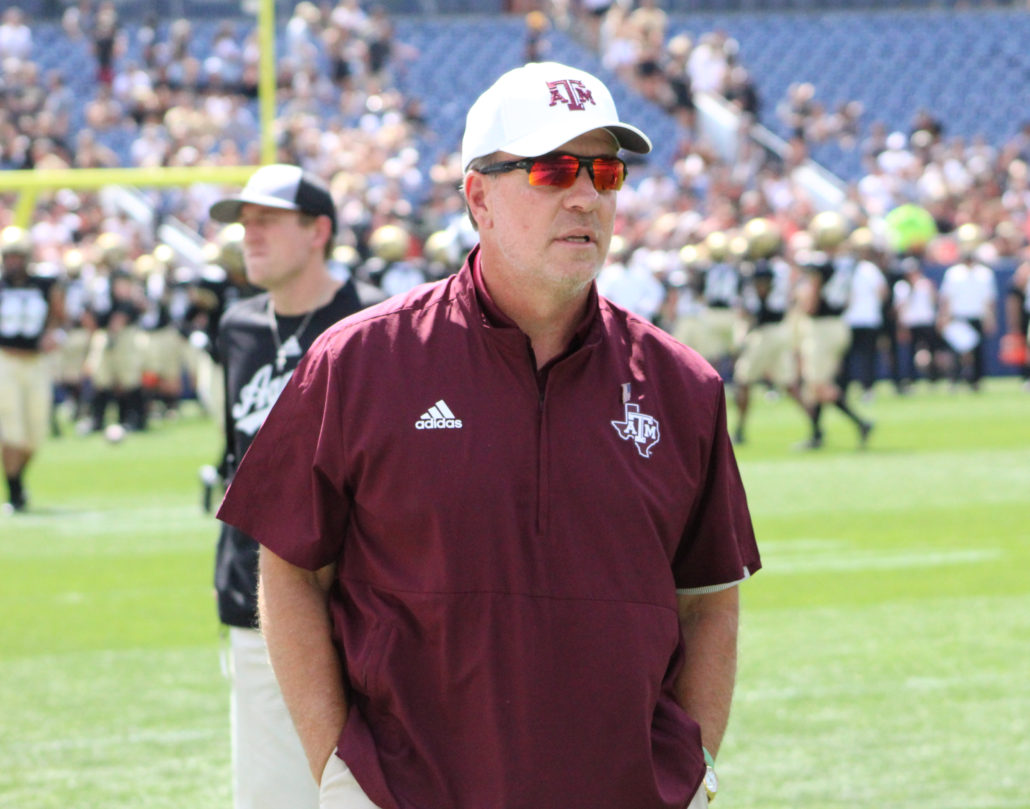 They are dynasty builders and the face of the program.
Being a head coach takes patience, direction, responsibility and wisdom to mold young boys into responsible men. Pushing players to be winners on the field and in the classroom is not an easy task.
The game is constantly evolving with the transfer portal and NIL, so coaches have to be effective recruiters. Support from the fan base goes a long way and it starts with work in the community.
These coaches have paid the cost to be the boss. Now they're looking to add unforgettable memories and more hardware to their amazing legacies.
20. Mark Stoops, Kentucky: He's the second-longest tenured coach in the SEC and very underrated. Stoops comes from a family of coaches, so his knowledge of the game is through the roof. The 54-year old has made Kentucky a credible program during his tenure, which is impressive at a school that's synonymous with basketball. The Wildcats have captured 33 victories over the past four seasons, including two double-digit win campaigns. All Kentucky fans have to do is relive the seasons of Joker Phillips' tenure to understand Stoops' value to the program. Gone are the days when the Wildcats used to be the pushovers of the East Division. That's credit to Stoops for building a winning culture.
19. Matt Campbell, Iowa State: The Ohio native has made the Cyclones perennial contenders in the Big 12. Campbell has won 41 games through six seasons with the program. Not to mention he's 31-24 against Big 12 foes. Winning seasons, numerous All-Big 12 selections and solid recruiting has become the norm at Iowa State under Campbell. The 42-year old is loyal, and even turned down a head coaching gig with the Detroit Lions to stay put in Ames. Campbell has done an amazing job at keeping his staff intact through the years, including both Coordinators. The number of Cyclones who attended this month's NFL Combine is proof that Campbell has a knack for developing talent.
18. Pat Narduzzi, Pittsburgh: The 55-year old is a defensive guru, who won the Frank Broyles Award at Michigan State in 2013. Narduzzi been patrolling the sidelines at Pittsburgh since 2015. During that span he has stockpiled 53 victories. The Ohio native is also 37-22 in ACC action. Last year Narduzzi led the Panthers to their first-ever ACC Title. Not to mention quarterback Kenny Pickett won the Johnny Unitas Golden Arm Award, and wideout Jordan Addison took home the Biletnikoff. He won't have Pickett or Offensive Coordinator Mark Whipple this time around, but plenty of pieces are still in place for Pittsburgh to do some damage in the conference again this fall.
17. James Franklin, Penn State: In three seasons at Vanderbilt he won 24 games, and had three-straight bowl appearances. Since Franklin's departure, the Commodores have suffered eight-straight losing campaigns. Bill O'Brien started the rebuilding process, but Franklin made Penn State a national power again. He annually recruits like a monster and several of his players get selected in the NFL Draft. The 50-year old delivered the program a Big Ten Title in his third season on the job. Franklin has only suffered one losing campaign during his tenure in Happy Valley. The Pennsylvania native is 43-27 against Big Ten foes, but needs more stability among his staff to consistently succeed in the league.
16. Billy Napier, Florida: What he accomplished in four seasons at Louisiana-Lafayette was flat-out phenomenal. Napier dominated the Sun Belt, and won a jaw-dropping, 41 games during that span. Over Napier's final two seasons the Ragin' Cajuns only lost two games, and finished in the AP top-20 twice. He went undefeated in conference play and led the program to its' first outright Sun Belt Title in 2021. The 42-year old also does great work with his quarterbacks and is 2-1 in bowl games. However, the Sun Belt is nothing compared to the physicality, coaching and speed of the SEC. The East is only getting better, so Gator fans are expecting Napier to re-establish a winning culture in Gainesville.
15. Kirk Ferentz, Iowa: He's the longest-tenured coach in the FBS, and one of the best at getting more done with less. Ferentz replaced Hall of Fame Coach Hayden Fry in 1999, and has gone 178-110 since then with the Hawkeyes. The 66-year old has also surpassed the century mark in Big Ten victories. His players are smart, physical and disciplined. Ferentz has an impressive track history of getting Hawkeyes from both sides of the ball selected in the NFL Draft. Iowa has had two double-digit win campaigns over the past three seasons, including a 19-8 record against Big Ten opponents. Ferentz keeps his staff intact for the most part, and that has contributed to a lot of the Hawkeyes' success.
14. Paul Chryst, Wisconsin: The 56-year old is a local hero in Madison and a former Badger quarterback. Chryst won 19 games in three seasons at Pittsburgh before he returned to his alma mater in 2015. Since then Chryst has won a jaw-dropping, 65 games. Not to mention the Badgers have gone 44-19 against Big Ten foes during that span. Chryst rules the Big Ten West with an iron fist, and in order for a team to win the division, they have to go through the Badgers. His squads have mammoth-sized offensive linemen, punishing rushers, tenacious defense and solid special teams. Despite knocking on the door of a Big Title, Chryst has yet to bring home the hardware. So that means he's still hungry for one.
13. Lane Kiffin, Ole Miss: Some College football fanatics love him, while others hate him, but everyone has to respect that he can coach. Kiffin has one of the brightest offensive minds in today's game. His journey up to this point has been inspiring and filled with humility. Kiffin has had successful stops at Tennessee, USC and Florida-Atlantic as a head coach. Despite winning 28 games through three and a half seasons with the Trojans, Kiffin was fired on a plane ride home after a loss. Since then Nick Saban took Kiffin under his wing, refined his coaching knowledge and molded him into one of the best coaches in the SEC. It's no mystery as to why Ole Miss won 10 games during the regular season.
12. Mike Gundy, Oklahoma State: The 54-year old is the Big 12's longest-tenured coach, who possesses a great offensive mind. Gundy is very loyal to his alma mater and has turned down numerous offers from other big time Power Five programs. He's been patrolling the sidelines in Boone Pickens Stadium since 2005. Not to mention Gundy has coached 151 games at Oklahoma State, which ranks No. 1. Gundy has gone 91-75 in Big 12 action, which is one of the reasons why he's outlasted former Big 12 coaches like Mack Brown, Bob Stoops and Gary Patterson. The Pokes were an arm reach from winning the Big 12 Title last season, but redeemed themselves with a dramatic bowl victory over Notre Dame.
11. Luke Fickell, Cincinnati: The Ohio native is a defensive guru, who's still up and coming. Fickell led Ohio State to a bowl game in 2011 as an interim coach. However, Fickell has made a name for himself after five seasons with Cincinnati. Not only has the 48-year old led the program to back-to-back AAC Titles, but the Bearcats became the first-ever Group of Five team to crash the Playoffs. Fickell also stockpiled several Coach of the Year honors. Although other programs try to lure him away from Cincinnati, Fickell remains loyal to his respective team. Fickell's biggest coaching challenge will be maintaining the victories in 2022, after replacing a plethora of studs from both sides of the ball.
10. Mario Cristobal, Miami: He's another individual on this list who reached new heights in his head coaching career after learning under Saban. Cristobal coached the past four seasons at Oregon and ruled the Pac-12 with an iron fist. The 51-year old stockpiled 25 victories over conference foes, and led the Ducks to back-to-back Pac-12 Titles during his tenure. Not to mention Cristobal recruited like a monster and landed some of the country's best talent in Eugene. Now the hometown kid has returned to South Beach, and is poised to put some swagger back behind his alma mater's name. The ACC has a lot more parity than the Pac-12, so Cristobal will have to do an even better job recruiting at Miami.
9. Kyle Whittingham, Utah: The 62-year old is the Pac-12's longest-tenured coach. Whittingham has been patrolling the sidelines at Rice-Eccles Stadium since taking over for Urban Meyer in 2005. He has led the program to a Mountain West Title in 2008 and a Pac-12 Championship in 2021. Very few coaches get more done with less like Whittingham. The California native doesn't recruit at a high level like other big name coaches, but he has an eye for talent. Whittingham constantly develops his players into All-Pac-12 performers and NFL Draft selections. That's why he has gone 54-43 against Pac-12 opponents since 2011. Not to mention Whittingham has won a jaw-dropping, 11 bowl games.
8. Jim Harbaugh, Michigan: The former Wolverine quarterback has won 61 games in seven seasons with his alma mater. Harbaugh has a jaw-dropping, 43-17 record against Big Ten opponents during his tenure in Ann Arbor. Not only did Mr. Khaki Pants silence all of his critics by beating Ohio State last season, but he also led Michigan to a Big Title and its' first-ever berth in the Playoffs. For his efforts Harbaugh earned AP Coach of the Year honors. He is also a great recruiter, who develops his players to their fullest potential. There's no denying Harbaugh's value to the overall credibility of the Big Ten, after he flirted with a couple of NFL jobs during the offseason. Regardless, he proved he's an elite coach.
7. Ryan Day, Ohio State: The 43-year old has kept the wheels rolling after Urban Meyer left and then some. Day's track record as a head coach is as impressive as it gets for just three seasons, plus three games under the interim tag. He is an elite recruiter and coached two Heisman Trophy quarterback finalists. Day has stockpiled a 25-1 record against conference foes. Under Day's leadership the Buckeyes have won two Big Ten Titles, and punched their tickets into the Playoffs twice, including a National Championship Game appearance. A Rose Bowl victory would be considered a milestone accomplishment for most FBS programs, but Day understands at Ohio State it's a National Title or bust.
6. Jimbo Fisher, Texas A&M: The West Virginia native is one of four coaches on this list with at least one National Title under his belt. Fisher ventured off from Saban's shadow and won himself a Natty at Florida State. He did a miraculous job rebuilding the program after Bobby Bowden retired. Not only did Fisher rack up 83 victories with the Seminoles in eight seasons, but he also won three ACC Titles. Fisher coached a Heisman Trophy winning quarterback and led Florida State to a berth in the Playoffs. The 56-year old helped Kellen Mond break several school passing records with the Aggies. Not to mention Texas A&M is the only team to beat Alabama during the regular season over the past two years.
5. Lincoln Riley, USC: The 38-year old did a magnificent job replacing Bob Stoops at Oklahoma. Riley won a jaw-dropping, 56 games in five seasons with the Sooners. Not to mention he stockpiled a record of 41-7 against conference opponents, won four Big 12 Titles and led Oklahoma to three Playoff appearances. He's one of the game's best quarterback gurus and coached two Heisman Trophy winners. Now he's trying to restore a winning culture with the Trojans. USC signed Riley to a lucrative contract and he brought along star signal-caller Caleb Williams for a smooth transition. Riley brings instant credibility to the Pac-12, especially after coaching changes at Oregon and Washington.
4. Brian Kelly, LSU: The Massachusetts native has had major success everywhere he's been as a head coach. Kelly won two Division II National Championships at Grand Valley State. He led Central Michigan to a MAC Title in 2006. Kelly led Cincinnati to an undefeated regular season in 2009. The 60-year old was at Notre Dame for 12 seasons, and left as the program's all-time winningest coach. The Fighting Irish played in the BCS National Championship Game and made two Playoff appearances under Kelly's watch. However, it became obvious the Fighting Irish had reached  their ceiling with Kelly as their coach. Now he's ready for a new challenge in the toughest division in College football.
3. Dabo Swinney, Clemson: After he kissed Howard's Rock as the Tigers' interim coach in 2008, the rest is history. Swinney has the charm and swagger to lure four and five-star recruits to Clemson. The 52-year old has owned the ACC for nearly a decade. Not only has Swinney captured two National Championships, but he also won seven ACC Titles. Clemson has clinched six Playoff berths and appeared in four National Championship Games under Swinney. The Alabama native is the longest-tenured coach in the ACC. Swinney built a dynasty with Clemson, and the original Death Valley has been a house of pain for visitors. However, Swinney will be operating with two new Coordinators in 2022.
2. Kirby Smart, Georgia: Last season he emerged from Saban's shadow and defeated Alabama for Georgia's first National Championship since 1980. Smart has been arguably the nation's best recruiter for the past five seasons, and his roster stays stacked with four and five-star talent. That's why the Bulldogs never rebuild, they reload, regardless of their departed talent to the NFL. Not to mention Smart has stockpiled a 42-13 record against SEC foes. The Bulldogs won an SEC Title in 2017 and played in two National Championship Games under Smart. The 46-year old has the foreseeable future looking bright for Georgia. Now Smart is finally seeing eye to eye with Saban for king of the league.
1. Nick Saban, Alabama: The numbers don't lie and the future Hall of Famer has a National Championship ring for seven of his fingers. Saban is arguably the greatest College Football coach of all time. He has even surpassed Paul Bear Bryant in terms of longevity of success. Saban is a recruiting giant and every year a plethora of his players from both sides of the ball get selected in the NFL Draft. It doesn't matter if Saban's assistants leave for other jobs, the dynasty still continues. Alabama has to lose twice to be ruled out of the Playoffs because of Saban's notoriety. Several of his proteges are successful head coaches too. Bottom line, he's the most influential individual in today's game.
Honorable Mention
Mel Tucker, Michigan State: The verdict is still out on rather he's an elite head coach because he hasn't been one for long. However, the way the Spartans played last season is a good sign that the future looks bright for the program.
Dave Aranda, Baylor: He's only been on the job a couple of seasons and already won a Big 12 Title. Aranda has one of the best defensive minds in today's game, and he's a very smart young coach. He might be the new king of the league.
Mack Brown, North Carolina: He's a shell of himself from when Texas dominated the 2000's and won a Natty, but still a solid coach. Brown is like the politician that everyone respects, and he's also an elite recruiter.
Jamey Chadwell, Coastal Carolina: The 45-year old has led the Chanticleers to back-to-back 11-win campaigns. Luke Fickell might get all of the spotlight, but Chadwell is arguably one of the best coaches from the Group of Five.
Dave Clawson, Wake Forest: Although he has yet to finish with a winning record in ACC play, Clawson does more with less. The Demon Deacons score a lot of points and are coming off Clawson's first 11-win season.
Kalani Sitake, BYU: The 46-year old has led his alma mater to back-to-back double-digit win campaigns. Sitake finally beat Utah last season and has led BYU to five winning seasons over the past six years.