Buddy Wyatt wants more out of Felix Anudike-Uzomah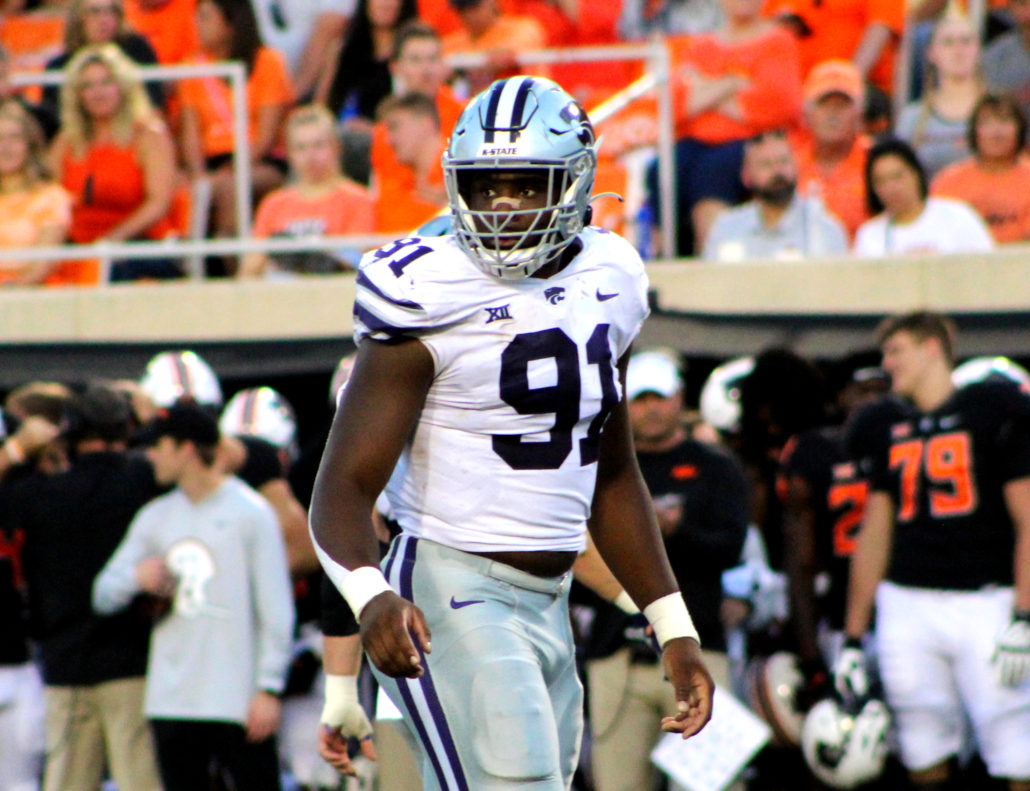 MANHATTAN, Kan. — The Wildcats' Defensive Ends Coach believes his best defender is just cracking the surface.
Felix Anudike-Uzomah earned first-team, All-Big 12 honors last season, and was named the league's co-Defensive Lineman of the Year. However, in Buddy Wyatt's eyes, the star edge rusher has yet to reach his full potential.
That's mind-boggling, considering the Kansas City native racked up 11 sacks last year, which were the most by a Kansas State defender in a single-season since 2016. He also fell one sack short of breaking the school record. Anudike-Uzomah put the quarterback to the turf four times in the victory over TCU, which tied for first in a single-game by a Wildcat.
Now he's poised for an All-American caliber season in 2022. Still, Wyatt is having the six-foot-four, 254-pounder, and the rest of the unit going full throttle throughout spring ball. Anudike-Uzomah was such a pass rushing terror that he won't be sneaking up on anyone this time around. So Wyatt wants him to elevate his game during practice, because he'll be often double-teamed in the fall.
"His next step is to master his craft," Wyatt said. "What I mean by that is, yeah, he (Anudike-Uzomah) had a good year, but don't settle."
After all, he displayed great hand movement, flexibility and a non-stop motor. Anudike-Uzomah was a natural at maneuvering around offensive tackles and making quarterbacks eat grass. Remaining disruptive and having a relentless pursuit goes a long way with rattling opposing signal-callers.
Wyatt feels the former three-star prospect is molding into a complete defensive end. Despite all of his success and production, Wyatt knows there are still areas Anudike-Uzomah needs to iron out the wrinkles. Other Big 12 offenses will be game-planning around him.
That's why Wyatt is being proactive about it. He's putting the edge rusher in pressure situations to see how he responds, and installing special packages for Anudike-Uzomah to be the point of attack in the Wildcats' defense.
"He (Anudike-Uzomah) can play the run better, and he'll tell you that he got better last year, but he can get even better than that, he said. "Pass rush wise, he left some opportunities out there."
Wyatt is glad Anudike-Uzomah got the opportunity to play alongside and shadow two-time, All-Big 12 performer Wyatt Hubert in 2020. The former Kansas State edge rusher handled all of the blue collar work in the trenches, and prided himself on being the heart and soul of the defense.
In hindsight, Wyatt thinks all of that knowledge Anudike-Uzomah soaked up, made him a smarter and wiser defender. He has become a general in the weight room and on the gridiron. Anudike-Uzomah is basically Hubert now, the Wildcats' enforcer up front, who sets the tone every game. And the rest of the defense feeds off his energy.
"He needs to adapt a similar work ethic to Wyatt Hubert, the fourth-year coach said. "It was good that he was able to be around Wyatt for a bit and see the way that he was in meetings, took notes, the way he watched film, and the way he worked out there on the field."
The Wildcats' defense finished fourth in the Big 12 against the run and generated sacks in 2021. If Anudike-Uzomah can be more consistent with shedding blocks and bringing down ball-carriers in the backfield, Wyatt is confident those numbers will improve this fall. His ceiling is that high.