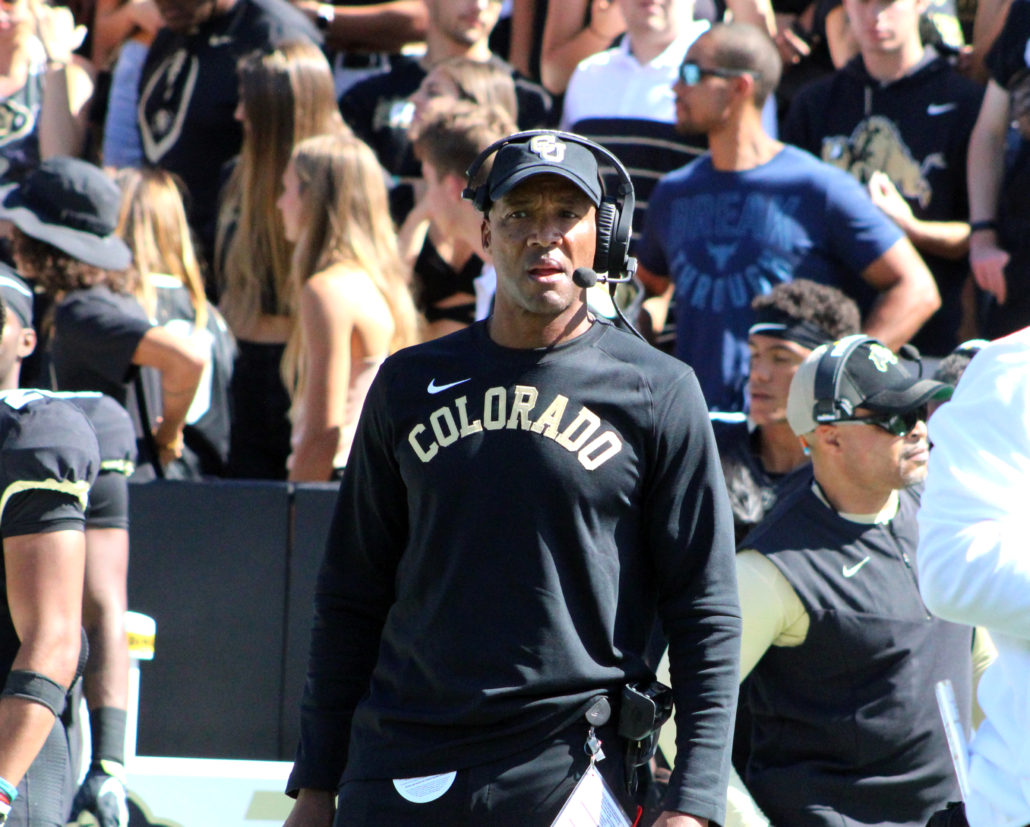 BOULDER, Co. — Spring ball is in session for Colorado and there are new faces all over the place.
Coach Karl Dorrell was a busy man last December and replaced four assistant coaches, including his Offensive Coordinator. Dorrell had to make staff changes after the Buffaloes followed up his initial winning season with a 4-8 campaign.
After all, he appeared to have his team ahead of schedule, and was named the Pac-12's Coach of the Year in 2020. However, Colorado finished 129th in the FBS in total offense and had a stagnant aerial attack last year. On top of that, the Buffaloes lost their leading rusher and two of their top three wide receivers to the transfer portal.
New Offensive Coordinator Mike Sanford, who replaced Darrin Chiaverini, will have to find leaders and give the Buffaloes an identity. It helps that quarterback J.T. Shrout is participating in throwing drills this spring, after suffering a season-ending knee injury in fall camp.
Although Shrout won't be doing any live scrimmage work, Dorrell expects him to push last year's starter Brendon Lewis, who struggled mightily throwing the football in 2021. Still, there are good pieces available for Chiaverini to build the offense around. Colorado snagged former Alabama offensive lineman Tommy Brown from the transfer portal this past January. Not to mention tight end Bardy Russell is one of the best in the Pac-12.
On defense Dorrell added a new coach for the defensive line and cornerbacks. Stud linebackers Nate Landman and Carson Wells are off to the NFL. Cornerback Mekhi Blackmon transferred to USC, and safety Mark Perry left for TCU. Even Josh Watts, who averaged 47.8 yards per punt last season is no longer on the roster.
Regardless, Dorrell emphasized how several jobs will be open for the spring now that he's back at the drawing board.
"We want to develop our systems on offense, defense and special teams; going back to square one and teaching the basic fundamentals and principles of all three of those areas," Dorrell said.
Building chemistry with the new staff and players is asking a lot in just 15 practices, but Dorrell is confident it'll all be a smooth transition. Most of his new hires have been around each other through all of the offseason. He's hoping the players with the most experience and production will take charge on both sides of the ball. Despite the unfamiliarity, Dorrell expects everything will start to gel midway through the spring.
"I think the new coaches with the football school and the things that we've done to this point, they have bridged a lot of that gap between them being new and getting to know the current players," he said. "The challenge is always going to be to play your best elements on both sides of the ball, really getting a chance to improve your systems."
The division is only getting stronger. The arrival of Lincoln Riley at USC and a plethora of returning starters back for the reigning Pac-12 Champs, means Dorrell needs all of the new faces in his program to have an immediate impact. Expectations won't be high for a team going through such a rebuilding process. Dorrell still believes his Buffaloes have a chance to surprise many, especially since they're flying so far under the radar.
All he wants is patience from the Colorado fans, because establishing a winning culture doesn't happen overnight. The new coaches and players need to rally behind Dorrell's third season on the job. If that happens, the program can to take a positive step forward in 2022.
"Now the action part has to match the vision," the 58-year old coach said. "That's what I'm curious to see, is if we can focus on doing what our agenda is expecting to accomplish and really attacking it and hopefully checking off all the boxes."
The Buffaloes spring game will be on April 23, and by then Dorrell hopes to identify his team's strengths and weaknesses, in pursuit to overall improvement.