Wildcats pound Tigers to give Klieman first bowl win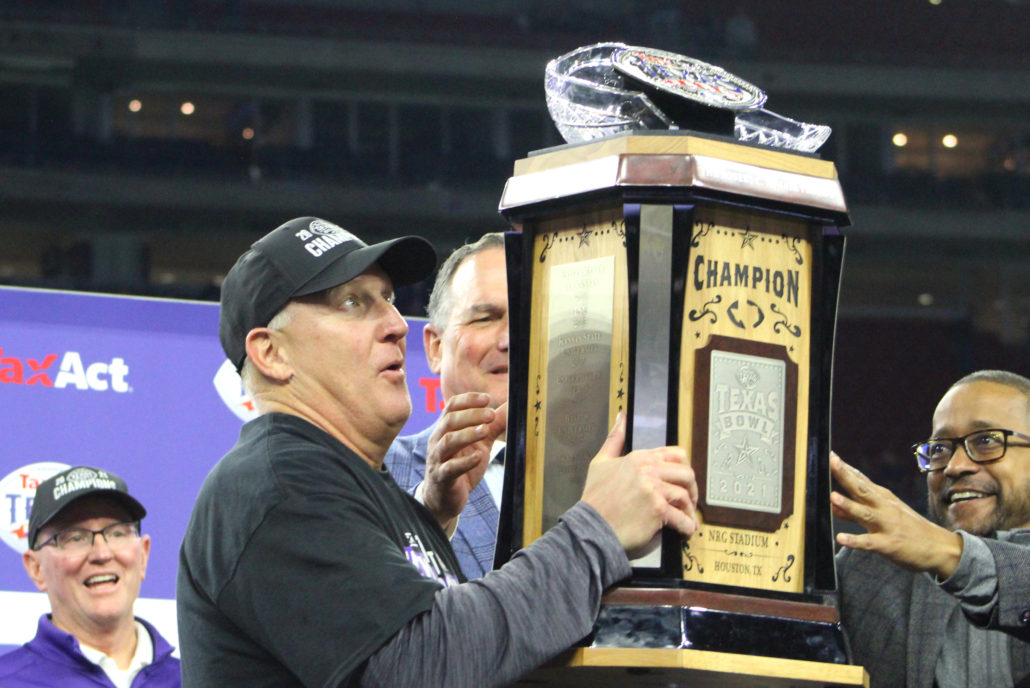 HOUSTON — The Texas Bowl was the last game before Monday's National Championship, and the Big 12 swept the SEC.
Kansas State came out on fire and throttled LSU 42-20 in front of a crowd of 52,207 at NRG Stadium. Although the final score looked more respectable because of a last second Tiger touchdown, the game was an absolute blowout. It was Coach Chris Klieman's first bowl win with the program and he was able to give a host of his seniors a happy farewell.
It was clear from kickoff that Kansas State wanted to be there and LSU (6-7) didn't even get off the bus mentally. The Wildcats' intensity throughout the clash didn't surprise Klieman one bit, considering none of his players opted out of the contest.
Kansas State played with some tempo on offense for the first time this season. The unit dictated what it wanted and controlled the trenches. The Wildcats scored a touchdown on three of their first four drives. Each of those drives were long and methodical too. The second one consisted of 18 plays and took over nine minutes off the clock, which left LSU's defenders fatigued and demoralized. It turned out to be the longest drive in Texas Bowl history, in terms of plays and duration.
Klieman credits the success of the offense to Collin Klein, who he promoted to Offensive Coordinator for the bowl.
"I loved his preparation, he had a great body of work," Klieman said. "The guys love Collin, and they're going to play their tails off for Collin, and they should, he's K-State, in my mind."
Quarterback Skylar Thompson is another individual who's synonymous with the Wildcats. He went out with a bang on his final game playing alongside his brothers. Thompson completed 21 of his 28 passes, for 259 yards and three touchdowns.
Not to mention he was also named the Texas Bowl MVP. Thompson's performance was a reflection of the legacy he left with the program, and that made Klieman proud.
"For him to be on point like he was, and know that people were coming after him, and hanging in there and throwing some strikes, he was phenomenal," he said.
All-American running back Deuce Vaughn had a monster outing and carved up LSU's defense like Thanksgiving turkey. Vaughn finished with 157 yards on the ground and scored four total touchdowns. It was the most-ever in a bowl game by a Kansas State player.
It was also Vaughn's ninth game this season of surpassing the century mark in rushing. In Klieman's eyes, Vaguhn is what makes the Wildcats' offense go, and arguably the most important player on the roster.
"He's the best player in college football, in my opinion and for a reason, a consensus first-team All-American," the 54-year old coach said. "Most humble kid I've been around, but he's a workhorse and our players love him."
Wide receiver Phillip Brooks finished with a game-high, seven catches, but it was Malik Knowles who caught two touchdowns. Although Kansas State's offensive line allowed two sacks, the unit played arguably its' best game of the season. Thompson had time to throw in the pocket throughout the night and gaping holes were opened for Vaughn to run through.
Kansas State (8-5) finished with 134 more yards of total offense than LSU and ran 14 additional plays. The Wildcats also dominated in time of possession and held the ball for nearly five minutes longer than the Tigers.
On defense linebacker Daniel Green led the Wildcats with a team-high, six total tackles. Although Kansas State's defense didn't generate any sacks, safeties Russ Yeast and Ross Elder each picked off a pass. The Wildcats' defense held the Tigers to 308 yards of total offense, which tied for their second-lowest output of the season.
Above all, Kansas State was able to snap a three-game losing streak. There was a lot of purple and white in the venue, and Klieman is grateful of the support from fans.
"My hat's off to K-State nation and the fan base for coming out, what an electric crowd."