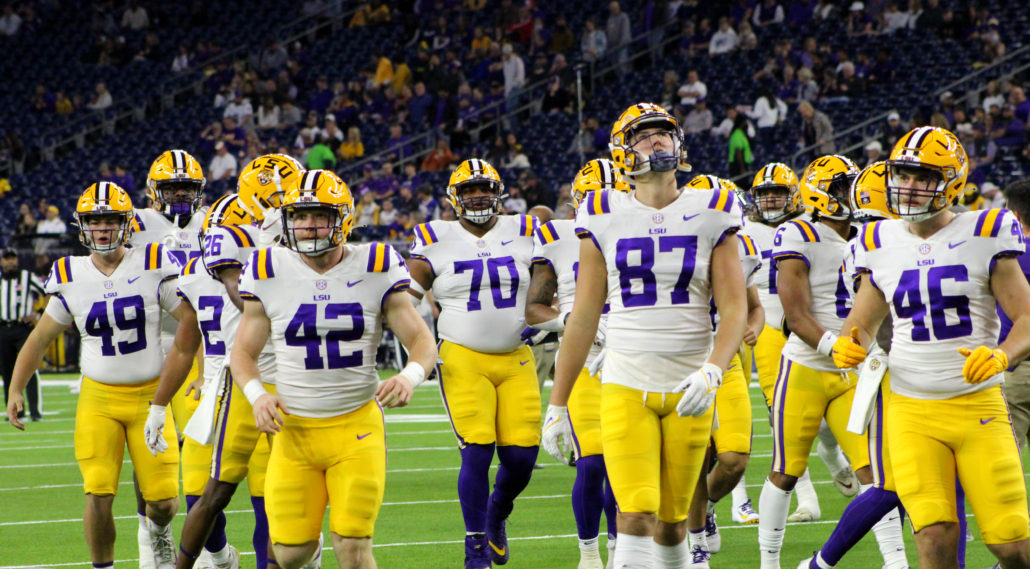 HOUSTON — There were many reasons why the Texas Bowl was a dreadful outing for LSU Tuesday night.
The Bayou Bengals were operating under an interim coach, down to a mere 38 players and had no scholarship quarterback available. Which is why it's no surprise Kansas State annihilated LSU 42-20. It was the program's largest margin of defeat in a bowl game since 1949. LSU's loss secured a sweep by the Big 12 over the SEC this postseason.
The Bayou Bengals' lackluster performance was sort of a head-scratcher to the fans. After all, LSU recruits the Houston area hard and is close in proximity. However, having the home field advantage and Baton Rouge's own Brad Davis coaching the team didn't turn out to provide much motivation for the players.
The game was lopsided from the start of the kickoff and the crowd of 52,207 at NRG Stadium quickly diminished midway through the third quarter. Kansas State's offense set the tone and LSU's defense couldn't do much to stop the bleeding. The Wildcats scored touchdowns on three of their first four drives of the contest.
It put LSU's offense in a serious hole, with a limited passer. Senior wide receiver Jontre Kirklin filled in at quarterback, threw three touchdowns, but was picked off twice. LSU only mustered 308 yards of total offense though, which tied for its' second-lowest output of the season.
The team looked flat, sluggish and uninspired on both sides of the ball. Still, Davis emphasized that they wanted to be there and represent the program the best way they could under those circumstances. He came into the matchup expecting his team to have a great showing and win.
"As you guys can see, we went to battle here with a pretty limited roster," Davis said. "Yet, I'm disappointed in myself that I couldn't have been better for the players today."
The game became crystal clear that the Wildcats wanted it more and were happy to be there. LSU's defense got steamrolled all night, with long, methodical drives by Kansas State's offense. The Wildcats' second drive of the game consisted of 18 plays and took over nine minutes off the clock. which were both Texas Bowl records.
Despite losing the game by 22 points, Davis thought his players fought to the end, regardless of the score. There's no denying the Bayou Bengals could've easily folded at halftime, but Davis would've never let that happen.
"That isn't who we are, we're from South Louisiana," he said. "We fight to the end and we represent toughness."
Chris Hilton's last second touchdown reception proved that. Jaray Jenkins and Malik Nabers also hauled in touchdown passes. On defense cornerback Darren Evans led the team in tackles. Defensive back Pig Cage and edge rusher BJ Ojulari each generated six tackles and a sack.
LSU (6-7) played for pride and there's no shame in that. The loss was deflating for his team, but he feels his players have no reason to hang their heads. He believes they all showed heart and determination by just playing in this game. Now Davis wants his players to put their embarrassing defeat in the rearview mirror. He's already looking forward to next season with Brian Kelly patrolling the sidelines and can feel the excitement.
"We have to recruit our roster and what I mean by that is keeping guys in the program and then, obviously, creating a wholesale buy-in, and I think that he (Kelly) has been highly successful at that," the interim coach said. "I think our guys are excited to turn the page and go compete for him."
Make no mistakes, LSU is still a powerhouse that's removed two years from a National Title, and has tons of resources, so in Davis' mind, the program will be back in no time.