Chris Klieman preparing team for Tuesday spotlight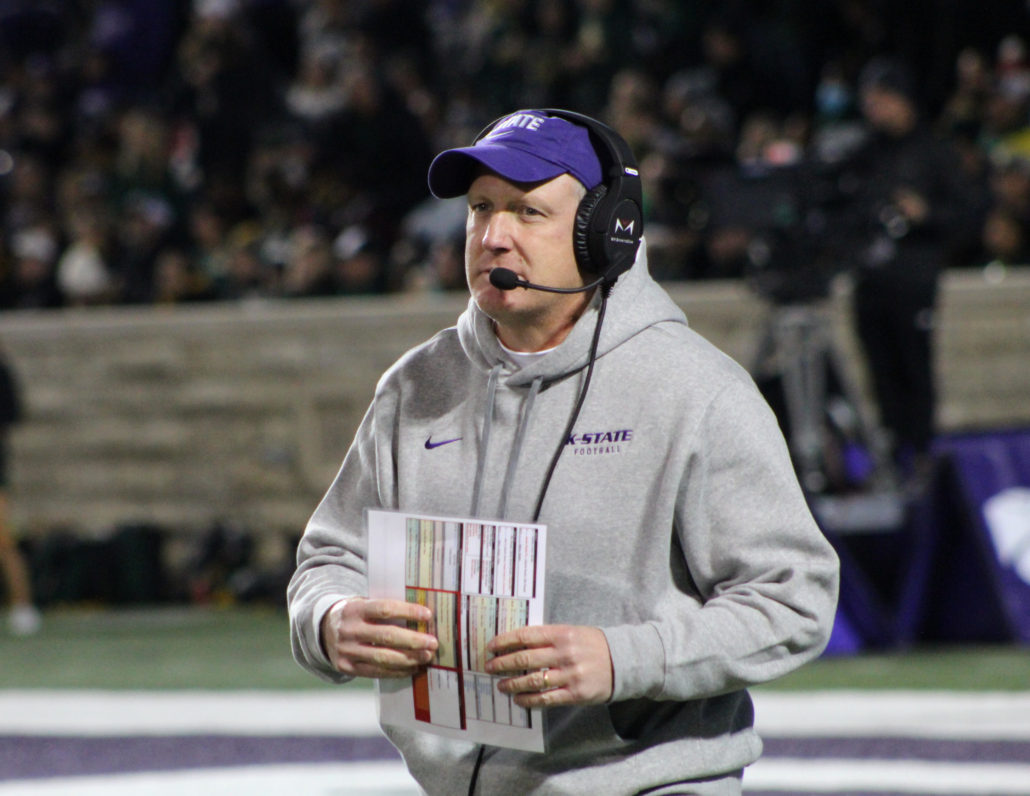 HOUSTON — It's been a whirlwind for the past 30 days with Kansas State's coach, but he appears to have everything under control.
Chris Klieman fired two of his assistants, landed 13 recruits for the early signing period and watched 20 of his players earn their degrees during that span. Not to mention he welcomed former Nebraska quarterback Adrian Martinez into the program with open arms.
On top of that, the Wildcats still have a bowl game to play. It doesn't get much better than the Big 12 against the SEC, and the Texas Bowl will be the last postseason game before the National Championship.
That means both programs will have the spotlight to themselves under the Tuesday night lights. Despite LSU (6-6) operating under a interim coach, with multiple players out and coming off a disappointing regular season, it still has Klieman's full attention. After all, the Bayou Bengals are a powerhouse program. And only two years removed from winning the National Title.
The challenging part for Kleiman and his staff is the unknown of what to prepare for. The Bayou Bengals have so much uncertainty on their team, and scouting them hasn't been a walk in the park for the Wildcats. Which is why Klieman is preparing to adjust on the fly.
"It's been difficult, but it's LSU, you can look at film and the players," Klieman said. "They're going to have the ability to run the football, they got an awfully good offensive line and they have really good running backs, so it'll be a big challenge for us."
Factor in pandemic complications going around in sports and it gets even more complicated. With several bowl games cancelled up to this point, he's just grateful Kansas State is in this position. Although a couple of Wildcats are in the COVID protocol, most of the team traveled and will be locked, loaded and ready by kickoff.
Having the extra time off has also benefited the Wildcats in terms of getting their players healthy. Klieman expects veteran quarterback Skylar Thompson to play and his return has rejuvenated the entire offense.
"He's healthy as he's been all year to be honest with you, coming off the couple of injuries that he's had," Klieman said. "No ill effects of anything has gone on, he's throwing the ball crisp, he's running the ball well and I'm looking forward to him having a big game."
Klieman thinks it's encouraging that all of his players want to participate in this bowl game, especially in this day and age of opt outs, injuries and the transfer portal. One of those Wildcats is All-American running back Deuce Vaughn, who grew up 179 miles outside of Houston. All-Big 12 edge rusher Felix Anudike is also planning on getting his hands and knees dirty against LSU.
However, everyone on the roster understands that they can be potentially walking into a snake pit at NRG Stadium. Houston is basically in LSU's backyard and is a recruiting hotbed for the program. Klieman is hoping Kansas State fans will pack the venue and make it feel more like a netral site matchup.
Former Kansas State quarterback Collin Klein has replaced Courtney Messingham and will call the plays. The fans have been craving for the offense to open up the playbook and Klieman believes this is the perfect time to do it.
"Collin is a great young coach and I'm excited for him to have this opportunity," the 53-year old coach said. "He's spent an awful lot of time with the offense, I love the way he's led the guys, they're practicing hard and it'll be fun to watch.
Anticipation is high, considering Kansas State (7-5) lost its' last bowl game under Klieman. So losing is not an option, and everyone from the players to the coaching staff, are focused on carrying the team to the finish line.