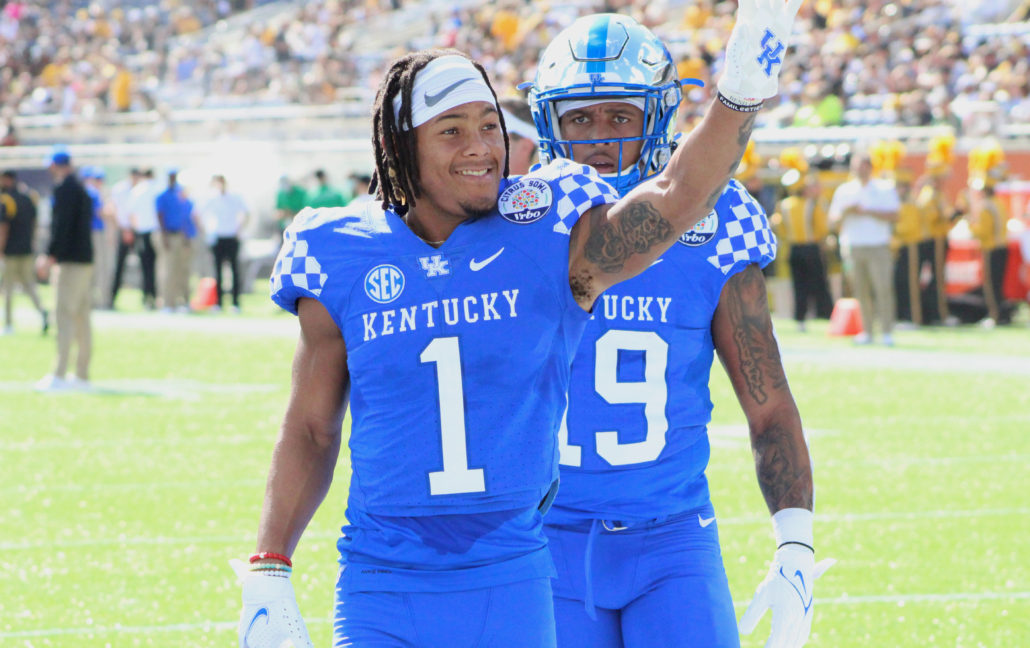 ORLANDO — All it took was one season with Kentucky for the wide receiver to prove he's one of the nation's elite.
Not only did Wan'Dale Robinson shatter single-season school records in receptions and receiving yards in 2021, but he also earned second-team All-SEC honors. So it shouldn't come as a surprise that he shredded one of the best secondaries in the country Saturday.
Robinson raised eyebrows across the crowd of 50,769 at Camping World Stadium with his breathtaking performance. His 170 receiving yards were the second-most allowed by Iowa's defense all season long. It was also the Kentucky native's sixth game this season of surpassing the century mark in receiving yards. He displayed his explosiveness out of the slot and stretched the Hawkeyes defense on clutch plays.
Robinson had six of his 10 catches in the second half. His 52-yard reception in the final minutes of the fourth quarter put Kentucky in position to score the go-ahead touchdown. The former four-star prospect was also named the M.V.P. of the Citrus Bowl. That's a feat Coach Mark Stoops admires because he understands Robinson's journey to get to this point.
"He plays the game for himself, his family, his teammates, this institution, the state," Stoops said. "Just plays so hard and makes such competitive plays in big moments, that's what you need to win a Bowl game, to beat quality opponents."
Robinson spent his first two seasons at Nebraska ,where he stockpiled 91 caches for 914 yards and three touchdowns receptions. Scott Frost also used him at running back, but that often led to Robinson getting banged up. His mother was suffering from COVID-19 complications and that's what led Robinson back to his home state.
It worked out for all parties involved, considering Robinson got be close to his mother. He also finished this season with 104 catches, 1,334 receiving yards and seven touchdowns. Through it all Robinson has remained grateful and doesn't take any of his success for granted. After all, he was able to kill two birds with one stone, by playing in the first bowl game of his career and finally beating Iowa.
"If you know anything about Nebraska, that is a rival school for me, Robinson said. "I have lost to them (Hawkeyes) two years in a row, so this one was a little bit more special, especially for those guys I played with out there."
Iowa Coach Kirk Ferentz thought Robinson was remarkable. There's a reason why the veteran coach is a strong believer that big things come in small packages.
"He (Robinson) is just a really explosive, dynamic football player, and tough to keep up with," Ferentz said. "He was good when we faced him the last time, and he probably is better right now and that comes with age, so we have a lot of respect for him."
The 5-foot-11, 185-pounder has made himself a household name in the SEC. Not to mention after Saturday's performance his draft stock has now skyrocketed. Which means Robinson has some important decisions to make over the next few weeks.
Regardless of what Robinson decides, he always handled himself with class. He continues to make great impressions on everyone he encounters, on and off the field. Robinson's competitive spirit is second to none and it's evident he demands the same out of his teammates. Now the Wildcats have won four-straight bowl games. It's no mystery as to why Kentucky secured a 10-win campaign for the first time since 2018.
"Me coming home, I had the mentality of coming and working and just do everything I can to help our team win."