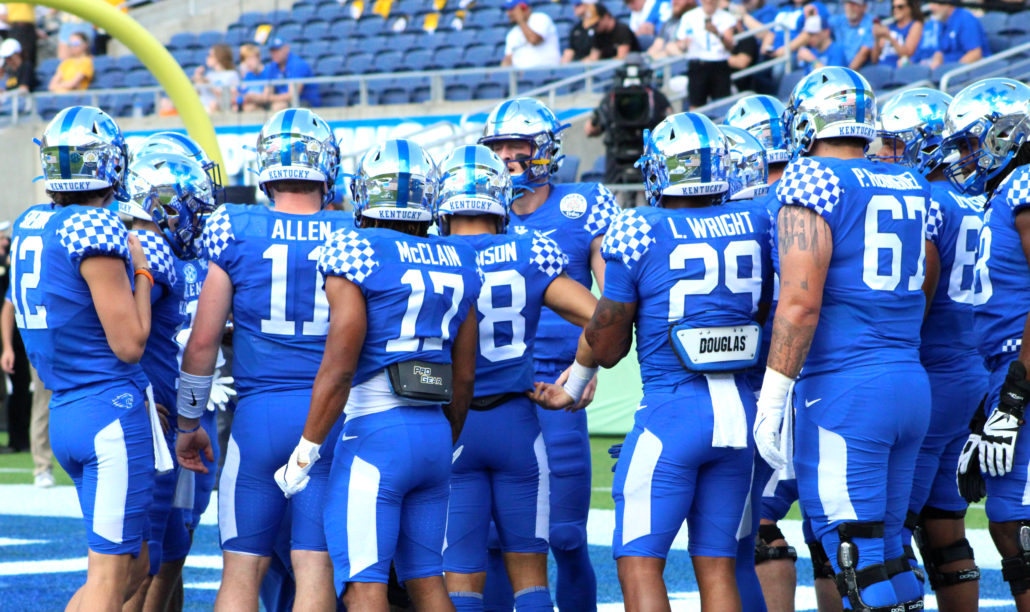 ORLANDO — The Wildcats came into the Citrus Bowl expecting to complete a 10-win campaign for the first time since 2018.
It took a physical performance, plus a late fourth quarter rally, but Kentucky dropped Iowa 20-17 Saturday, and closed out its' season on a four-game win streak. The cherry on top for Coach Mark Stoops and his seniors was securing four-straight bowl victories.
The Wildcats drew first blood in front of a crowd of 50,769 at Camping World Stadium, and led by double-digits at halftime. However, the Hawkeyes came out a different team in the second half. Iowa held Kentucky scoreless in the third quarter, rallied back and took its' first lead of the game early in the fourth.
Receiver Arland Bruce took it in the endzone from 20 yards out to pull Iowa within four points. Quarterback Spencer Petras connected with tight end Sam LaPorta for a 36-yard touchdown and gave Iowa its' first lead of the game. At that point it was clear to Stoops that the momentum had shifted and the crowd was all dialed in.
"We knew it would be a 60-minute football game and again, it was," Stoops said. "Our team is used to playing a lot of close games, tough games, against quality opponents, and that was the case today."
Which is why Stoops relied on his three best offensive players to carry the Wildcats to the finish line on their last drive in the final two minutes of the fourth quarter. Quarterback Will Levis hooked up with wideout Wan'Dale Robinson for a 52-yard strike down to Iowa's one-yard line. All-SEC running back Christopher Rodriguez punched in the go-ahead touchdown afterwards and Kentucky never looked back.
However, it was the Wildcats' defense that put the game on ice after linebacker DeAndre Square intercepted Petras on the Hawkeyes' final drive of the contest. Stoops was so proud of his players for coming through on such clutch drives, which made Kentucky fans go into a frenzy.
"In the second half, we didn't do a great job as a team defensively, we had an opportunity to pin them and we didn't," he said. "We let them drive it, they ran the ball well in the second half, and that limits possessions and it puts
us in bad position, but we fought our way out of it."
The Wildcats' persevered through adversity, which didn't surprise Stoops, because his team played down-to-the-wire games in SEC action and were battle-tested. There's no denying everyone had to contribute for the victory though. Levis completed 17 of his 28 passes for 233 yards, and touchdown and an interception. Rodriguez finished with 107 yards on the ground and it was his ninth game this season that he went over the century mark in rushing.
Robinson caught 10 passes for 170 yards. It was the sixth time this season that the former Nebraska Cornhusker went over 100 receiving yards, and he was also named the Citrus Bowl MVP for his heroics. Senior linebacker Jordan Wright led the defense with 10 tackles. The telling story of the matchup was the turnovers, and the Wildcats picked off Petras a jaw-dropping, three times.
Even special teams contributed in a big way, with two field goals from senior kicker Matt Ruffolo. The No. 25 Wildcats ran 15 more plays than the Hawkeyes, converted four additional first downs and dominated time of possession. It all solidified a complete team effort in Stoops' eyes and Kentucky (10-3) took that next step in national credibility.
"I think it comes down to our players caring about each other and having a toughness and a resiliency about them," the 54-year old coach said. "You know, respecting the game, we talked about playing the game with honor and they do that."
Overall, Stoops believes the victory over the 17th-ranked Hawkeyes will give the Wildcats a ton of momentum for the offseason and he can't wait to see what his boys have in store for the spring.