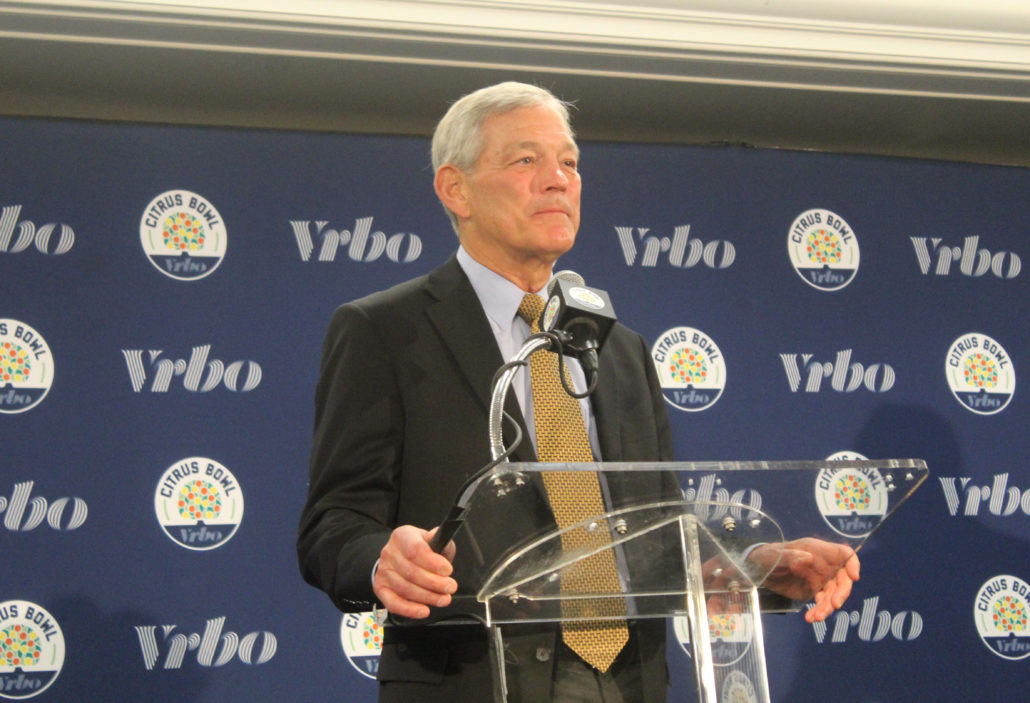 ORLANDO — Iowa has never won four-straight bowl games, but will have an opportunity against Kentucky Saturday afternoon.
Kirk Ferentz has accomplished some amazing feats with the Hawkeyes, considering he's the longest-tenured coach in the FBS, but a victory over a ranked SEC team will give his squad their most wins since 2015. Everyone on the team, from the players to the coaching staff, are anxious to get that bad taste of defeat from Michigan out of their mouths.
However, Ferentz revealed there is some uncertainty with his team approaching the matchup. First off, he hasn't named a starter at quarterback for the Citrus Bowl. Spencer Petras and Alex Padilla are both expected to play, just like they did in the Hawkeyes' last two games. That'll at least keep the Kentucky's Defensive Coordinator Brad White guessing until kickoff.
The problem is neither signal-caller has thrown a touchdown in the past three contests, and combined for two interceptions. Iowa fans are on edge about who'll get most of the snaps, but Ferentz has no worries.
"I really don't think it's that big a deal," Ferentz said. "I know it is to everybody, been asked about it, but we have faith in both guys."
Secondly, Ferentz is trying to fill the void of 1,000-yard rusher Tyler Goodson, who opted out of the bowl game to focus on the NFL. Ivory Kelly-Martin is finally healthy enough to take on the workload and is expected to get most of the carries. Ferentz also emphasized how running backs Leshon and Gavin Williams will also see some action in the backfield.
Iowa (10-3) has had an amazing run over the past three years, including two double-digit win seasons and a Big Ten Championship Game berth. Still, Ferentz wants his players to remain humble and not take any of the team's success for granted. He's hoping Iowa's losses to Purdue, Wisconsin and Michigan taught his players a lesson. So Ferentz is looking forward to how his team will respond to adversity.
"Anything you do, you learn from it, you examine it, learn from it and move on," he said. "Our focus has been, hey, we have had a great year, we won 10 games."
On defense the Hawkeyes will be without All-Big Ten cornerback Matt Hankins. He hasn't played in several weeks because of an injury and recently had surgery. So the pressure will be on Iowa's secondary to contain Kentucky's All-SEC wide receiver Wan'Dale Robinson. Ferentz knows all about Robinson, considering he played a few years at Nebraska.
Ferentz is also very familiar with Kentucky Coach Mark Stoops. The two are part of the legendary Hayden Fry coaching tree and have history with each other since the 1980's. In Ferentz' eyes that makes this bowl game more appealing and fun, because he'll be matching wits with one of his old buddies. Above all, Ferentz is just happy to be coaching in a New Year's Day Bowl during his 23rd season with the program.
"To earn a Bowl bid like the Citrus Bowl, really proud of that and feel very, very fortunate to be here and to play an opponent like Kentucky, highly competitive team, very successful and been successful for quite some time," the 66-year old coach said. "That's a big, big challenge for us certainly."
Kentucky (9-3) is no pushover by any means. The Wildcats are currently ranked 25th in the AP Poll and has won its' last two bowl games, including the Citrus in 2018 over a Big Ten team. So there's no denying Kentucky has Ferentz' full attention.