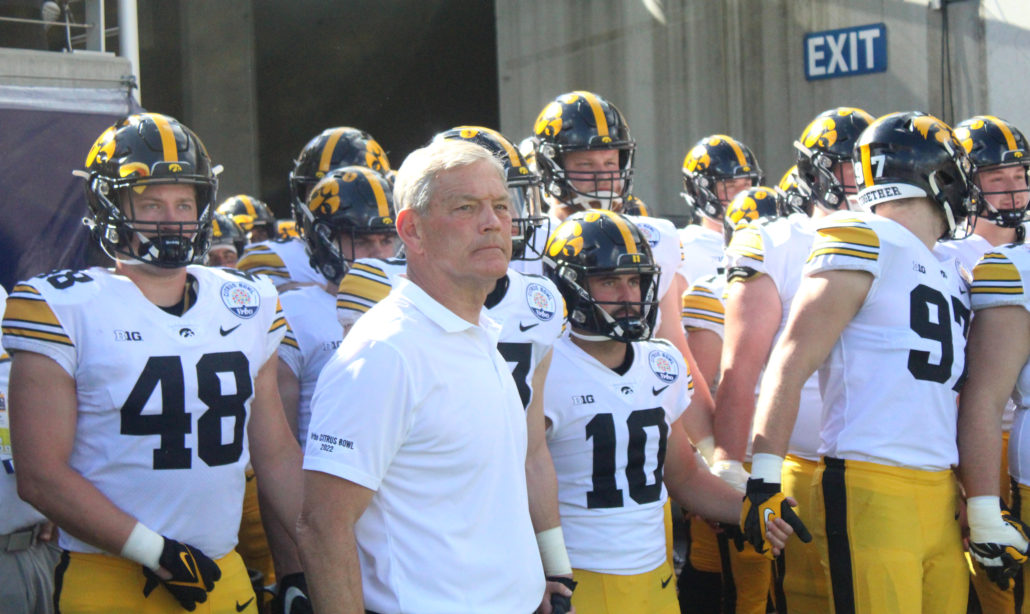 ORLANDO — The Hawkeyes played in their sixth January bowl over the past nine seasons Saturday, and didn't disappoint in the physicality department.
A slow start put Kirk Ferentz' team behind by double-digits at halftime. Although Iowa battled back and took the lead in the fourth quarter, it couldn't hold off Kentucky's late rally and lost the Citrus Bowl 20-17. Despite a hard-fought effort from the Hawkeyes, it was an all too familiar ending like their other three losses.
There's no denying the Hawkeyes' defense played well enough to win the game. However, the offense became a liability in the clutch, particularly at quarterback. The Wildcats didn't generate any sacks on Spencer Petras, but was able to pick him off three times. Petras missed some wide open receivers and it was the second time this season that he threw at least three interceptions.
Iowa (10-4) was already without its' 1,000-yard rusher Tyler Goodson for this matchup, but averaged nearly six yards per carry. Freshman running back Gavin Williams got the bulk of the workload and finished with 98 yards on the ground. Junior tight end Sam LaPorta was a safety blanket throughout for Petras, and hauled in seven passes for a season-high, 122 yards and a score.
Still, the glaring issue was the Hawkeyes' three turnovers and third down struggles. Ferentz knows those are hard to overcome, especially against a ranked team like the Wildcats. Kentucky (10-3) took advantage, dominated in time of possession and wore down Iowa's defense late in the fourth quarter.
"We left opportunities out there, especially in the first half and it is a little bit disappointing," Ferentz said. "It is not a new story, but in football those little things really add up to make a difference, and that's really how it shook out."
One of those missed opportunities happened on Iowa's first drive of the second half. Ferentz decided to go for it on a fourth and one at the Wildcats' 11-yard line, instead of kicking an easy field goal. It proved to be costly because the Hawkeyes fumbled the snap and turned it over on downs. A field goal would've made it a touchdown game at that point. Not to mention Iowa lost the clash by three points.
The Hawkeyes did take the lead in the fourth quarter, but the Wildcats kept fighting back. Iowa's defense had no answer for Kentucky's wide receiver Wan'Dale Robinson, who caught 10 balls for 170 yards. The Hawkeyes were very familiar with Robinson from his time at Nebraska and he was named the Citrus Bowl MVP. Running back Christopher Rodriguez steamrolled Iowa's defense for 107 yards, which was his ninth game this season of surpassing the century mark in rushing.
Hawkeye fans thought there were several blown calls by the officials. There was a blatant hold by a Kentucky lineman on a Iowa defender during Will Levis' 51-yard strike to Robinson. That made Iowa fans livid, and boos erupted from a crowd of 50,769 inside Camping World Stadium.
Compared to Iowa's offense, Kentucky finished with less yards, but converted four more first downs and ran 15 additional plays. Ferentz felt bad for his players, particularly his seniors, who ended their collegiate careers with a loss.
Kentucky also snapped Iowa's three-game streak of bowl wins. Still, Ferentz doesn't want his veteran leaders hanging their heads because they accomplished a lot during their time as a Hawkeye.
"Sorry to come up short today, but just really proud and especially of the seniors," he said. "It was a great senior class, and certainly appreciate all their efforts, all they have done, not only this season, but over the course of their careers.
After all, the Hawkeyes has 43 victories over the past five seasons, including two double-digit win campaigns. Iowa also played for a Big Ten Championship during that span. There will need to be major adjustments on offense this spring. Regardless, securing two double-digit win campaigns over the last three years are major accomplishments that Ferentz values.
"I have been saying all season long, this is a very special football team, it has really been an honor."