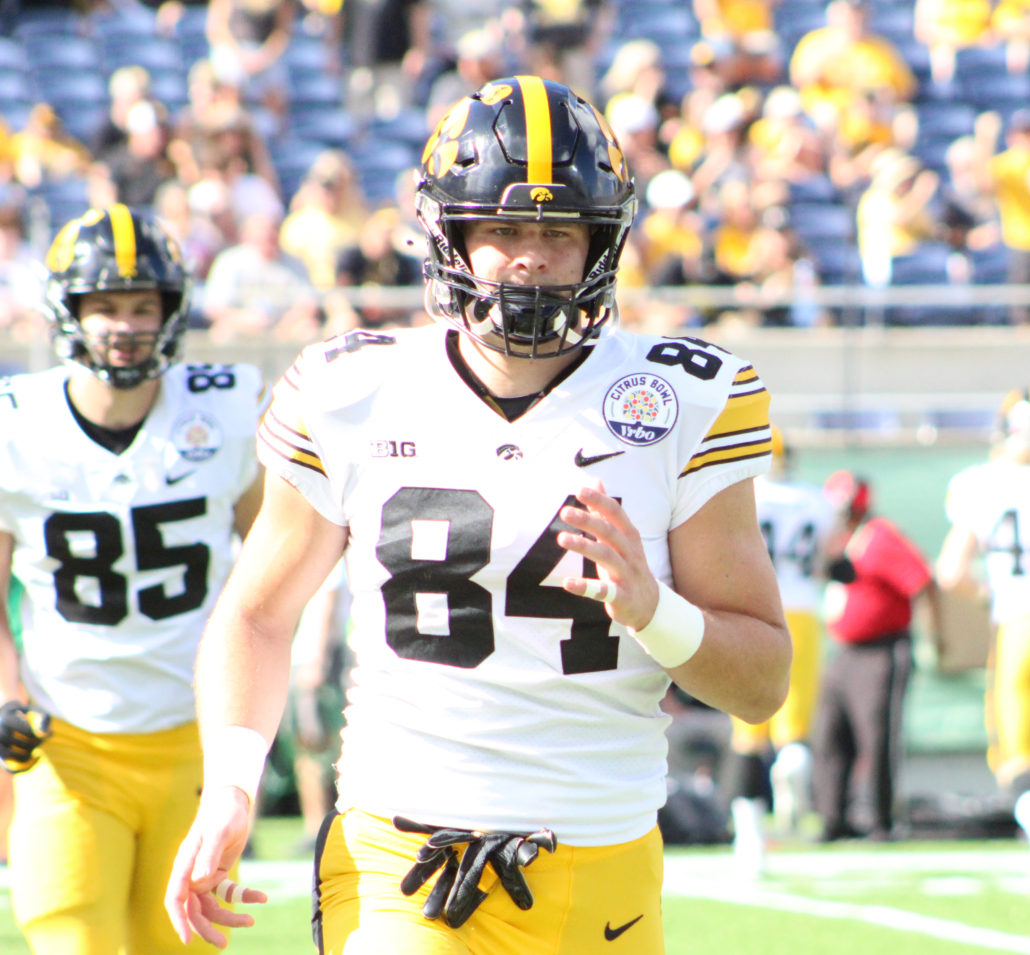 ORLANDO — Iowa's All-Big Ten tight end just capped off a monster season, with a career performance in the Citrus Bowl.
Sam LaPorta led the Hawkeyes in receptions, receiving yards and touchdowns catches in 2021. So it was no surprise that he delivered the same results against Kentucky. Despite all of the success LaPorta has endured throughout the season, his quarterback Spencer Petras received the bulk of the criticism regarding the Hawkeyes' shortcomings.
The outside noise has really bothered LaPorta, because he witnessed first-hand how hard Petras has worked on his craft. He knows the signal-caller is always striving to become a better player and leader. The two connected seven times for 122 yards in the 20-17 loss to the Wildcats Saturday, which were both career-highs for LaPorta.
However, Petras threw three interceptions, including one on Iowa's last drive that sealed the game for Kentucky. There's no denying it was a discomforting loss for the Hawkeyes, especially since they came so close. LaPorta knows no one feels worse about it than Petras.
He's still proud of the way Petras led the Hawkeyes out of a 10-point deficit after the first half, and took the lead in the fourth quarter. It was a promising effort that LaPorta felt gave confidence to the rest of the offense.
"Obviously with the 15-minute halftime, we got to draw everything up over the break," LaPorta said. "We kind of got to talk a little bit more and communicate the looks and what we are going to get and how we were going to approach the second half."
The Hawkeyes' offense came out on a mission the rest of the way and didn't go down without a fight. The unit scored a touchdown in each of the final two quarters. LaPorta felt putting points on the scoreboard complimented the defense and the unit kept Kentucky scoreless in the third quarter.
Still, three turnovers proved to be too much to overcome. The Hawkeyes are a team that prides themselves on discipline, so mistakes are always frustrating. Petras played with poise and determination in LaPorta's eyes though. He even thought without Petras, the Hawkeyes would've never climbed their way back in the game. Petras missed some wide open receivers on a couple of plays, but Iowa (10-4) still outgained Kentucky in total yards.
"They (Wildcats) had some obstacles that we had to work around, and I thought Spencer commanded the offense very well," he said. "You can fault him on a couple interceptions, I guess, but we don't, it's a team effort."
It wasn't Petras' first time throwing multiple interceptions. He was picked off four times against Purdue. Which is why LaPorta wants other players to hold themselves accountable. The Illinois native wants his teammates to understand Petras doesn't deserve the shoulder of the blame. Linemen still have to get a good push up front and protect, plus receivers can't drop balls. Most importantly, coaches must be able to adjust and.put the players in the right positions to be successful.
Bottom line, LaPorta is making sure no one is pointing fingers in the locker room and will continue to have Petras' back, regardless of how Hawkeye fans feel about his future of leading Iowa's offense. Alex Padilla got his feet wet this season, while Deuce Hogan entered the transfer portal a month ago, so it's no mystery Petras has persevered. LaPorta thinks that's a statement in itself.
LaPorta has generated some draft buzz after he finished with 53 receptions,  670 receiving yards and three touchdown catches. Regardless of what he decides to do about his playing career, he believes Iowa's offense is in great hands with Petras at the helms. The offense must evolve and it's going to take an effort from everyone to keep the team trending forward.
"There are 11 guys out there, so you can say what you want about him, but he's a competitor and he's tough as heck."