Brock Purdy emotional about disappointing Cyclones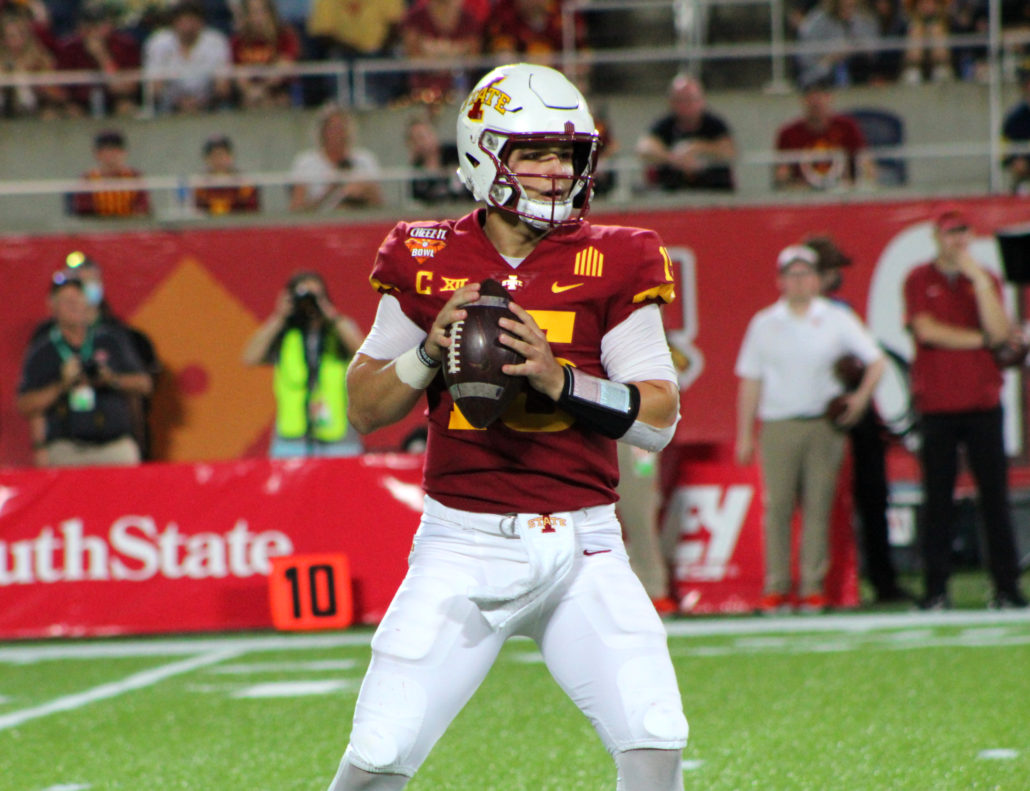 ORLANDO — Iowa State's veteran quarterback ended his career on a costly turnover against Clemson, but doesn't want that moment to define his legacy.
Brock Purdy has been the face of the Cyclones since he became the team's starter in October of 2018. From that point on Iowa State has won 30 games, including the Fiesta Bowl. Leading Iowa State (7-6) to four-straight winning seasons is pretty remarkable, so the signal-caller has no reason to hang his head.
After all, the Cyclones went from being the cellar dwellers of the Big 12, to perennial contenders in the league with Purdy behind center. The Arizona native proved he was a great quarterback because he made others around him better. Running back Breece Hall blossomed into an All-American. Tight ends Charlie Kolar and Chase Allen became three-time All-Big 12 performers. Not to mention wide receiver Xavier Hutchinson was named the Big 12's Newcomer of the Year in 2020.
However, as good as the Cyclones have been on offense over the past four seasons, Purdy failed to lead his team to a conference title, and that's what hurts him the most. He's been part of several clutch moments throughout his career, including a game-ending interception he threw on Iowa State's final drive against Oklahoma in last year's Big 12 Championship Game.
The fumble he suffered during the Cyclones' last drive in Wednesday's loss to the Tigers had a similar outcome. Purdy wishes he could've had that carry back, because he would've been more protective with the football. Regardless, he's not about to give excuses about spilled milk.
"Got past the first down marker, and I was just trying to get out of bounds," Purdy said. "I can't remember if I was trying to switch the ball to my outside arm or not, but a db hit it out, and the rest is history."
There's been several moments when he tried to be the hero and it wound up costing his team. Often times Purdy would try to win games on a single play and could've saved his heroics for another down. Still, the former three-star prospect has no regrets about trying to deliver a victory for the Cyclones, because that's what true leaders do.
"To go out like that sucks, I'm not going to lie, but I can say I gave everything I got to this program, this team and to Ames," he said. "No one can take that from me, so sorry to Cyclone Nation for how it ended and everything, but I did prepare and I did everything I could to try to help this team win."
Coach Matt Campbell has been one of the signal-caller's biggest supporters and proud to have had Purdy lead his offense for the past four seasons. The program has national credibility now and Ames has become an attractive destination for star-studded recruits. In Campbell's eyes, none of that would be possible without contributors like Purdy.
"I think from Brock's standpoint, there's no greater competitor that I've been around that wanted a result to be different than it was," Campbell said. "But for Brock as I said two days ago, it's thank you; thank you for all you've done; thank you for how you've led, and thank you for giving belief to this football program that has not been there for a long time."
Now the two-time All-Big 12 performer is getting ready for the NFL and will be competing in the East-West Shrine Bowl in Las Vegas on February 3. Purdy is proud of his accomplishments as a Cyclone and appreciates the support from the fans. He's going to miss playing in front of them and alongside his teammates the most.
"I've already looked back and reflected on the relationships that I created here," the 22-year old said. "The coaches are important to me, the teammates are important to me, and I'm so thankful for the last four years, so I'll reflect on it in a couple of weeks probably."
Above all, he's proud of where Iowa State is currently at and the direction its' heading. Purdy will go down as arguably one of the best quarterbacks to put on a cardinal and gold uniform, and his legacy with the program will forever be enshrined in Cyclone lore.