Matt Campbell back at the drawing board after loss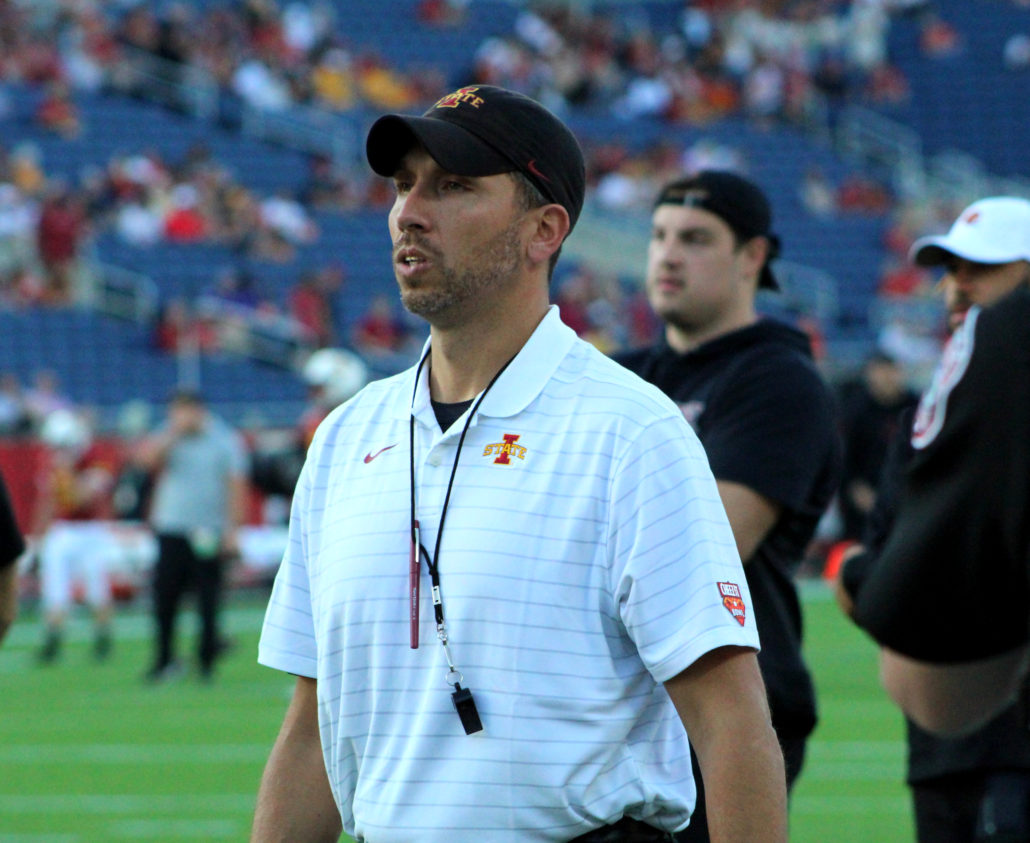 ORLANDO — Camping World Stadium hasn't been a venue of luck for the Cyclones.
After Clemson's 20-13 victory Wednesday night, Iowa State has lost its' last two games on that field. Not to mention the Cyclones have been outscored 53-22 in those matchups. Dropping three of their final four games is hard for Coach Matt Campbell and his players to digest.
It's even more humbling considering the fact that Iowa State (7-6) began this season ranked in the top-10. Star players like quarterback Brock Purdy, safety Greg Eisworth and tight ends Charlie Kolar and Chase Allen played their last game in the cardinal and gold, but they were unable to go out with a bang.
"We came up short a couple times this year, and I think we'll continue to take the lessons we've learned and obviously grow from it," Campbell said. "But who we are, where we are, and what we are about right now, I'm really proud of."
The Cyclones' offense struggled to move the ball with any consistency throughout the night. Not having All-American rusher Breece Hall in the backfield proved to be damaging. Iowa State was held to a field goal in the first half, and finished the game with a season-low, 270 yards of total offense.
Purdy completed 23 of his 39 passes for 204 yards and a touchdown. However, Purdy was picked off by Clemson cornerback Mario Goodrich, who returned it 18 yards for a score. It didn't help the signal-caller's cause that leading receiver Xavier Hutchinson got injured in the first half.
From that point on Iowa State's offense became very predictable and Clemson's defense dictated the flow of the game. Still, Campbell thought the Cyclones were resilient in the second half, despite the fact that the Tigers' defense dominated in the trenches.
"I felt like we were able to do some things that we wanted to do against them defensively," he said. "I think when you look at it, some of the precision and detail on that side of the ball was maybe a hair off when we needed it."
Jirehl Brooks, who filled in for  Hall at running back, averaged a mere three yards per carry and finished with 42 on the ground. Kolar caught the team's only touchdown and receiver Jaylin Noel led the Iowa State in receiving yards.
The Cyclones' defense kept them in the game, but they were on the field too much at times. In reality the unit was the reason they were able to rally back somewhat in the second half. On the bright side, Iowa State's defense did limit Clemson (10-3) to 315 yards of total offense. It was Clemson's lowest output since the loss to Pittsburgh.
Freshman defensive back Beau Freyler generated a game-high, 15 total tackles. Senior linebacker Jake Hummel added four stops and recorded Iowa State's only interception on defense. Campbell thought his team came in with a great gameplan, but he didn't anticipate they would start off so sluggish.
"We knew we wanted to play a style of game to allow our defense to kind of give us the best opportunity to win the football game, and I think collectively — offensively, defensively and special teams — we played to our strength tonight," the 42-year old coach said.
Although it was an emotional loss for all the seniors, Campbell doesn't want his players to hang their heads. Instead he feels the Cyclones should be proud of their accomplishments, which includes five-straight winning seasons. Iowa State may have a completely different squad next season.
Regardless, the roster is still full of talented players ready to start their own legacy with the program. So with a top-25 recruiting class recently signed, it's evident that Iowa State's winning ways should continue.