Greg Eisworth proud to be part of Cyclones' revival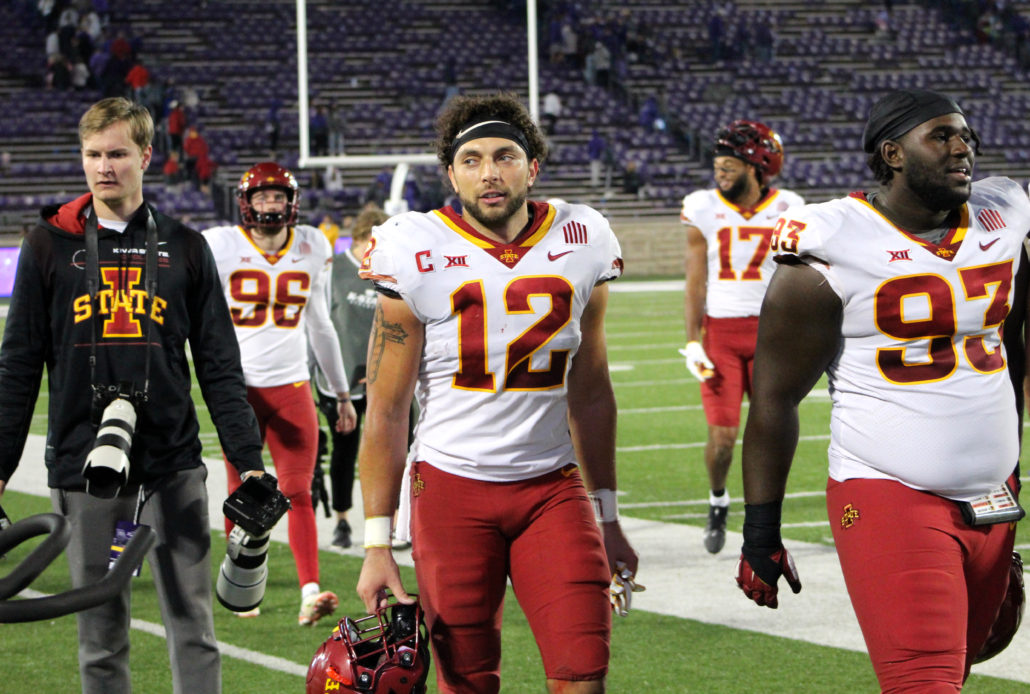 ORLANDO — His journey to becoming a general in Iowa State's secondary and one of the most experienced defenders in the Power Five is second to none.
There's no denying Greg Eisworth paid his dues to get to where he's at. From being a former Ole Miss prospect, to backpedaling the JUCO route, and finally becoming a two-time, All-Big 12 performer, Eisworth knows all about the underdog role.
When he chose Iowa State over Colorado and West Virginia back in 2018, the program had just one winning season over the previous eight years. However, the Cyclones went from being the laughing stock of the Big 12, to contenders in the league, and Eisworth witnessed it all.
As Iowa State approaches its' matchup against Clemson in the Cheez-It Bowl Wednesday, Eisworth can't help but to reflect on his time with the program.
"It's bittersweet you know, it's been a big part of my life being here," Eisworth said. "But I think some of us are just ready for that next step, whatever their next step is, whichever direction you go."
Star players like Eisworth, Brock Purdy, Charlie Kolar and Chase Allen will be playing alongside their fellow teammates for the last time. They all want to end their collegiate careers on a high note, and there's no better way than doing it over a powerhouse like Clemson.
Eisworth believes the Cyclones success has led to them matching up with big-time opponents, which been great for national exposure and recruiting.
"I think it's just telling for where this program is going the trajectory that we're going, the last few years has just been trending in the right direction," he said. "Oregon, Notre Dame, Clemson like to have those teams on the schedule and be able to play those teams and competitive games, that's all you can ask for."
It's hard to argue against that after Coach Matt Campbell lured in the best recruiting class of his tenure and secured a fifth-straight winning season. Iowa State's brand is at an all-time high, and Eisworth has been a huge contributor in the program's success. After all, the safety has stockpiled 257 total tackles and picked off five passes during his Cyclone career.
The Texas native is the enforcer of the Cyclones' secondary and a legit ballhawk. Eisworth is ready to leave it all on the field against the Tigers. Clemson is ranked No. 19 in the AP Poll and full of four and five-star talent, so there's nothing like playing against the best of the best in Eisworth's eyes.
Regardless, he's making sure that the rest of his teammates will be locked, loaded and ready for the clash. Considering Iowa State (7-5) lost its' last trip to Camping World Stadium, and Eisworth remembers that walk of shame back to the locker room, this game is a must-win for his legacy.
"Knowing that we prepared the best that we could, and that we played our brand of football, you know, we're pretty much unbeatable," the 23-year old said. "If we go out there and play the way that we should, and we prepare the way that we should, we can lay our head on the pillow at the end of the night."
Clemson (9-3) has won five-straight games. Not to mention the Tigers are averaging 36.4 points per game during that span. Still, Eisworth is planning on going out on top with his teammates, and making a statement to the rest of the country that the Cyclones aren't going anywhere.