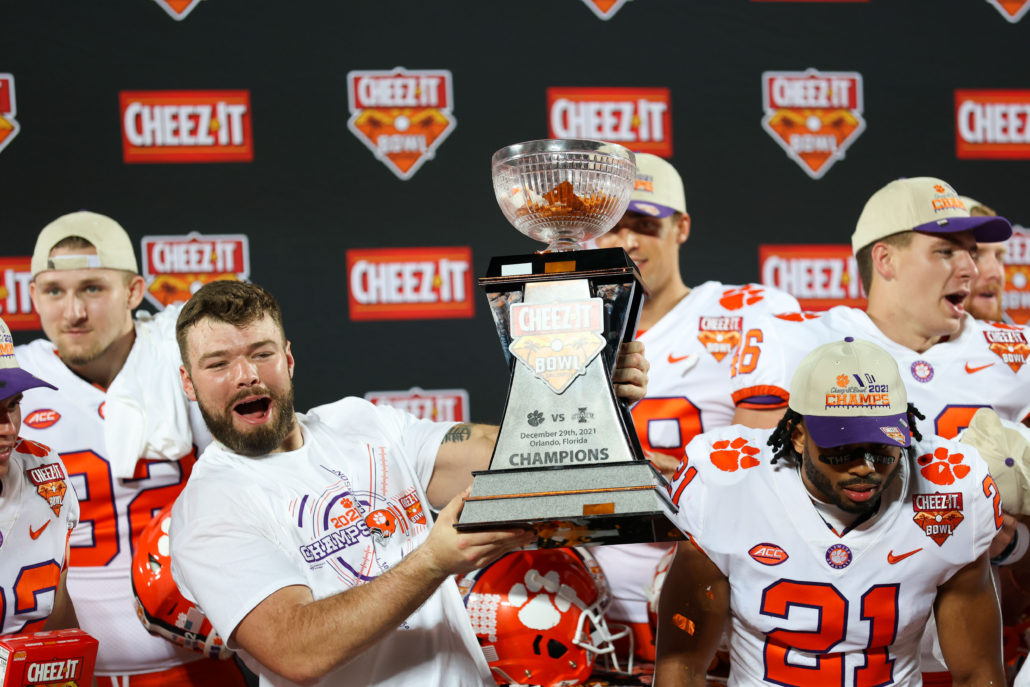 ORLANDO — Several College football fanatics thought Clemson would have a tough time getting mentally prepared to play Iowa State.
After all, the Tigers have been in the Playoffs the previous six seasons. Not to mention Clemson had 28 players out for the matchup. However, Coach Dabo Swinney showed why he's one of the best gameday motivators, and Clemson edged Iowa State 20-13 Wednesday night. It was also Swinney's 150th victory with the program.
A crowd of 39,051 at Camping World Stadium watched as both offenses got off to slow starts. The defenses dictated the flow of the first half, no touchdowns were scored and both teams had to settle for field goals. Clemson only led by three at halftime, but the second half was a different story.
The Tigers played inspired and scored 14 unanswered points in the third quarter, including an 18-yard interception return by cornerback Mario Goodrich, which shifted the momentum to Clemson's side for the remainder of the game.
"A lot of big plays in the game, ebbs and flows, and none bigger than the pick-six that we had," Swinney said.
Clemson (10-3) only mustered 315 yards of total offense, which was its' lowest output since the loss to Pittsburgh. Still, the Tigers ran 13 more plays than the Cyclones, converted six additional first downs and dominated time of possession. Clemson's defense also held Iowa State (7-6) to a season-low, 270 yards of total offense.
Quarterback DJ Uiagalelei completed 21 of his 32 passes for 187 yards and an interception. It was the signal-caller's second-straight game of not having a touchdown pass. Will Shipley finished with a game-high, 61 yards on the ground and a rushing score. Receiver Dacari Collins also finished with a game-high, six catches for 56 yards. Trenton Simpson led the Tigers with six tackles, K.J. Henry generated the team's only sack and Goodrich earned MVP honors.
Now the Tigers are riding a big wave of momentum after ending their season on a six-game winning streak. It's mind boggling that Swinney has led Clemson to double-digit winning campaigns for 11-straight years, and that's why he appreciates this season so much.
"To be sitting here 10-3, after starting 2-2 is just incredible," he said. "It just speaks to the leadership and the character of the young men in our program, the culture of our program, the heart of our coaching staff as well and the foundation that we have at Clemson."
The victory was bittersweet for Swinney and a couple of his players though. Swinney's son Will played his last game with his father and brother Drew. Star defenders James Skalski and Andrew Booth both suffered injuries in the first half and never returned.
Regardless of the matter, the Tigers persevered through adversity and responded in a big way. In Swinney's eyes that's what teams with great chemistry and togetherness do.
"You know adversity is good for us and it makes you depend on God, makes you dig deeper," the 52-year old coach said. "And the biggest thing in our program, our goals are to graduate our players, to equip them and develop them as men, to have a good experience and win a championship."
It's something Clemson fans have grown to appreciate through the years. So it shouldn't come as a surprise that there was a lot of orange and purple in the venue. Despite all of the missing players, Swinney arguably did his best coaching job leading the Tigers to another bowl win.