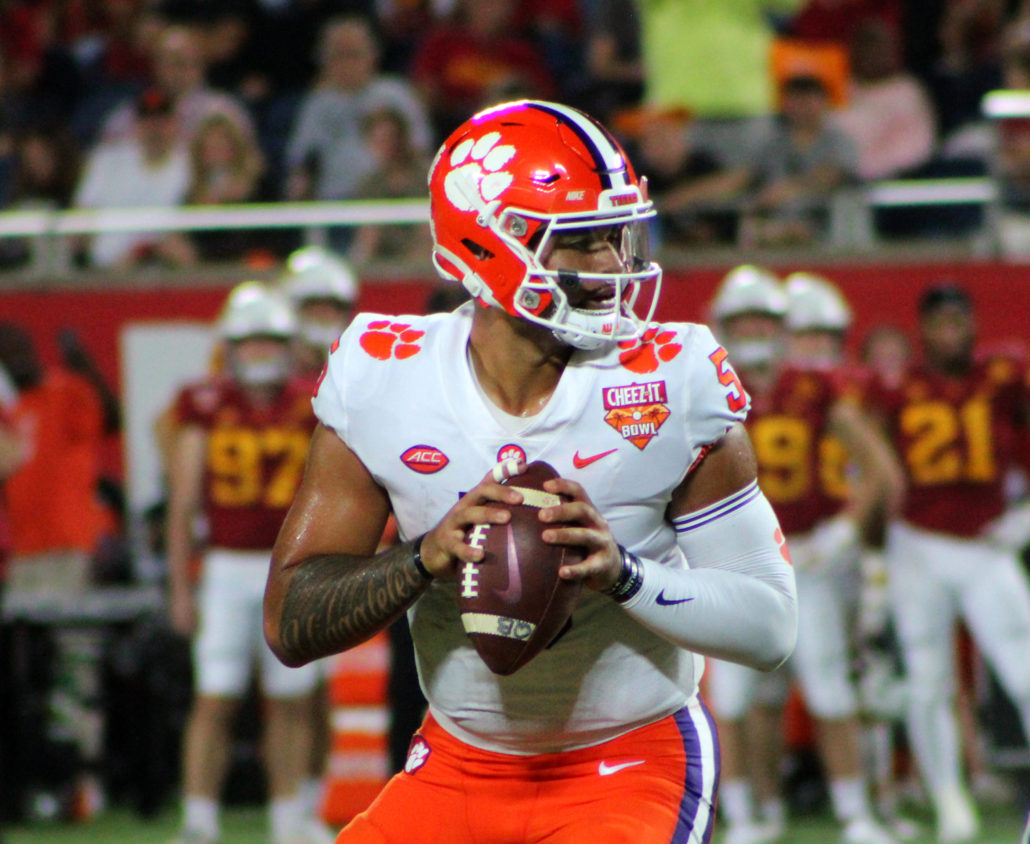 ORLANDO — It's never easy when a new starting quarterback has a legendary predecessor.
DJ Uiagalelei has been trying to fill the shoes of National Championship winner Trevor Lawrence, and it hasn't been easy by any means. His performance in Clemson's bowl win over Iowa State displayed a lingering issue.
It was Uiagalelei's fifth game this season in which he failed to throw for a score. He just finished his first campaign at the helms of the Tigers' offense with nine touchdowns and nine interceptions. It's not the results Clemson fans were hoping for, especially since the former five-star prospect arrived on campus with a ton of hype.
There's no denying Uiagalelei was heavily criticized during Clemson's 4-3 start, but he understood it all came with the territory of being the starting quarterback at a powerhouse program. Uiagalelei threw for 1,102 yards, four touchdowns and four interceptions during that span.
Nothing changed much statistical wise over the Tigers' six-game winning streak either. However, he threw for 1,144 yards, five touchdowns and five interceptions despite a PCL knee sprain he suffered against Louisville. Although Uiagalelei has pedestrian numbers and a slow maturation process, Coach Dabo Swinney continues to remain in his corner.
"We weren't very good around him early in the season, and because of that, his mistakes as a young player were magnified," Swinney said. "Every young player at quarterback I have had has made mistakes, but we weren't quite as good around him as we were with those other guys."
Good quarterbacks supposed to make others around them better, but Clemson has had numerous receivers out throughout the season. Which is why Uiagalelei impressed Swinney the way he operated with the weapons he had in his arsenal. Still, it didn't help the California native's cause that Offensive Coordinator Tony Elliott took the Virginia job.
There was light at the end of the tunnel for Uiagalelei though. Swinney promoted Brandon Streeter to the same position for the bowl game and it's been a smooth transition for all parties involved.
"That's the biggest thing, him (Streeter) coming in as our coordinator, coming in after someone that leaves like Coach Elliott, someone that was an amazing coordinator, after all these years that he's been," Uiagalelei said. "You don't want to be compared or you don't want to kind of be like that same person, you want to be able to have your own identity."
To Clemson fans that same motto applies to being their quarterback and the face of the program. There will probably never be another Tiger like Lawrence. He was a bonafide leader and won three-straight ACC Titles. Even Lawrence had to face the pressure of living up to Deshaun Watson. That doesn't mean Uiagalelei doesn't have the potential to be special at Clemson (10-3) and carve his own legacy.
The six-foot-four, 250-pounder is still working with some of the best talent in the country, thanks to Swinney's elite recruiting. Clemson fans are waiting to see him take that next step. There's one word Uiagalelei chose to operate by before the season started and that's faith. He carries it on his sleeve everyday and that's how he's able to stare in the face of adversity.
"Faith is something that you don't know, you can't see, but you know you believe in your heart," he said. "Going through it, I know Jesus put me in this position to go out there this season and put me through these trials and take me through these different struggles and just different challenges, and I'm thank him for that."
Now Uiagalelei is taking the momentum he generated over Clemson's final six games and carrying that into next season. Make no mistakes, growth is his No. 1 goal. Every rep he takes with the rest of the offense will be vital towards his improvement . Which Uiagalelei expects will come as he builds more chemistry with his receivers and trust in Clemson's assistant coaches.