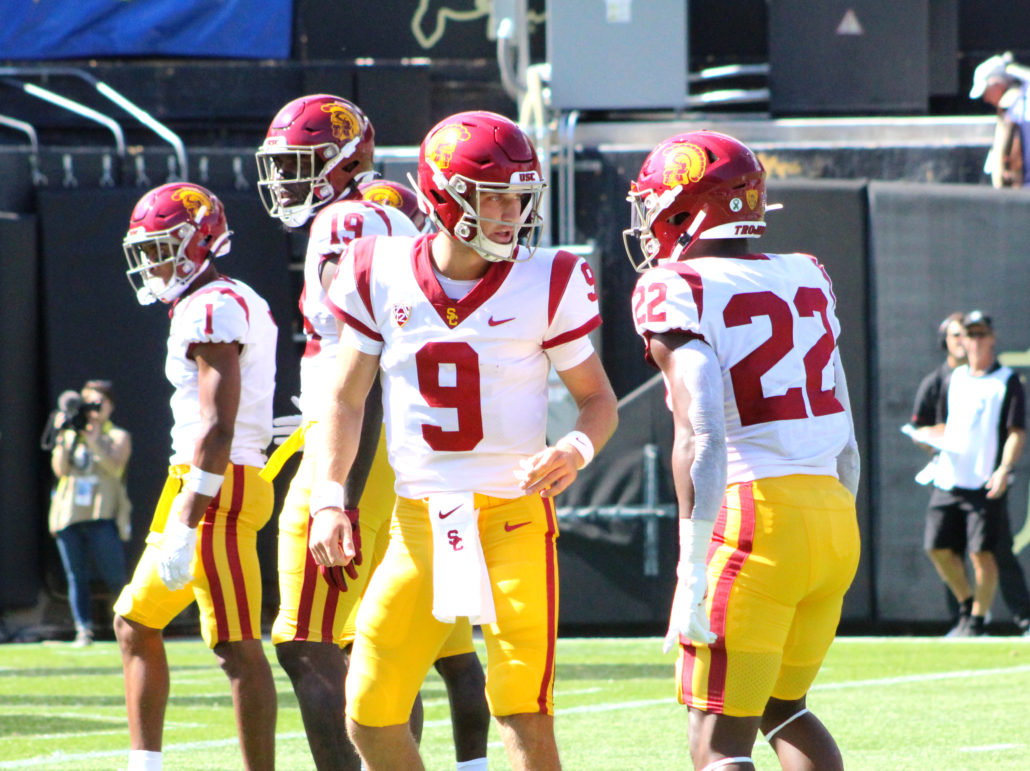 When one door closes another one opens up.
With the early signing period approaching, several former Power Five quarterbacks are looking for a fresh start. These seven student-athletes are looking to build on their legacies. Some have been starters for multiple seasons, while others are just getting their feet wet, but all have had promising careers thus far.
Regardless, they'll all be an upgrade to whatever roster they land on and can contribute immediately. So there's light at the end of the tunnel to wherever their football journey takes them.
Adrian Martinez: He was a four-year starter at Nebraska, and left the program as the all-time career leader in total offense. Despite those accomplishments, Martinez took a lot of blame for the Huskers' shortcomings during that span, which included no winning seasons. The California native sat out Nebraska's game against Iowa with a shoulder injury, and entered the transfer portal six days later. Martinez still has a lot of love from Big Red Nation. The former four-star prospect always handled himself with class through adversity. Husker fans believe he'll land somewhere close like Kansas State. With all of his experience and production, Martinez will be a valuable addition to any Power Five roster.
Bo Nix: The Alabama native was a three-year starter at Auburn and sits atop the program's career list in total offense. Nix has a style of play that's similar to former Heisman Trophy winner Johnny Manziel. He's a natural at improvising and making big plays with his dual-threat capability. Unfortunately, Nix is like a lot of other student-athletes, who fall victim to a coaching change. The six-foot-three, 214-pounder outdueled Mac Jones and led Auburn to a victory over Alabama in 2019. Despite those efforts, Tiger fans believe Nix didn't live up to the five-star billing he arrived on campus with. Regardless of the matter, wherever Nix lands next, he'll bring a ton of leadership and competitive fire.
Jack Plummer: The former three-star prospect played musical chairs with Aidan O'Connell at Purdue for the past three seasons. Plummer looked promising in Jeff Brohm's offense and made the most out of his time behind center. During that span, Plummer threw for 3,405 yards, 26 touchdowns and 10 interceptions. He entered the transfer portal three days after the Boilermakers completed the regular season. Plummer has the capability of being a starter at another Power Five program, but needs to prove that he's a winner. After all, Plummer's numbers back up his credibility. Still, it became evident that Plummer drifted to O'Connell's shadow after Purdue got back on the winning track this season.
Kedon Slovis: He's arguably one of the best available quarterbacks in the transfer portal. Slovis had a stellar career with USC, and was named the Pac-12's Freshman of the Year in 2019. The Arizona native earned first-team, All-Pac-12 honors in 2020. However, after the Trojans fired Clay Helton and hired Lincoln Riley, the writing was on the wall for Slovis. The former three-star prospect will bring a prolific arm wherever he lands next. After all, Slovis threw for 7,576 yards, 58 touchdowns and 24 interceptions over the past three seasons with USC. Slovis also set a school record for passing yards in a single game, when he threw for 515 against rival UCLA. The 20-year old can deliver in the clutch.
Zach Calzada: After Haynes King suffered an injury in the first half against Colorado, Calzada filled in nicely for Texas A&M. He threw for 285 yards and three touchdowns in the upset win over the Crimson Tide, which is their only loss this season. Calzada went 6-4 as the Aggies' starter in 2021. The former three-star prospect put up solid numbers this fall, including 1,577 passing yards, 11 touchdown tosses and seven interceptions in SEC play. He grew up in Sugar Hill, which is located 38 miles outside of Atlanta, so Georgia Tech seems like an ideal landing place for Calzada. The young signal-caller has proved he can compete at the highest level. There's no denying that when he played in the SEC West.
Max Johnson: He had to replace former Heisman winner Joe Burrow. Still, Johnson is one of the hottest quarterbacks on the market, and put up impressive numbers over the past two seasons at LSU. Johnson threw for 3,883 yards, 35 touchdowns and seven interceptions during that span, which proves his worth. Now he's looking for a new home, after Ed Orgeron's ousting and the arrival of Brian Kelly. Johnson has potential to be elite if he's inserted in the right offense, and a scheme that fits his skill set. Nebraska is very interested in his services. It could potentially be a smooth transition for all parties involved. Mickey Joseph, who was the Bayou Bengals' Wide Receiver Coach, is now on the Huskers' staff.
Michael Penix Jr.: Despite being injury prone, he's a dynamic player when healthy. Penix Jr. had a solid career at Indiana and earned All-Big Ten honors in 2020. He also set a single-game school record, with 489 yards of total offense against Ohio State that year. Unfortunately, Penix Jr. and the Hoosiers got off to a rough start this fall and never recovered. However, the Florida native put up some great numbers during his time at Indiana, including 4,197 passing yards, 29 touchdowns tosses and 15 interceptions. Wherever he lands, there'll need to be a great offensive line blocking for him. The former three-star prospect can do damage behind center when he has time and has dangerous mobility.