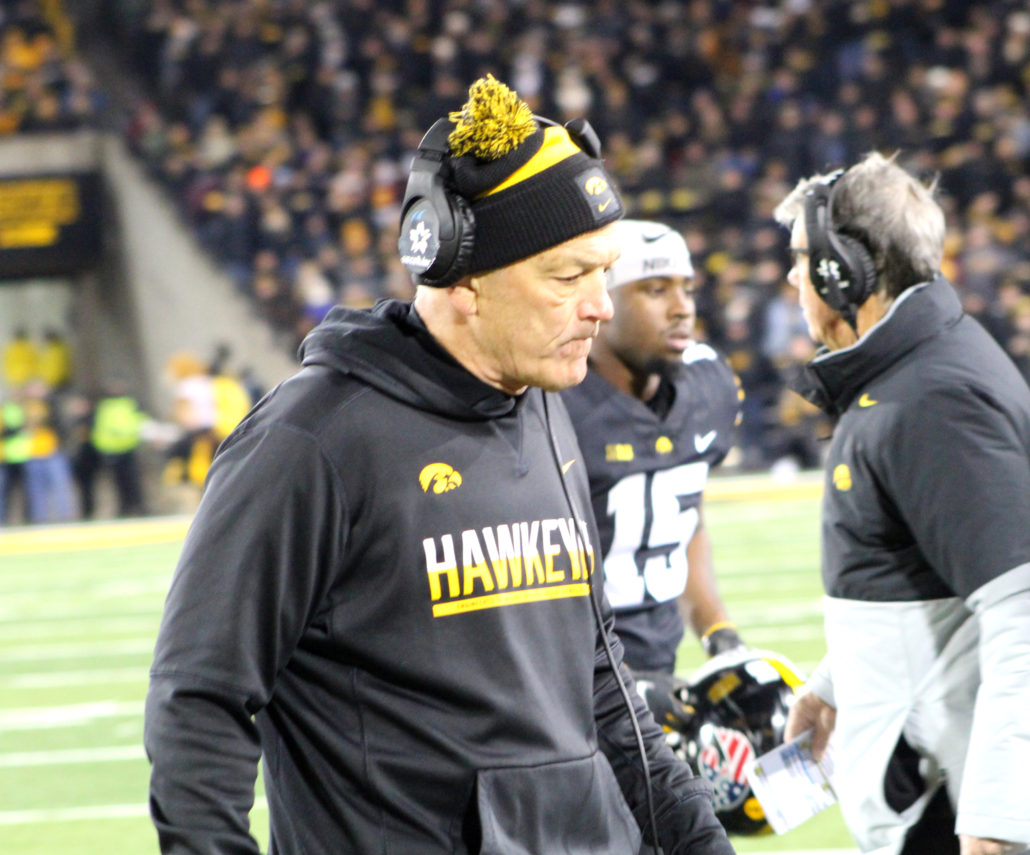 IOWA CITY, Ia. — The early signing period has opened doors for programs to make unprecedented splashes in recruiting.
Gone are the drama-filled days through the first week of February, when coaches use to scramble around for potential prospects like chickens with their heads cut off. Now coaches have their ducks in order and a new class complete before their team approaches the postseason.
College Football's longest-tenured coach has swiftly mastered that strategy. Kirk Ferentz has Iowa recruiting with some of the best Power Five programs across the country.
Iowa's 2021 class, was ranked 24th nationally by major recruiting publications Rivals and 24/7 Sports. However, this year the Hawkeyes just secured the best class in the Big Ten West, including their first five-star player since A.J. Epenesa in defensive back Xavier Nwankpa.
So it's no fluke that Ferentz has the program 100 miles and running in recruiting, and it's a trend that should continue. Keeping Nwankpa, who's an Iowa native, in the state was a huge statement from Ferentz and his staff. Nwankpa could've signed with any powerhouse, but he chose the Hawkeyes.
After all, Ferentz has a history of developing his players to their fullest potential and putting several of them in the NFL every year. So in hindsight it was a no-brainer for Nwankpa to stay home. Besides, Ferentz made sure the blue-chipper was familiar with the culture of the program and the vibe around campus.
"He (Nwankpa) has been here for games, so it wasn't new to him, but the environment that day was absolutely fantastic," Ferentz said. "But he's also been on campus to do all the academic stuff, and he knows some of our players on our current roster, so that helped us as well."
Nwankpa highlights Iowa's 2022 class of 17 players, but it contains several more studs. Carson May is a four-star and the only quarterback in the class. Rusher Kaleb Johnson is also a four-star, who Running Backs Coach LaDell Betts flipped from California back in October. Ferentz landed two elite pass rushers in Brian Allen Jr., and Aaron Graves, plus both are four-star caliber.
Graves happens to be an Iowa native, who always wanted to be a Hawkeye, so Ferentz thought he was an easy sell. Some players flipped on Iowa, but Ferentz understands that's the name of the game. Recruiting is constantly changing, especially with the transfer portal and NIL deals.
"One thing I have seen over the years is there are more and more adults with bad intentions," he said. "Or at least, I'll say they've got bad intentions dealing with young people and influencing them in a way that maybe — it's really no different than going to a little league game where parents are just kind of misguided on what they think is important."
Ferentz believes it has taken away the integrity of the sport, but in order for his program to remain successful in the recruiting department, he's going to have to keep adapting to change. In Ferentz' mind and heart,  it all comes down to his players embracing and trusting each other.
That mentality builds chemistry, establishes foundation, and most importantly, keeps a program successful. There's a reason why Iowa has won 10 games two out of the past three years, and hasn't suffered a losing season since 2012.
"It's still about — when you're competing, it's about the camaraderie, the teamwork, trying to do your best as a team, at least in our sport, that's all you can ask anybody to do," the 66-year old said. "I think, when it comes to college athletics, I think it's still important to come get a degree."
All of the prospects Iowa just signed understand that's what Ferentz' vision is for them as a Hawkeye student-athlete. It's no mystery Iowa has established a pipeline and the rest of the country has taken notice, which explains the program's surge in recruiting. Ferentz is showing no signs of slowing down, so the other six teams in the West should expect the Hawkeyes to keep the momentum going.